Link building is essential to any successful search engine optimization (SEO) strategy. Link building involves creating inbound links from other websites to your website, which can help increase the visibility and ranking of your site on search engines. This article will provide a comprehensive overview of link building and discuss how to create a strong link profile for SEO purposes.
The purpose of link building is to build relationships with other websites that are authoritative and relevant to yours. By doing this, you improve the chances of increasing traffic and rankings for your website on search engine results pages. Link building also increases brand awareness by exposing more users to your content through these third-party sites.
For link-building efforts to be practical, ensuring that all created links follow best practices regarding relevancy, trustworthiness, and quality is essential. This article will provide actionable steps to take in order to build a strong link profile that adheres to these criteria and drives positive outcomes for SEO campaigns.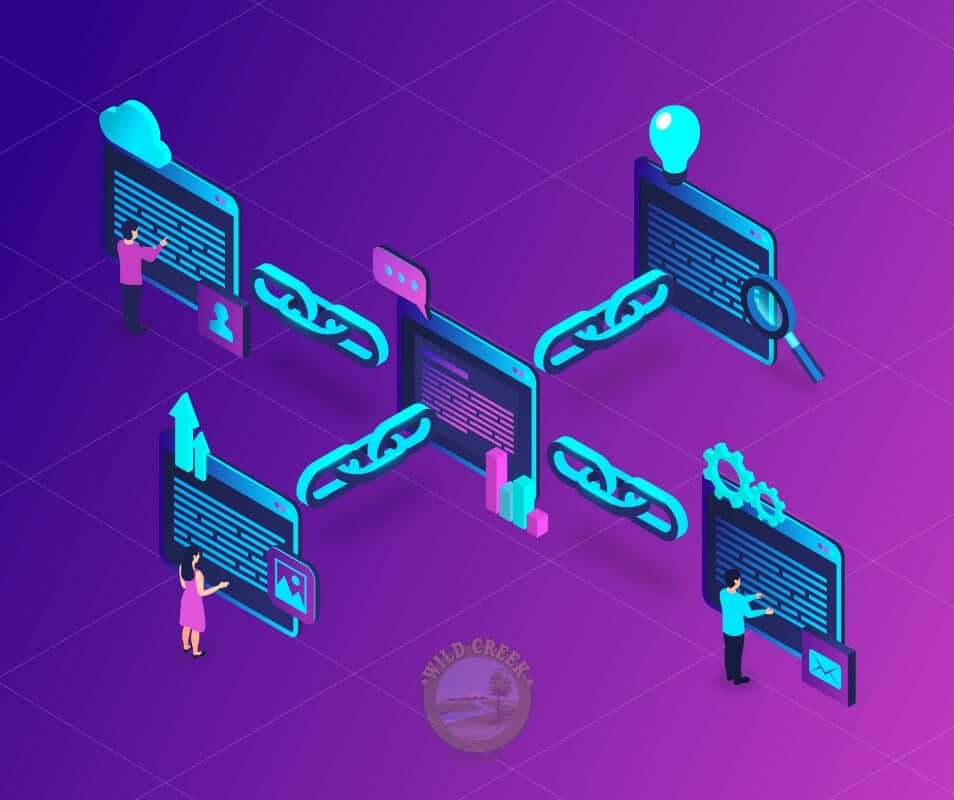 Benefits Of A Good Link Profile
Link building is fundamental to successful search engine optimization (SEO) strategies. Link profiles, which represent the number and quality of links pointing to a website, are closely monitored by search engines when indexing web pages. A high-quality link profile can help websites rank higher in organic searches and gain more traffic from external sources. Therefore, having a compelling link profile is essential for businesses looking to increase their visibility online.
Due to these benefits, there has been much research into what makes up an optimal link profile. Many studies have concluded that it comprises various backlinks with specific characteristics such as relevance and authority. Additionally, managing existing links effectively will allow businesses to maintain or improve their ranking over time. Furthermore, creating new links should be done carefully to retain the overall quality of the link profile.
Overall, developing and maintaining a solid link profile is vital for SEO success because it drives more traffic and establishes credibility among search engines. Companies can better optimize their online presence through targeted campaigns and strategic acquisitions or partnerships by understanding the components necessary for reasonable backlinking efforts.
Components Of A Link Profile
A good link profile requires more than just acquiring backlinks from external websites. Considering the components that make up an effective link structure is essential to maximize SEO potential and ensure sustained ranking benefits over time.
The first component of a strong link profile is relevance. Search engines are looking for links that relate to the topic or industry of the website, so it is essential to acquire backlinks from sources on similar topics and themes. Links should also come from authoritative sites with high domain authority ratings, as this will demonstrate trustworthiness and reliability among search engine algorithms. Additionally, diversifying anchor text can help create natural-looking link profiles instead of ones dominated by exact match keywords, which search engines might view as suspicious.
Finally, managing existing links is equally important when crafting an optimized link profile. This entails regularly checking whether incoming links need removal due to broken pages or flagging for spam content, amongst other factors. By cleaning up unhealthy links, businesses can maintain their reputation online and prevent any adverse penalties affecting their page rankings.
Strategies For Creating Links
When it comes to creating links, businesses can employ several strategies. Firstly, they should consider guest posting on relevant websites. This entails contacting other website owners in their industry and providing articles or content that links to the original business's site. Such an approach helps increase visibility and earn valuable incoming links from authoritative sources.
Another effective strategy is using social media platforms for link building. For example, companies can create exciting content, such as infographics or blog posts, which readers are likely to share across different networks and thus generate more potential traffic and connections with external sites. Including keywords within anchor text when submitting content via social media channels can also help boost SEO rankings over time.
Finally, collaborating with influencers who have large followings may be beneficial too. Businesses can leverage their connection and authority by partnering with popular figures in their sector while gaining access to wider audiences that might not otherwise hear about them. As a result of these collaborations, brands could acquire quality backlinks and increase brand awareness amongst target demographics.
Tips For Finding Quality Links
Finding high-quality links can be a challenging task, but there are several tips that businesses should follow to ensure the quality of their link profile. Firstly, companies must build relationships with reputable sources within their industry. This could involve researching potential partner sites and reaching out to critical figures or organizations to establish mutually beneficial connections. Additionally, when creating content for external websites, businesses must maintain editorial control and ensure that any outgoing links from third-party pages are genuine and relevant.
Furthermore, investing time in developing broken link opportunities may also prove worthwhile. This strategy involves identifying 404 error pages that still reference valid content. It enables brands to replace them with updated versions featuring backlinks pointing toward their site. Lastly, businesses should look at diversifying their link profiles by incorporating different links, such as image references or video embeds, alongside regular text-based hyperlinks. By ensuring a varied mix of incoming links from various sources, companies can strengthen their website's overall authority and trustworthiness over time.
How To Monitor And Improve Your Link Profile
Once a company has established a link profile, it is essential to regularly monitor its progress to identify any changes or issues that may need addressing. To do this, businesses should use backlink analysis tools such as Google Search Console and Moz Link Explorer which provide detailed insights into their incoming links. These pieces of software allow users to track the quality of each external source by providing metrics such as Domain Authority (DA), Page Authority (PA), and Trust Flow (TF). Using these tools continuously allows companies to spot patterns within their link profiles that may point toward spammy sources or other potential problems.
In addition to monitoring their existing links, businesses are advised to take steps to improve the overall strength of their link profile over time. This could involve producing fresh content for partner sites regularly or researching new opportunities via outreach campaigns, which will help increase the relevancy and diversity of external pages linking back to theirs. Furthermore, carrying out competitor analyses can be beneficial too; this involves comparing one's website against those belonging to similar brands regarding DA/PA scores and anchor text distribution to gain deeper insight into competitors' successful strategies.
By ensuring companies adhere to best practices regarding building high-quality links and continuously assessing the performance of their link profile through various analysis tools, they can ensure that their websites remain well-positioned across search engine result pages for years to come.
Frequently Asked Questions
How Often Should I Update My Link Profile?
Updating a link profile can be crucial in crafting successful search engine optimization (SEO) strategies. Link building is the practice of increasing the number and quality of links to a website from other websites to improve visibility on major search engines such as Google or Bing. Regularly updating a link profile helps ensure that it remains up-to-date for SEO purposes.
The frequency at which one should update their link profile varies based on several factors. For instance, if numerous changes are made to the content or structure on your site, you may need to regularly update your backlinks more often than those whose sites remain relatively static. Additionally, monitoring competitors' link profiles will help inform how often yours needs updates—if they have increased their link numbers recently, this could suggest that doing so may also benefit your own strategy.
One way to track when updates are necessary is through regular audits of internal and external links. Internal link audits evaluate all the existing links within a website. In contrast, external ones check outbound links pointing away from it. Keeping track of what's linking where and whether these must still be active can help determine when adjustments might be needed. Moreover, since algorithms used by search engines change periodically, it is beneficial to frequently examine and adjust any tactics being used according to current standards for optimal results.
What Is The Most Effective Way To Build A Link Profile?
Creating a link profile is an essential part of Search Engine Optimization (SEO) as it helps increase website relevancy and visibility when searched. Therefore, determining the most effective way to build a link profile is essential for success in SEO.
Link building involves creating backlinks from other sites that point toward your website or web page. This can be done through various methods, such as content promotion and guest posting. It is essential to focus on obtaining quality links from reputable sources instead of quantity; this includes having relevant anchor texts and avoiding malicious activities like buying links. Additionally, monitoring existing backlinks for broken ones should also be conducted regularly so no harm is done to the website's credibility.
To conclude, understanding what makes up a compelling link profile must be acknowledged to achieve successful SEO results. Employing techniques such as content promotion and guest posting will help create valuable backlinks while also ensuring no broken links are present by monitoring them frequently.
Can I Buy Links To Improve My Link Profile?
Link building is an integral part of search engine optimization (SEO). It helps improve a website's ranking in the search results, increasing traffic and potential customers. The question then becomes: can I buy links to improve my link profile?
The answer to this question depends on the type of link being purchased. Search engines consider Some links unethical, such as buying low-quality backlinks or using automated tools to generate hundreds of spammy links. These tactics will not help your SEO efforts and may even lead to penalties from Google and other search engines.
On the other hand, purchasing high-quality backlinks from reputable websites can be beneficial for improving your link profile. High-quality backlinks come from websites that have relevant content related to yours and target audiences who would find value in what you offer. Building relationships with these sites through guest blogging or social media outreach can result in natural links over time, which provide long-term benefits for your website's rankings. Ultimately, it is best practice to acquire links naturally rather than buying them outright when attempting to build a strong link profile for SEO purposes.
How Do I Know If A Link Is Of Good Quality?
When it comes to building a successful link profile, understanding what makes up a quality link is essential. Quality links are determined by the type of website they provide and the value they give back to the recipient's website regarding trust and credibility. Knowing which websites have high-quality content, good rankings in search results, and many established external links can help determine whether a given link is worth pursuing.
Its source must be identified and assessed to evaluate whether a link has any potential for providing SEO benefits. Links from domains with solid domain authority will generally pass more value than those originating from low-ranking sites; thus, determining the Domain Authority (DA) score is critical when assessing whether or not a given link could improve one's link profile. Furthermore, examining existing backlinks on these sources can also provide insight into how much traffic may come from such sites and ultimately measure their impact on one's overall SEO performance.
Evaluating the relevance of an incoming link should also be considered when deciding if it would make sense for inclusion in one's link profile. The anchor text used to send users from another site to yours needs to be relevant enough to appear natural within a page's context. Additionally, related topics between the two websites should match sufficiently so that the outgoing link does not seem out of place or too promotional for either party involved.
Is There Any Way To Automate Link Building?
Link building is an essential part of SEO, as it helps increase a website's authority and visibility. The use of automation in link building can be beneficial for those who are looking to save time when constructing their profile. Automation can help with processes such as finding relevant websites, creating content for outreach campaigns, and submitting backlinks. However, there are some potential drawbacks associated with automated link building that should be taken into consideration before using this approach.
Automated link building saves time but has risks. The links generated could be low-quality or even spammy, damaging the website's reputation and its search engine ranking. Additionally, automated tools often rely on algorithms that may have yet to be tested thoroughly enough to identify good quality sites wherein backlinks should be placed accurately. Any links created through automation may not achieve desired results regarding increased traffic or improved rankings on SERPs (Search Engine Results Pages).
When selecting an automated link-building tool, it is essential to assess how well the algorithm works and whether it produces high-quality links or creates irrelevant ones. Furthermore, manual reviews must still be conducted occasionally to ensure that all existing relations remain valid and are up-to-date with current trends in SEO practices. While automation offers convenience and efficiency when building a solid link profile for SEO purposes, it must always be used responsibly and monitored closely by experienced professionals.
Conclusion
The development of a strong link profile is essential for any website looking to rank high in search engine results. Link building provides an effective way to increase the visibility and relevance of websites, as well as access to valuable target audiences. Websites must regularly update their link profiles to keep up with the ever-changing landscape of SEO best practices.
When constructing a link profile, it is essential to focus on quality over quantity when selecting links. Webmasters should research potential sources before including them in their portfolio, as significant penalties can be associated with using low-quality or spammy links. Additionally, webmasters must weigh the risks and rewards related to buying links; At the same time, these may provide more immediate gains; Google has severe penalties for those caught engaging in this practice.
Finally, automated tools have been developed which allow SEOs to streamline many aspects of the link-building process. These programs can help automate repetitive tasks such as acquiring new backlinks or monitoring existing ones. However, caution should still be taken when utilizing automation software; algorithms cannot yet replicate human judgment when assessing link quality, so the manual review will always remain necessary within a complete SEO strategy.