The vastness of the internet is unimaginable – nearly 1.14 billion websites with over 50 billion webpages! With the advent of new industries like Automation, Artificial Intelligence, Big Data, and BlockChain, and increased competition among others like retail, manufacturing, electronics and eCommerce, it has become exceedingly challenging to differentiate yourself from the rest of the pack.
Needless to say, an online presence is a must if you are in business – small, medium or big. Nowadays, an online presence doesn't mean just maintaining a website and showing all your products/services, an 'About Us' and a 'Contact Us' section. You must have a website that is engaging, motivating, and informative. One foolproof way to attract new customers and build a solid online presence is by frequently publishing blog posts on a website.
Having a blog section on your website increases your reach by leaps and bounds. Blogging on your website about your product/business drives up to 67% of traffic. And good traffic means a higher conversion rate. So if you're not blogging, it's like throwing money away. And why would you not want to get in on the bandwagon?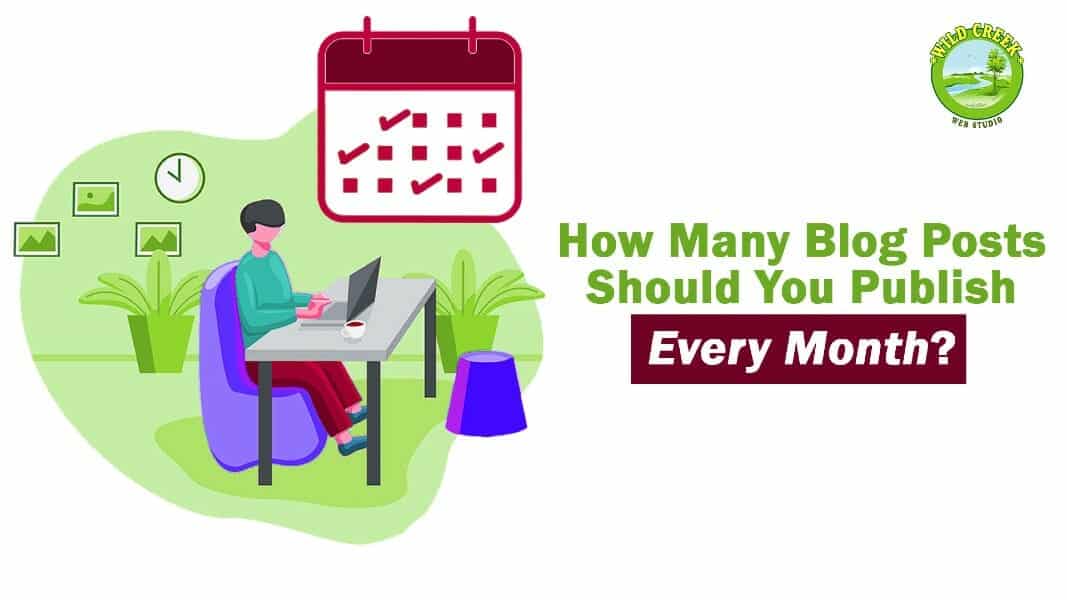 Blogging Regularly
Regular blogging makes your website more relevant. It helps your website rank higher on SERPs while converting searchers into customers. Blogging statistics (published in 2022) revealed that on average, 61% of online users purchase a product after reading an informative blog. When readers get first-hand information about a product, industry trends or vital information, they start trusting the company. This trust later transforms into brand loyalty.
Blogs also help keep your target audience engaged. A well-written blog answers several doubts that tend to go unnoticed. For example, customers of Microsoft could greatly benefit from reading a blog about the breakthroughs the company is making on AI and Machine Learning, two niches that are hot in the world market now.
Now that we've established the importance of blogging, how frequently you should blog is the next question.
Key Factors That Determine Blogging Frequency
An ideal blog post frequency is subjective. It differs based on niches, target audiences, and many such important factors.
Resources and Blog Goals
Some businesses require publishing a blog daily while others require one or two per week. Therefore determining your blog goals well ahead of the commitment can help you handle the work better. Consider investing in correct SEO tools that prove effective for your blogging goals. Never exhaust the writer's resources by bombarding them with too many irrelevant topics. Thorough research and development are key to successful blogging strategies. Be aware of the changing scenarios in your industry, generate new relevant ideas, edit and repurpose irrelevant or older blogs, and have a scheduled publishing cycle.
Target Audience
Now, this is a crucial step. Before starting on the blogging journey, make sure to have your target audience at the forefront of your mind. Figuring out customer's needs and doubts and having a basic understanding of the buyer mindset will help you determine the blog topics and concepts. If yours is a niche that is constantly evolving and is home to a wide range of customers, then your blogging frequency should be relatively higher, sometimes even once every few days for you to stay ahead of the competitors.
Business Model and Niche
As mentioned earlier, each niche requires a different approach. A clear-cut business model will help you answer a lot of customer's questions and provide perspectives that you never knew existed. Based on this, you can develop and hire the required resources (for example, a content writing company focussing on technical writing). The more pages your website has the better, as it provides curated spaces for your customers to explore and buy.
Quality over Quantity
This cannot be said enough. There are over 570 million blogs on the internet as of 2021, but how many get seen and how many stay in trend are what's important. Any business can have blogs that go up daily but blogs that make the conversion are the ones in which great efforts have been put into.
Search Engine Optimization (SEO) is at the top of every digital marketing strategy. A carefully crafted blog with the right use of SEO keywords will make your website authentic and generate organic traffic. Once you've managed to get organic buyers interested in your product, sales should come as easy as pie.
Creating backlinks to legitimate websites makes your site trustworthy. Backlinking also gives you a higher ranking and search engines will automatically begin to boost your website (or brand). In order for blogs to flourish, groundwork – aka content strategy is vital. A killer content strategy widens your market, generates steady flow of potential customers, and broadens revenue mediums.
SMM and Blogging
How often do you dive into Instagram, FaceBook or Twitter? We bet it's way more than you go to a company's website! Social Media Marketing makes your brand relatable. When an audience is constantly reminded of your brand, they are more likely to purchase your product. This simple strategy can be achieved with the right SMM strategies. Sharing snippets of blog posts on the right social media handles raises the customer bar for newer, trendier, and millennial customers. It also increases the click rate, and more clicks just mean more business right? Blogging about the purpose of your brand and its ideologies will create an emotional connection with your TG and could also nurture genuine lead development. And this broadcast on your social media handles creates brand awareness. SMM helps you keep track of current industry developments and deals. It also offers you a sense of what your audience really needs.
Conclusion
With all this being elaborated, blogging about your brand, its products, its associates and achievements helps people get familiarized and accustomed to you. A well-informed consumer is always the one who is willing to invest in the right products. Therefore with these pointers, we hope that you can find out exactly how frequently you should blog. And with the help of experts in the digital marketing industry, there is no stopping the success of your business. So here's to you, happy blogging!