One of the most important aspect about any SEO activity is to have a realistic expectation. SEO is not about short-term gains; it is all about long term sustenance.
SEO is not a one-time activity. You cannot just SEO a website and forget all about it. As long as the website exists, SEO is an integral part of it. It is an ongoing process that has no end date.
SEO is like nurturing a plant, if you want it to give the results you expect, you have to nurture it, feed it and take care of it every day.
Introduction:
A few months ago, we were contacted by the Entertainment Editor of a leading national newspaper brand. They was experiencing very low website traffic despite being a national brand.
Situation:
The client had spun off a separate division to focus on the entertainment industry with regular celebrity interviews and movie reviews. While they were popular in print, they hit a roadblock with their website traffic. Despite multiple efforts, that included huge spends on paid advertising, they were unable to increase the traffic numbers beyond a particular level.
Requirement:
When they reached out to us, the client had two key requirements.
Increase the organic SEO traffic.
Reduce the spend on paid advertisement.
 Challenges Identified by Wild Creek:
Before taking up the project, using Wild Creek's Digital Diagnostic Framework, we identified a few challenges.
Absence of On-Page SEO: While the client recently revamped the website, it was lacking in SEO.
Lack of SEO optimized content: The client had several journalists writing content, but they were not optimized for SEO.
Based on these two major challenges and along with several others, we crafted a customized solution that would address all of the issues.
Wild Creek Strategy and Solution:
[stu alias="subscribe_today_to_read_the_full_article"]
Having understood the client's situation, requirements and challenges, we created and implemented a unique 3E Strategy to address this case.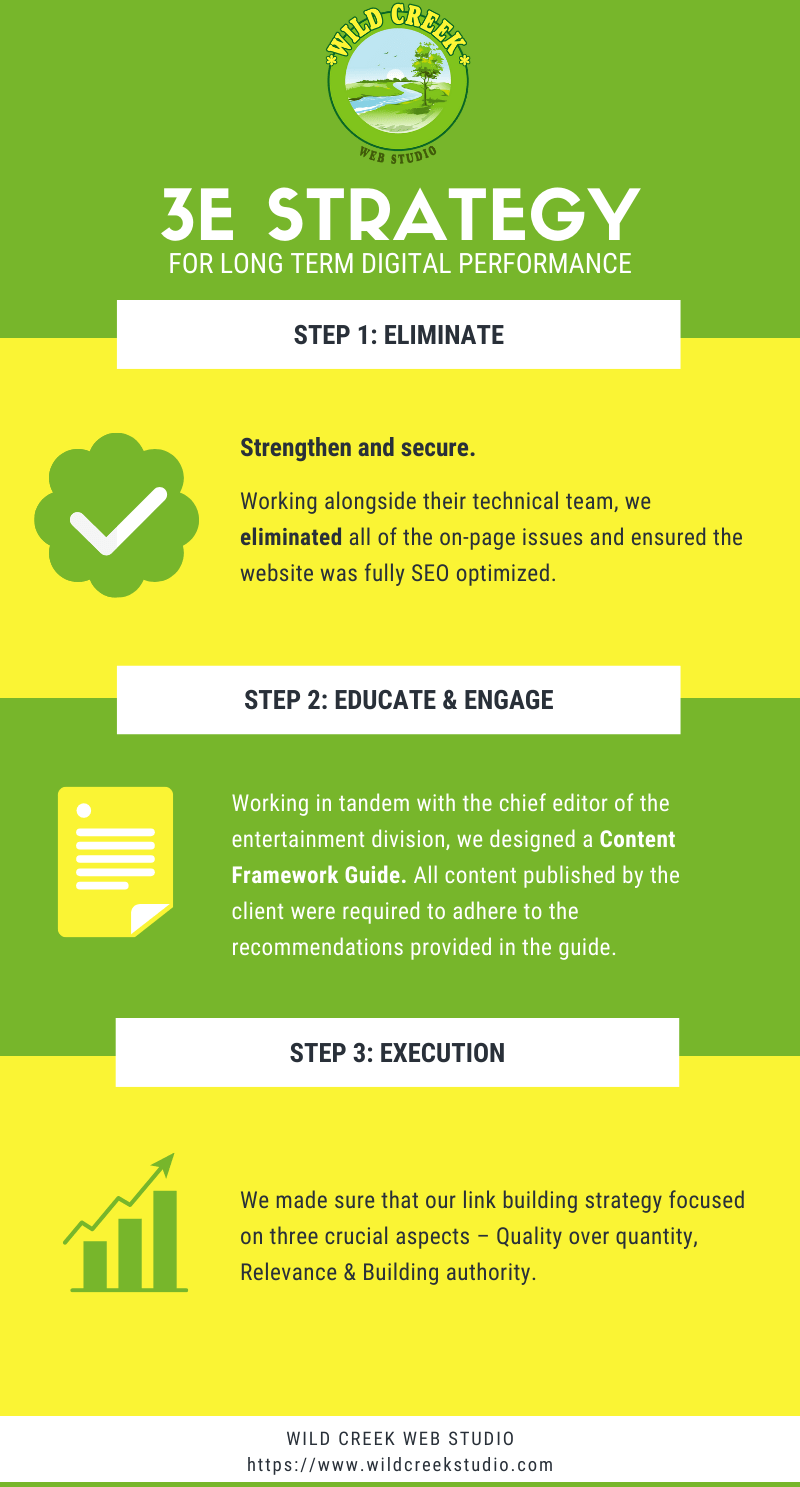 Step 1: Eliminate
Our first step was to work on improving the on-page challenges that we identified with our Digital Diagnostic Framework.
Working alongside their technical team, we eliminated all of the on-page issues and ensured the website was fully SEO optimized.
Step 2: Educate / Engage
As our next step we began to work with the team of content writers the client had. Working in tandem with the chief editor of the entertainment division, we designed a Content Framework Guide. All content published by the client were required to adhere to the recommendations provided in the guide.
To make this happen, we engaged with the writers and educated the publishing team to have content written and published in line with this new framework.
When this exercise was implemented, the client realized importance of the new framework that we brought in as they saw immediate results in terms on steady increase in traffic and new users consuming content.
Step 3: Execution
With the initial challenges sorted, we set about increasing their off-page SEO parameters. Earlier efforts by the client in Link Building had not paid off as it was not approached in the appropriate manner. Link building is a significant part of a strong SEO strategy but it has to be done properly.
When we explained our approach to the client, they realized that acquiring back links when the website structure is poor was pointless. Unless the site had solid foundations, acquiring links would do more harm than any good.
That is why the last and final step was the execution. We made sure that our link building strategy focused on three crucial aspects –
Quality over quantity
Relevance
Building authority
Every single link that we built for this client came from relevant and established sites that amplified the reach of this client's website.
The result:
The SEO traffic grew from an average of 18,941 visitors per month to 172,705 at the peak.

Despite such a competitive segment the client was in, we were able to increase the organic SEO traffic by 811% over a 16-month period.  This organic increase helped the client save significant costs in terms of advertisement expenditure.
[/stu]
Conclusion:
By bringing in a strategy that worked at the foundation of building the client's digital presence, Wild Creek was able to establish the brand's authority in the digital space, rivaling their offline popularity. This skyrocketed their web traffic which in turn directly contributed to increasing their revenue from digital media.
If you would like to turn your business around with a digital strategy that produces long-term results, click here to connect with us.