In today's digital age, a successful digital marketing strategy is essential for any growing business. With a good plan, you could stay caught up with competitors and retain valuable customers. But why exactly do you need a digital marketing strategy?
As digital technology advances and more people use the internet to search for products and services, it's increasingly important to have an effective online presence. A well-crafted digital marketing strategy can help your business reach new audiences and capture their attention with targeted campaigns. It also allows you to track results quickly to make informed decisions about where to invest your resources in the future.
An effective digital marketing strategy is critical to unlocking the potential of your business in the digital world. Find out why you need a digital marketing strategy and how it can help you succeed in today's competitive landscape.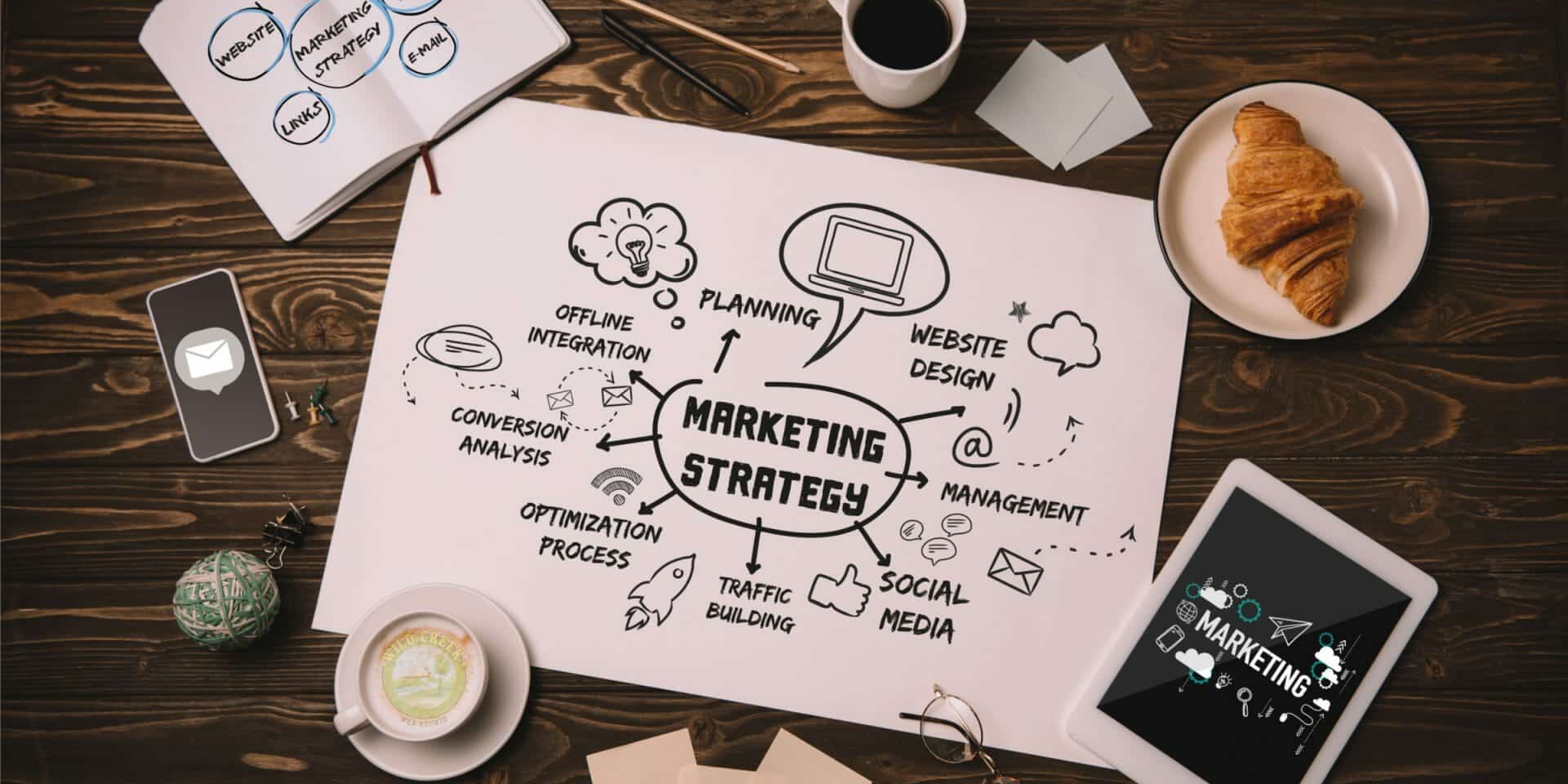 Definition Of Digital Marketing
It's no secret that digital marketing is essential to the success of any business. But what exactly is it? Digital marketing, also known as online marketing, utilizes and leverages digital technologies to reach customers and prospects. It involves all forms of online advertising, from search engine optimization (SEO) and email campaigns to social media engagement and paid ads. While traditional marketing methods such as radio, television, print, and outdoor still have their place in many businesses' strategies, digital marketing offers a more targeted approach that can result in more significant ROI.
Nowadays, consumers are connected to their devices 24/7. They use them to search for information, compare products and services, and make decisions about purchases—all while on the go or even in bed! As a result of this near-constant connectivity, companies must adjust their strategies accordingly. That's where digital marketing comes into play—it's an invaluable tool for reaching increasingly mobile customers or seeking out information online first.
However, more than merely having a website or engaging in some form of online activity is needed; businesses must create an intentional plan for reaching their target audience through digital channels. This requires understanding how each platform works differently and how best to get your message across on each one; it also demands staying current with industry trends so you know when something new has come along that could benefit your business. With a deliberate strategy in place—one that considers both traditional approaches and emerging tech—you can ensure more people than ever before will see your brand.
Benefits Of A Digital Marketing Strategy
Given the ever-changing digital landscape, a well-thought-out strategy is essential for businesses looking to advance in their respective industries. A digital marketing plan can provide numerous benefits, from improved visibility and increased web traffic to greater customer loyalty and conversion rates. Let's examine some of the most prominent advantages of creating a digital marketing strategy.
One advantage to developing a comprehensive plan is that it enables businesses to stay competitive in the marketplace. Companies must differentiate and stand out with so many competitors vying for customers' attention online. A smart strategy can help you reach your target audience more quickly while expanding your reach beyond those who already know about your brand. It also gives you insights into what strategies are working best for other organizations in your industry so that you can find ways to replicate their success or improve upon them.
Finally, having an effective strategy allows businesses to make the most out of their budget. Digital marketing campaigns are generally more cost effective than traditional ones since they require less time, resources, and money to produce results. Plus, when done right, they provide data such as website visits and conversions that can be used to measure ROI more accurately than with traditional methods like TV or radio ads. By leveraging this data, businesses can adjust their strategies if needed to maximize their return on investment—all while saving valuable time and money.
The importance of having an organized plan cannot be overstated; with its myriad benefits, there's no better way to ensure success online than by creating a custom-tailored digital marketing strategy. Moving forward, let's explore what elements makeup such a plan so that you have all the tools necessary for building one for yourself or your business.
Elements Of A Digital Marketing Strategy
With the benefits of a digital marketing strategy, let's look at the elements required to create an effective plan. Crafting a unique design that meets your business's needs and objectives is no small feat. Still, by following specific guidelines, you can ensure your campaign succeeds.
First and foremost, it's essential to develop a clear understanding of who your target audience is. This requires researching their buying behaviors, interests, and other demographic information so that you know what strategies will work best for reaching them. Once you have this data, you can use it to create content tailored specifically for this group—such as blog posts, videos, or social media posts—that will appeal to them the most.
The next step is to identify which platforms are best suited for reaching your target audience. Different social media channels may be more popular with one type of consumer than another; likewise, some platforms may be better suited for B2C marketing while others are more appropriate for B2B campaigns. It's essential to familiarize yourself with each platform before building out your digital strategy to select the ones that will deliver the most ROI and reach your desired goals.
Now that we have discussed an effective digital marketing strategy let's explore some of the most popular platforms businesses use to launch their campaigns online.
Platforms For Digital Marketing
Many businesses may find launching a digital marketing campaign daunting due to the numerous platforms available. While there's no one-size-fits-all solution, understanding which channels are most popular and effective can help make your decision easier. Let's look at some of the most common options for businesses looking to establish an online presence.
Social media is one of the most used platforms for digital marketing campaigns and with good reason. With millions of users across various networks like Facebook, Instagram, Twitter, LinkedIn, and Pinterest, businesses have access to a vast potential audience that they can reach with their message. Additionally, many of these platforms offer features such as paid advertising and analytics tools that allow companies to measure the impact of their campaigns in real-time.
Search engine optimization (SEO) should also be integral to any digital marketing strategy. Optimizing your website or blog content for specific keywords related to your business or services can improve its visibility on search engine results pages (SERPs), thus increasing your chances of organically reaching more customers. Additionally, SEO can help improve user experience by making it easier for people to find relevant information on your site quickly and efficiently.
In addition to social media and SEO tactics, email is another powerful tool for connecting with customers online. Email campaigns can be tailored specifically to target particular audiences and deliver targeted messages that drive engagement with your brand while providing valuable insights into customer behavior through metrics such as open rates and click-through rates. Furthermore, email automation allows companies to send personalized emails on a schedule that works best for them without manually inputting each message whenever they want to reach out to their customers.
By taking advantage of these popular digital marketing channels, businesses have access to vast new audience segments that they may not have been able to reach before—opening up exciting opportunities for growth and success. Now let's discuss creating an effective digital marketing plan for your business goals.
Creating An Effective Digital Marketing Plan
With the right approach, digital marketing can be a powerful tool for businesses of all sizes. To make sure you get the most out of your efforts, creating a comprehensive plan that outlines your specific goals and strategies is essential. This plan should include an assessment of your current situation, a clear understanding of your target audience, and an outline of how you will reach them.
First, take stock of where you are currently in digital marketing. What platforms are you already using? Are they working for you or not? Do you have any existing campaigns running? Understanding your current state is essential to creating an effective strategy. It allows you to build on what's already working and eliminate anything that needs to be added.
Once you have a good grasp on your current situation, it's time to start mapping out the specifics of your new plan. Here, it's essential to identify who exactly your target audience is and what their needs are. Knowing this information will help determine which channels are best suited to reaching them and the type of content that will resonate most with them. Additionally, consider setting measurable goals based on what success looks like for your company so that you can easily track progress over time.
Having laid out a clear plan for achieving success with digital marketing, all that's left is to put it into action—and measure the results of those efforts to make any necessary adjustments along the way.
Measuring The Results Of Your Efforts
Now that the groundwork has been laid for a successful digital marketing strategy, it's time to implement the plan and monitor its performance. As the saying goes: "you can't improve what you don't measure." By gathering data and analyzing key metrics, businesses can gain valuable insights into their campaigns' performance and make adjustments as needed.
The first step in measuring your efforts is setting up tracking links to easily track clicks, impressions, conversions, etc. This will enable you to identify which channels drive the most traffic and conversions and which may need improvement. Additionally, it's essential to keep an eye on user engagement with your content—how long people are staying on your pages, how often they're returning, etc.—so you can better understand what resonates with them.
Finally, understanding where your digital marketing stands is essential for creating effective strategies down the line. The more data you have on hand about past successes (or failures), the better positioned you will be to make informed decisions about what works and what doesn't. It's also important to remember that digital marketing is ever-evolving; by regularly evaluating your results and staying up-to-date with industry trends, you can ensure that your strategies remain effective in the long run.
Frequently Asked Questions
What Type Of Skill Set Do I Need To Develop A Digital Marketing Strategy?
Developing a digital marketing strategy requires a variety of skills and knowledge. From understanding the basics of SEO and content marketing to using analytics to determine what's working and what isn't, having solid skills in this area is essential for success.
You must understand website design, social media management, and data analysis to create an effective digital marketing strategy. You should also have a basic knowledge of search engine optimization (SEO), which can help you generate more organic traffic. Additionally, it's essential to use analytics tools such as Google Analytics or Adobe Analytics to track the effectiveness of your efforts.
Lastly, you should be well-versed in creating compelling content for your target audience. This could include blog posts, videos, webinars, eBooks, infographics, and more. Content should be tailored for each specific platform you are using. It should be optimized for the relevant keywords people search online. To ensure your content is engaging and effective in reaching its intended audience, staying up-to-date with industry trends and best practices is essential.
With these skill sets in place, you will have the foundation to create a successful digital marketing strategy that drives results.
How Much Budget Should I Allocate To Digital Marketing?
As digital marketing continues to expand and evolve, one of the most important decisions you must make is how much of your budget you should allocate. Recent research has found that businesses are giving an average of 30% of their overall marketing budget to digital channels like search engine optimization (SEO), social media, content marketing, email campaigns, and more.
The budget you should assign for digital marketing depends on several factors. Suppose you're an established business with limited resources and time. In that case, you should focus more on SEO since it takes a while to see results but can yield long-term success. On the other hand, if you're a startup or a small business looking for quick results and brand awareness, investing in social media campaigns may be the best option.
In addition to budget allocation, it's also essential to consider the type of skills needed for successful digital marketing initiatives. Depending on the size and scope of your business goals, you may need to hire staff with specific training in areas such as SEO, graphic design, website development, or online advertising. Alternatively, suppose your company has limited resources and time constraints. In that case, plenty of platforms offer easy-to-use tools so you can create and manage your campaigns without any technical expertise.
No matter what industry or market segment you're targeting with your digital marketing strategy, it's essential that you carefully consider how much budget is necessary to achieve success. By properly assessing your needs and making smart investments in digital channels early on, your business can enjoy long-term rewards while staying within its allocated budget.
What Is The Best Way To Reach My Target Audience Using Digital Marketing?
Reaching your target audience is one of the most important aspects of a successful digital marketing strategy. Knowing how to get the best will ultimately determine the success of your campaign. The best way to reach your target audience depends on who they are and their preferred platforms.
For example, if you're targeting young people, social media channels like Instagram and Snapchat might be more effective than traditional ads. Alternatively, if you're targeting business professionals, then LinkedIn could be a better option for reaching them. It's also important to consider which platform has the most engagement for your market segment.
Another factor to consider when deciding how to reach your target audience is budget. Depending on the size of your budget, you may have access to different advertising options, such as targeted ads or influencer partnerships. Additionally, organic content such as blog posts or videos can also attract potential customers without requiring much money. Ultimately, choosing the right approach for connecting with your target audience will take some experimentation and research to find what works best for you.
What Is The Best Way To Measure The Success Of My Digital Marketing Efforts?
Measuring the success of digital marketing efforts is an integral part of any strategy. With it, marketers can tell if their campaigns are effective. It's also essential to set objectives before launching a campaign so that you can track progress and take corrective action if needed. There are many ways to measure success in digital marketing, and each approach has benefits and drawbacks.
One way to measure success is through analytics tools such as Google Analytics or Adobe Analytics. These tools provide insights into website performance, including page views, click-through rate, bounce rate, average time on site, conversions, cost per acquisition (CPA), return on investment (ROI), and more. This data can help marketers assess the effectiveness of their campaigns and determine which strategies need improvement.
Another approach is to use surveys or focus groups to get direct feedback from customers about their experiences with the product or service being promoted. This qualitative research gives marketers a better understanding of how their target audience perceives their brand, product, or service and what could be improved. Additionally, this method allows them to identify any potential issues that could affect their campaigns' success in the future.
Overall, there are many different approaches for measuring the success of digital marketing efforts that can help marketers better understand their campaigns' performance and take corrective action if necessary. By assessing data from analytics tools or gathering customer feedback through surveys or focus groups, marketers can make informed decisions about optimizing their digital marketing efforts for maximum results.
How Often Should I Update My Digital Marketing Strategy?
It's essential to stay up-to-date with your digital marketing strategy. Having a plan in place that is regularly updated is critical to achieving success with your online marketing efforts. But how often should you update your digital marketing strategy?
First, assess the situation and decide if a complete overhaul of your digital marketing strategy is needed. Is there a new trend or technology that could be beneficial to incorporate? Are there any areas where you need to see the results you expected? Answering these questions can help you decide how often to update your strategy.
It's also important to watch the competition and see what they're doing. If their approach is working better than yours, it could be time for a refresh. Staying on top of industry trends and developments can give you ideas for improving your digital marketing efforts and staying ahead of the competition.
Regularly reviewing and updating your digital marketing strategy can ensure that it remains effective, relevant, and successful. Doing so will also keep you one step ahead of the competition and ensure that you are using the latest technologies and trends to maximize effectiveness. Taking these steps will help ensure that your digital marketing efforts remain successful for years.
Conclusion
The bottom line is that digital marketing is essential to any successful business strategy. With a solid digital marketing plan, businesses can stay caught up with their competitors and retain potential customers. Not only does it require a specialized skill set, but it also requires an adequate budget and the ability to track and measure results.
In conclusion, investing in a comprehensive digital marketing strategy is now optional; it is necessary for any business that wants to stay competitive in today's market. The results of a well-crafted digital marketing campaign can be staggering: increased brand awareness, higher conversion rates, and more engagement with customers. It's almost impossible to overstate the importance of having an effective digital marketing plan in place – not just for now but for the long-term success of your business.