Suppose you've recently launched a website or online business. In that case, you may wonder how to track your SEO progress and measure success. Search engine optimization (SEO) is vital for any site that wants to succeed digitally. Understanding how it works can help you stay ahead of the competition. But tracking your SEO progress and measuring success can be challenging – especially if you're new to this field. SEO is a lot of work, so it's important to know if all that effort is paying off. Unfortunately, most companies don't track SEO results. I've seen it firsthand… A company goes "all-in" with an SEO campaign, creating tons of content and building links.
Fortunately, anyone can take some simple steps to understand their SEO performance better. From monitoring web traffic and keyword rankings to analyzing backlinks and assessing user engagement metrics, learning to track progress properly will help you make informed decisions about improving your search engine presence.
In this article, we'll provide an overview of practical strategies for tracking your SEO progress and measuring success so that you can maximize the potential of your online business. Keep reading to find out more!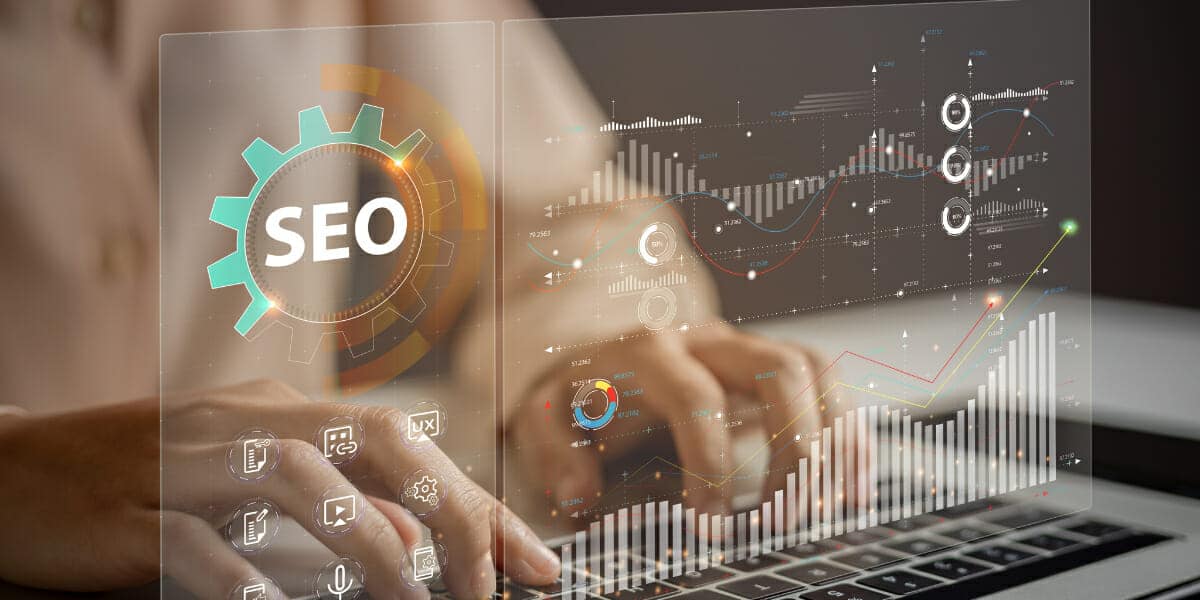 Definition Of SEO
Search Engine Optimization (SEO) is optimizing your website to make it easier for search engines like Google, Bing, and Yahoo to understand what the site is about and how relevant it is to user queries. It involves using carefully chosen keywords, improving page speed, creating quality content, gaining backlinks from other websites, and more. SEO helps you get higher rankings in organic search results so that people can find you when looking for something related to your business or industry.
SEO can be an effective way of driving targeted traffic to your website, which could lead to increased sales and revenue. However, if not managed well enough, it can also result in penalties from search engines and decreased visibility among potential customers. That's why tracking progress and measuring success with SEO campaigns is essential. Conversion tracking is the only way to directly tie your SEO efforts to generating revenue. This is what likely matters the most to your boss, clients, or stakeholders.
By understanding where you are starting from and setting goals accordingly, you'll be able to monitor better any changes made over time and see whether the work being put into optimization efforts has been successful. With this information, we'll be ready to move on to our next step: setting goals and expectations for our SEO campaign.
Setting Goals And Expectations
Before beginning any SEO campaign, setting realistic goals and expectations is essential. This helps in determining whether or not the work being done impacts your website's visibility and overall performance.
When setting goals for SEO campaigns, you should consider factors such as current rankings, budget constraints, audience size, and target keywords. Once these have been established, they can be used to create a strategy focusing on improving those areas while aiming for higher rankings over time. Additionally, setting specific timelines can give you a better idea of how quickly progress may be made throughout the campaign.
Finally, measuring success with SEO comes down to tracking data points related to organic traffic growth, search engine rankings, and other metrics relevant to your industry and website type. By keeping track of this information regularly and adjusting your approach, you can determine whether or not your efforts are paying off. From there, we're ready to move on to our next step: creating an effective keyword & content strategy that engages with your site content and drives organic traffic.
Keywords & Content Strategy
Have you ever wondered which keywords and content strategies will give your website the best chance of success? While there's no one-size-fits-all approach to SEO, understanding how search engines work and what users are looking for makes it possible to create a plan that can help improve visibility in organic search results.
A successful keyword & content strategy starts with researching relevant topics and finding out which terms people use when searching for them. This process involves analyzing existing content on similar websites and utilizing tools like Google Trends or Keywordtool.io to identify popular phrases related to the topic at hand. Once these have been identified, they should be incorporated into blog posts, product descriptions, and other forms of the content found on the site. It's also essential to ensure that all content is optimized for search engine crawlers and human readers alike – this means ensuring headings are correctly formatted, using strategically placed internal links where appropriate, and providing images that include alt tags to describe their contents accurately.
These steps form the foundation of an effective SEO campaign. Still, it's just as important to track progress over time to make adjustments if needed. To do this effectively, we'll need the right tools.
Tools For Tracking Results
Regarding tracking results, several SEO tools are available that can be used to measure SEO progress accurately. Google Analytics is one of the most popular and comprehensive SEO tools, offering detailed reports on website performance and user behavior. It's also possible to set up custom goals to track specific metrics such as page views or time spent on site. This data can then be analyzed to determine which content strategies, including the use of SEO tools, have the most significant impact.
Another valuable tool for monitoring SEO success is Search Console. This platform allows users to keep tabs on how their website appears in organic search results, spot any potential issues with indexing, and identify opportunities for improvement. By regularly checking these reports, website owners can ensure they're always making the most out of their efforts by optimizing content where necessary and targeting relevant keywords. Additionally, Google Search Console (GSC) is a free tool that can be used to monitor your client's search traffic and performance. GSC provides valuable insights into website issues and helps optimize for favorable search rankings. It also tracks SEO-related metrics such as queries, keywords, and specific pages that drive the most traffic to your client's website.
Ultimately, when it comes to measuring SEO success, the key lies in gathering accurate data points and analyzing them accordingly. With the right tools, businesses can gain valuable insights into what works best for their target audience and make informed decisions about future campaigns.
Analyzing The Data
Once all the data has been gathered and tracked, it's time to analyze it. But before concluding their findings, one must first understand how best to interpret the numbers they're looking at. After all, as every savvy marketer knows, there's more than meets the eye regarding SEO success: more than analyzing raw figures is needed; instead, professionals need to consider trends over time to spot patterns and make meaningful improvements.
Fortunately for those who may not have a background in statistics or analytics, many of today's tracking tools come with built-in features that make this process easier. For example, Google Analytics offers customizable dashboards which enable users to visualize their data quickly and easily – allowing them to identify areas where improvement is needed without getting bogged down in complex calculations. Additionally, most search engine algorithms regularly update their ranking systems based on user behavior and feedback – meaning SEO strategies should be reevaluated every few months if businesses want to stay ahead of the curve. The Moz and STAT APIs (among other tools) can also be pulled into Google Sheets or other customizable dashboard platforms for clients and quick at-a-glance SEO check-ins. This also allows you to provide more refined views of only the metrics you care about.
Marketers can gain valuable insights into customer engagement levels and uncover new growth opportunities by taking an analytical approach to understand website performance data. This information allows companies to optimize their content accordingly and maximize ROI across multiple channels.
Optimizing Your Results
At this point, it's time to take action and put the data into practice. Optimization is critical when it comes to achieving successful SEO results, as even small changes can have a significant impact on search engine rankings. When making adjustments, marketers should consider both short-term gains and long-term objectives: for example, while some strategies may result in an immediate increase in organic traffic, they might not be sustainable over several months or years.
When optimizing content, professionals should improve user experience by providing helpful information that meets their needs. This could include adding internal links between related pages, revising existing copy with more relevant keywords, or restructuring navigation menus so that crucial topics are easily accessible. Additionally, businesses should look at page loading speeds and mobile optimization. These factors significantly determine whether users stay on a website or quickly move on to another one.
Taking steps towards effective SEO requires careful consideration and an analytical mindset; properly assessing current performance levels first, companies can save valuable resources on tactics that don't produce tangible results. By understanding how best to interpret website data and using it to inform strategic decisions moving forward, organizations can ensure they make the most out of every opportunity available online. One crucial step in this process is conducting an SEO audit, which helps evaluate the performance of a website's SEO efforts. By conducting an SEO audit, companies can identify areas that need improvement and prioritize their tasks accordingly. Ready to get started? Create a Semrush account to run your first SEO audit for free.
Evaluating Success
At this point, marketers have already done the hard work of optimizing their SEO efforts – so it's time to get down to business and measure success. With a wealth of data available for analysis, evaluating progress and tracking SEO metrics can be intimidating; however, with the right approach in place, it doesn't have to be complicated. Here are some critical tips on how businesses can track their SEO performance and identify areas for improvement.
First, tracking rankings is essential when assessing ROI from any search engine optimization activity. The first thing you'll want to monitor as part of your SEO performance is what position your website is showing as in SERPs (for relevant search queries). Regularly keeping tabs on where websites appear in SERPs will provide valuable insights into which strategies work effectively and require more attention in the future. Secondly, monitoring website traffic over time should also be part of any evaluation process: if overall visits don't increase after implementing specific changes, adjustments may need to be made accordingly. Most importantly, though, analyzing user behavior while they're on-site is crucial in understanding what content resonates best with customers and whether or not they convert into paying customers.
In short, examining your SEO performance is integral in determining how successful campaigns have been and providing invaluable feedback that can help shape future initiatives. By considering the above steps during reviews and making necessary tweaks, businesses can stay ahead of the competition both now and in the long run.
Frequently Asked Questions
What Is The Best Strategy For Choosing Keywords?
Choosing the right keywords for SEO is critical to achieving success in search engine optimization. It can be not easy, as you need to find words that accurately describe your product or service while being popular enough with users to generate traffic and engagement. To ensure you are picking the best keywords for SEO, it's essential to have an effective keyword strategy in place.
Your keyword selection should focus on relevancy and user intent. Relevance means selecting terms related to your business; this will help Google understand what content they should associate with your website. User intent refers to understanding why potential customers might use those particular phrases when searching online; if you know their goal, you can tailor content to help them reach it. Additionally, researching competitors' strategies and analyzing recent changes in search trends can give valuable insights into which keywords may be most beneficial for your goals. When optimizing your content, it's important to track your focus keyphrases, such as the search term "search term". By tracking your focus keyphrases, you can monitor how well your blog post or landing page is ranking on Google for the targeted search term and make necessary adjustments to improve your SEO performance.
Once you've determined the ideal keywords for your site, monitoring their performance over time is essential. You'll want to track clicks, impressions, rankings, conversions, etc., so you can see how well each keyword performs and adjust accordingly. This data will provide vital information about where visitors are coming from and whether or not they're finding what they're looking for once they get there – allowing you to tweak campaigns and maximize ROI.
How Often Should I Track My Seo Progress?
How often should I track my SEO progress? This is a question many marketers ask themselves when creating an SEO strategy. It's essential to keep on top of your analytics and website data, as this will help you determine what changes need to be made to optimize search engine rankings.
The frequency with which you check your SEO progress depends mainly upon the type of industry you are in and how competitive it is. Tracking regularly can ensure you stay ahead if you're in a highly competitive field. On the other hand, if your industry could be more time-sensitive or cutthroat, checking once every few months may be enough.
No matter what kind of business you have, monitoring your SEO progress is essential for success. Keeping tabs on your website traffic and keyword performance allows you to identify any problem areas quickly so they can be addressed before any damage is done. Regularly assessing your SEO efforts also gives you insight into what works best for your company's specific needs and goals, allowing you to refine strategies accordingly and maximize effectiveness over time. Additionally, monitoring your organic traffic is crucial in determining the success of your SEO efforts. By comparing traffic from previous months, you can see if you've gained or lost traffic. If you notice a decline in organic search traffic, it may indicate the need for improvement in your SEO strategies. Furthermore, a decline in search traffic can help identify other technical issues, such as your website not indexing on Google or being too slow.
How Do I Incorporate SEO Into My Overall Marketing Strategy?
Incorporating SEO into your overall marketing strategy can be a daunting task. Still, it is also essential for success in the digital age. It requires an understanding of organic and paid tactics, an eye for detail, and continuous monitoring to ensure that all elements are working together. Understanding how to incorporate SEO into your broader marketing plan will help you maximize its effectiveness and reach tremendous success.
When incorporating SEO into your overall marketing strategy, there are two main components: optimizing content for search engines and building links from other websites back to yours. Optimizing content involves researching keywords that people use when searching for products or services like yours and creating high-quality pages filled with relevant information that target those searches. Building links means finding ways to build relationships with external websites so they link back to yours; this helps boost rankings on significant search engines such as Google and Bing.
Both aspects require ongoing effort if you want to stay ahead of the competition – optimizing website content regularly to ensure it remains up-to-date while seeking new sources of quality links from reputable sites and building backlinks and social media profiles. Leveraging existing relationships within your industry can also be beneficial here; connecting with influencers with large followings may provide additional exposure and direct visitors to your website. Not only does this help increase visibility, but it's also more likely to bring qualified leads who are already interested in what you offer.
By creating a thoughtful SEO plan that works alongside other marketing activities, you'll find yourself better positioned for long-term success across multiple channels. Whether through organic optimization or strategic outreach efforts, by implementing various techniques designed around reaching potential customers through search engine results page (SERP) rankings, you'll be able to get a wider audience and build brand loyalty over time.
What Are The Most Important Metrics To Measure Seo Success?
When it comes to SEO, measuring success is critical. It's essential to track your progress and understand which metrics matter most when determining whether or not you're achieving the desired results. So what are the crucial indicators of SEO success?
Analyzing website traffic, engagement rate, conversion rate, organic reach, keyword rankings, backlinks, and time on site can help pinpoint areas that need improvement and those that are performing at an optimal level. Website traffic lets you know how many people visit your site. At the same time, conversions show if they're taking action after landing there. Engagement rate measures user interactions with content like clicking links or viewing videos; organic reach looks at how often users see your posts in their newsfeeds without any influence from paid campaigns; keywords tell you where a page ranks for targeted terms; backlinks measure how many sites link to yours; and on-site time shows how long visitors are staying once they arrive. To measure SEO success, it's important to track conversions. This helps connect your efforts to revenue, which is crucial to stakeholders.
Using these metrics together paints a clear picture of exactly how successful (or unsuccessful) your SEO efforts have been – enabling you to make smarter decisions about future strategies. Regularly monitoring performance across each metric allows you to identify growth opportunities and adjust tactics quickly.
What Is The Best Way To Optimize My Website For Seo?
Search engine optimization (SEO) can be tricky for website owners. Still, it's necessary to ensure the best performance of any online entity. Knowing how to optimize your website is essential if you want to see success in SEO and reach new heights with your content. But what is the best way to achieve this?
Like many issues that arise on the web, there are multiple strategies one can use when optimizing their site for SEO. From fine-tuning backlinks, utilizing keywords effectively, and creating high-quality content – each step is vital in achieving desired results. These tools, including meta descriptions, can make all the difference in increasing visibility and driving traffic to your website.
The ultimate goal behind SEO should always be focused on providing value – not just plain numbers or rankings. As tempting as metrics may sound, they will only do much good if they're correctly implemented into an effective strategy that produces tangible outcomes over time. When done correctly, optimizing your website will result in improved search engine rankings, increased user engagement, and enhanced visibility for potential customers – satisfying both short-term goals and long-term objectives alike!
By taking a holistic approach toward improving your website's ranking position through informed decision-making and strategic execution, you'll have greater chances of succeeding with SEO. With patience and persistence coupled with quality methods designed to meet specific needs, you, too, can create a successful strategy for optimizing your website for maximum impact!
Conclusion
Successful SEO is a long-term investment that requires consistent attention. To ensure your efforts are well-spent, tracking and measuring progress regularly is essential. By understanding the right metrics to measure success, you can adjust your strategy quickly if needed and keep up with any new trends or changes in search engine algorithms.
For example, I recently worked with a client who wanted to increase their website traffic. After carefully tracking our results every week for several weeks, we noticed a significant improvement after making adjustments based on our data analysis. The phrase' data-driven marketing' suddenly made sense! We could consistently see the impact of our strategies over time and identify areas where further optimization was necessary.
The key takeaway is that analytics are essential for SEO – by having clear visibility into how your efforts pay off, you can make sure you're always one step ahead and get the most out of your SEO campaigns. With this approach, you'll be well on your way toward achieving greater online visibility and reaching more potential customers than ever before!