In our previous blog, we discussed the importance of a Customer Acquisition Strategy and gained knowledge on the Customer Acquisition Funnel. Today, without further ado, let's get into the 7 steps to creating a customer acquisition strategy for your business.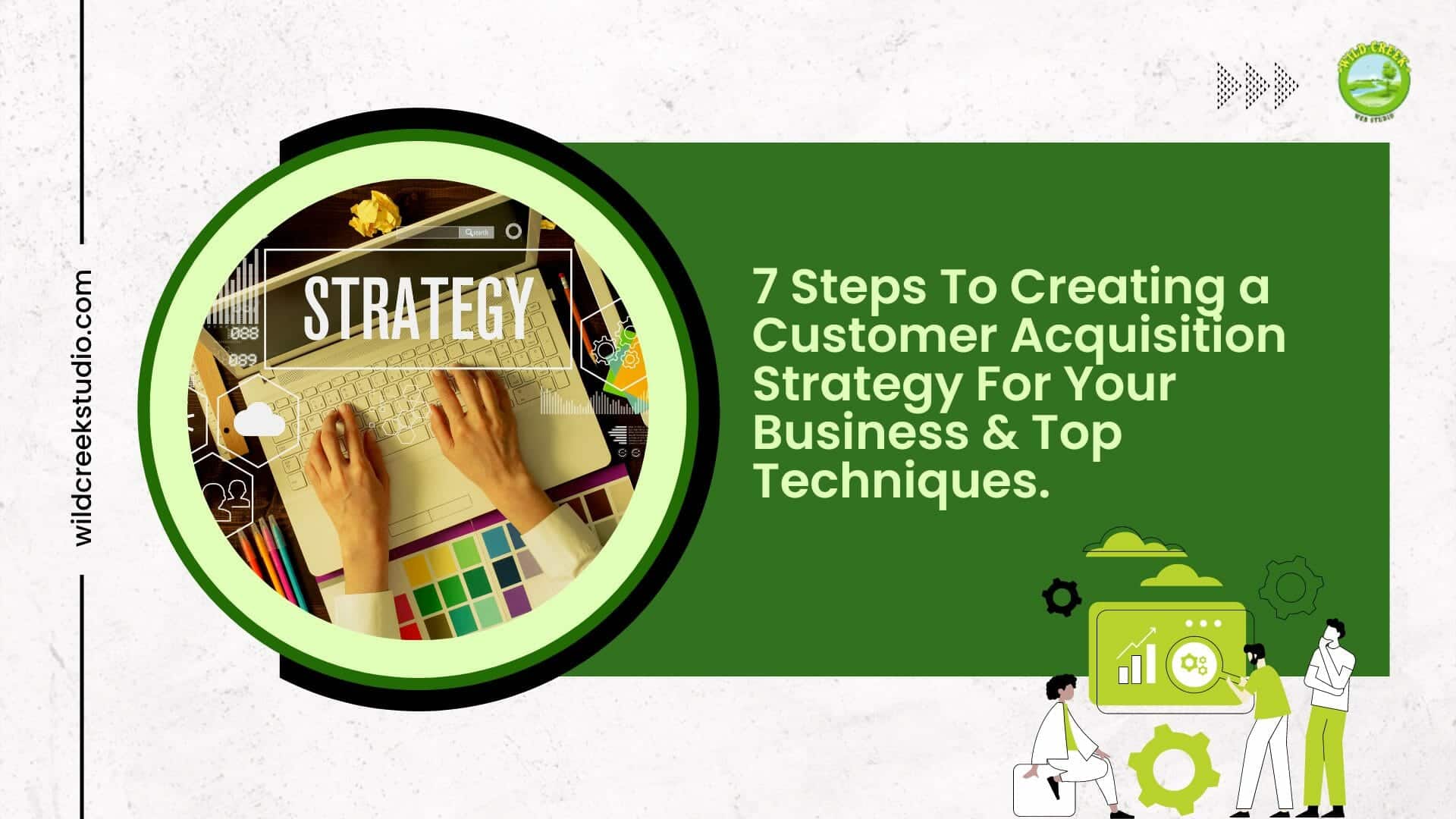 1. Determine who your ideal customer is
Identifying ideal customers and setting marketing objectives will be easier if you know your product-market fit. Understanding your customer base is the first step toward customer acquisition.
Ask yourself the following questions if you don't know who your audience is yet:
What are the challenges your customers face?
How does your product or service help customers?
Which demographics do they fall into?
Why do customers buy/not buy your product(s)?
How did they know about your business?
You can use the above questions to develop a customer profile. You can use these profiles to understand, analyze, and expand your customer base as your business grows. By identifying the traits and behaviors of your highest-value customers, you can choose the best channels for acquiring them. More on the channels in the sections to come.
2. Establish your goals
Setting goals is relatively easy when it comes to acquiring customers. Goals can be assessed using plenty of measurable data. For instance, by defining your ideal customers' needs, you can formulate a customer acquisition plan and map out a strategy to meet them.
Depending on your needs, you can measure customer lifetime value, acquisition costs, and recurring revenue weekly or monthly. Taking customer churn and current customer growth into account when planning your customer acquisition strategy will help you meet your revenue expectations.
Marketing efforts work if they're practical, and it's not hard to prove it. In order to create a strategy that aligns with your overall business goals, you need to measure metrics such as monthly recurring revenue (MRR), customer lifetime value (CLV), customer acquisition costs (CAC), and churn rate.
3. Now, choose your customer acquisition channels wisely
A crucial first step for creating a successful strategy is pinpointing your ideal customers and customer acquisition goals. But remember, there's more to it. Determine the content types and channels based on your research on customer profiles, buyer persona, and goals.
But what is a customer acquisition channel? It is a place where your customer meets your brand. These are mediums where you bring in new customers. It could be social media, organic search, or a paid ad. For instance, your customer acquisition channel could be YouTube if your customers constantly want informative content for a longer duration. You can choose paid social media as your medium for short, catchy ads with engaging visuals.
So once you set your channel(s) for customer acquisition, what next?
4. Create a unique strategy for each channel
Your customer acquisition strategy may be hindered if you try to get on every channel possible. As an example, if your goal is to reach millennials, Instagram or TikTok may be your best bet. A Facebook or Google Shopping ad won't be worth all your resources.
Create marketing strategies for each channel by focusing on the following:
What kind of content your audience engages with.
Follow your competitors' posts.
You can learn a lot from your KPIs.
To maximize your customer acquisition efforts, research the best strategies for each channel you use. In case your customers are mostly on Facebook, you may decide not to use TikTok. Alternatively, if a video is more effective than words, YouTube or Instagram may be better options than long-form blogs.
Once the strategy is up and running, what next?
5. Make sure you communicate with your customers
Customer feedback is critical to identifying gaps in your customer acquisition process. The only way to collect this valuable information is to request it. How? Customer communication can be achieved through surveys, email contact forms, customer interviews, social media posts, and blog posts.
For instance, offering a deal, requesting feedback with some helpful goodies (eBooks, how-to guides), or being available to answer questions is a good idea. Keep in touch with your customers regularly with a communication plan. With those insights, you can determine and capitalize on the value your customers expect from you and your products.
And? That's it? Well, there's always something happening in the neighborhood.
6. Watch out for competitor strategies
Please hold your judgment for a moment before saying, "I already knew that!" Sure, you know to analyze your competition, but do you really investigate all your prospects' options?
For instance, do you consider a content brewing firm a competitor if you provide sophisticated digital marketing solutions? Do you lose most often to one of these competitors? How often do you beat out your competition?
With this data in hand, you can analyze your main competitors' strategies. Examine your competitors' marketing plans closely. Study their websites, social media, and paid advertisements. How would you rate their reputation? Have they got good reviews? Revisioning your customer acquisition strategy is easier with this data.
We said revisioning, not replicating. In such a content-rich world, duplication is easy to find, and customers are wise-enough to eliminate such businesses.
Once you refine your strategies according to your customers and roll out your plan, you need to
7. Constantly evaluate and improve your strategy
You cannot build an online business without applying analytics. If you are unaware of what is working (or not), where people are coming from, and how your pages are performing, you are on the verge of failing. It's like driving in the dark with your eyes closed.
But what exactly can contribute to success in customer acquisition? Many factors. That's why measuring and analyzing your results is so important. Analyzing customer acquisition can help you determine the following: customers' perception of your products, their purchasing details, and demographics are a few to name.
Plan out which metrics you will monitor for customer acquisition before you start tracking. Customer acquisition costs (CAC), Customer lifetime value (LTV), LTV:CAC ratio, new customer growth, and Churn rate are a few common metrics.
It can be challenging to acquire new customers. However, with careful planning and effective strategies, you can attract high-value customers, keep them for a longer period of time, and achieve sustainable growth.
So, these are the steps toward creating a killer customer acquisition strategy. Now, how does it work? What are the effective ways to implement it? Will it work for B2B and B2C alike? Woah! Scroll down, please!
Top 10 Customer Acquisition Techniques
1. Paid Marketing
New businesses or online stores will likely need to invest more in paid advertising to grow. Often ads produce results straight away, including traffic, leads, and sales. In addition, paid ads can be an excellent way to help you discover keywords to drive organic search engine traffic. In the wrong hands, pay-per-click (PPC) can be expensive fast. PPC works best for B2C industries where the advertisements directly impact customers. To maximize ad spending, follow these best practices:
Remarketing is a vital part of your campaign that has been proven to yield a 1300% ROI.
Take advantage of Google's Dynamic Search Ads. These ads display relevant content from your website based on what a person was searching for. This helps you save time, get more conversions, and keep your ads relevant.
Create interactive experiences for potential customers through ad automation.
2. Email Marketing
A good tactic for acquiring new customers, this tactic has been around as long as the internet. It allows you to reach your target audience and promote your content, discounts, and products.
The content that might initiate the engagement of customers should be more appropriate for those in the first two steps.
A great way to do this is by sending personalized emails to people depending on their stage in the customer acquisition process.
An email with product information would be of greater interest to those that consider you. This allows them to make a more informed purchase decision. It's also the easiest way to connect with and acquire new customers. A promotional email that offers a discount can also entice people in the final stages to make that purchase.
Ecommerce biggie Amazon does a great job in this. They send out customized emails to their audience. It could be regarding their wish list, abandoned carts, or even a push toward making a purchase. Although it seems like a sure shot for the B2C segment, the right proportion of personalization, addressing the pain points, and delivering value through solid communication can help the B2B marketing latch on to email marketing.
3. Social Media Marketing
If you don't have a solid game plan for social media, it can be a lot of work for little reward. What are your hotspot networks to engage with your audience, and which ones to avoid? This list is crucial because only some social media platforms can have your target audience. Identify your brand's social voice and how you can develop a frame in the market. Have you put together a crisis plan? Do not be alarmed by these questions.
The sound of organically posting on social media can seem as if you're shouting into the void. Social Media Marketing works well for both B2B and B2C marketing segments alike. A well-defined audience is crucial to accessing the right networks. Pinterest, for instance, would have little value if you were targeting a mostly male audience because only 15% of men use it. Facebook, Instagram, and Snapchat should be part of your playbook if you're trying to reach millennials. So, be sure of your strategies and target group here.
4. Organic search marketing
As the name suggests, you don't pay for any marketing activities here. Any traffic you achieve to your products, services, and business, on the whole, through unpaid strategies is called organic search marketing. Organic search marketing works wonders for the B2B industry. How to get organic traffic and customers?
You can beat the competition by researching keywords you intend to target through paid advertising. Search for organic opportunities to rank for those keywords. The more conversions you get, the less ad spend you will need. Always look for new converting keywords and rank organically for them to boost conversions with a lower budget.
Making your website more attractive to visitors is another way to acquire more customers. Track user journeys and identify why visitors leave your website.
You can also gain more insights by tracking bounce rates and average session duration. You can even integrate heat maps into your website.
The content you publish today won't take long to become outdated. Therefore, Google will decrease your ranking, resulting in fewer visitors. Update it with newer facts to boost its ranking again.
In the same vein, you can share the content in other formats. For example, if you wrote a blog post, you can repurpose that like a carousel post. Use Canva to make snackable images and share them on your social media or image-sharing platforms. You can draw some insights with attractive and digestible infographics for the Linkedin family.
5. Affiliate marketing
Getting new customers through affiliate marketing is another solid strategy. Affiliate marketing is the key to Uber's success. You can use affiliate marketing to break into the market as a startup and acquire customers. It's a wrong assumption that affiliate marketing works only for B2C. It's no wonder it's a killer strategy for B2B markets as well.
Many software solutions are available in the market with the affiliate tracking program. These tools make it easy for you to create an affiliate program for your website. For example, Affiliatly is a good choice in the market right now.
When associating with affiliate marketing, you may have to offer bloggers a better commission rate. Their commissions could be dynamic. So, it is suggested to keep customer LTV in mind.
The first step is to develop a sales strategy that works for you. After that, make slabs based on different sales numbers. You can get more ideas as you progress with your strategy.
6. Your audience needs content that solves problems
Content is the easiest way to connect with your target audience. A content marketing approach provides three times as many leads and costs 62% less compared to outbound marketing. The primary purpose of the content is to provide a solution to the audience.
Nowadays, consumers are more informed than ever before. Creating personalized, solution-oriented content can attract more prospects to your business. Understanding your target audience's pain points and online search intentions is essential. In all likelihood, you will gain your prospects' trust by empowering them to make informed purchases.
Helping them feel valued and addressed can be rewarding. For B2C, establishing a personal touch goes a long way. For B2B segments, creating product guides, downloadable templates, and tutorials allows you to illustrate how your business fits in with the challenges your target audience faces.
Creating relevant and authoritative content is the easiest way to become a thought leader in your niche. Gaining consumer trust is half the battle, and content marketing enables you to win that battle. Creating engaging, valuable, informative, and insightful content will help you acquire new customers.
7. Product integrations that your audience needs
Enhancing customer experience is any business's ultimate goal, which helps the ROI come back effortlessly. With an evolving user base, try and find the gaps where your user needs an assistant. For instance, see how the food apps Swiggy & Zomato ensure the customer is informed of every detail of their order.
Live tracking, instant chatbots, transferring complaint tickets to human executives, and speeding up problem-solving can make a business stand out. The same example of live chat or chatbots can be outsourced with an application in the market with which you're adding value to their business, yours, and customer satisfaction.
8. Giveaways & Referral
For customers to make a purchase, you need more than just words or promises. Giveaways are an effective way to win consumer loyalty. Giveaways work well for the B2C segment. Giving them a chance to experience your products firsthand. It will give them an extra push to consider your offerings. Social media is the best medium to run such giveaway campaigns.
New businesses often rely on referral programs to find new customers, especially when they're fledgling. You can reward existing users with extra features or discounts to get them to recommend your service. Furthermore, you can onboard new customers with similar offers to leverage your products or services.
9. Thought Leadership
Brand affinity is the first benefit of thought leadership. Developing thought leadership enables you to become part of the conversation from the very beginning of the consumer's journey. In this way, you allow your audience to learn more about you. Like, Anand Mahindra, Gary Vee, Seth Godin, and Neil Patel are a few to name who are influential in their niche while also stirring inspiration in the youth.
In the end, a solid Content Strategy leads to Thought Leadership. The world is full of leaders. Your business becomes social when you expose your thought leaders to the world. Real people with real faces interacting with the audience on a large scale definitely creates a ripple effect.
10. Influencer marketing
Often, marketers find innovative ways to advertise products. Although influencer marketing isn't new, it has become a point of attention among millennials. Why is the attention? Influencer marketing acts as social proof among customers. But, it is associated with significant costs that depend on the influencer's follower base and product demand.
It is very beneficial for customer acquisition in B2C. You should remember that not every influencer can help you generate customer acquisition. Select your influencer carefully based on their niche and whether their audience aligns with yours. The right influencer recommendation can go a long way if all is in place.
So, that's the complete list of strategies and techniques for customer acquisition in B2B and B2C. Step up your growth with it. It is best to test each of these strategies before implementing them. Stick with those that work best for your business.
Okay, so what's next?
Any company, big or small, relies on customer acquisition. It means you can't give up on marketing – regardless of the cost.
But what plays a key role here is customer satisfaction. A customer acquisition strategy is all about getting the right customers and keeping them. It's always a team effort when acquiring new customers because the responsibility increases as you onboard new ones.
Equipping them with the best products, services, and experience makes the difference all the more. But how to go about it? We understand your hesitation. Hold on. We have a solution. When talking about customer acquisition, Wild Creek Web Studio has the best strategies in the plan for businesses that can be tailored to their needs. With exceptional experience and a team of experts, spin your business game like never before.