In today's hyper-connected world, digital marketing has become increasingly competitive as businesses strive to reach their target audience effectively. To gain an edge in this dynamic landscape, companies are turning to the power of artificial intelligence (AI).
AI revolutionizes marketing strategies, providing invaluable insights and tools that enhance campaigns. In this article, we will explore the remarkable impact of AI in digital marketing and its role in unlocking success.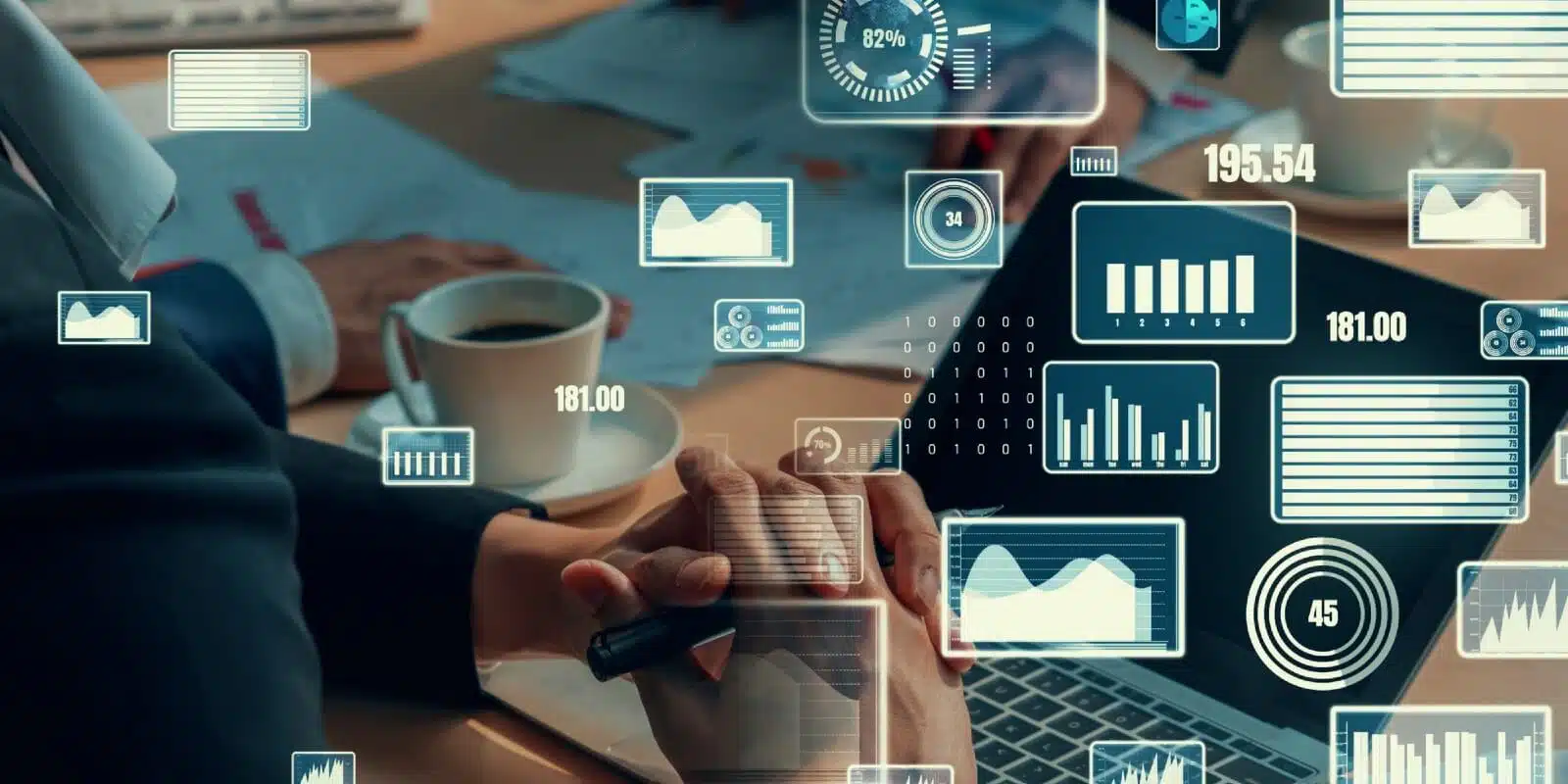 The Role of AI in Digital Marketing
Harnessing the Power of Data Analysis and Insights
In the realm of digital marketing, the vast amount of data generated can be overwhelming for businesses to analyze and extract meaningful insights from. This is where AI steps in, offering powerful tools and algorithms that can efficiently process and analyze massive volumes of data. By harnessing the power of AI-driven data analysis and insights, businesses can unlock valuable information that can drive data-driven decisions and optimize their marketing strategies.
AI algorithms are capable of processing data from various sources, including customer interactions, social media, website analytics, and more. These algorithms can sift through large datasets, identifying patterns, correlations, and trends that may not be immediately apparent to human analysts. This ability to uncover hidden insights gives businesses a competitive edge by providing a deeper understanding of their target audience, their preferences, and their behavior.
Personalization: Delivering Targeted Experiences
One of the remarkable strengths of AI in digital marketing lies in its ability to deliver personalized experiences to customers. By harnessing the power of AI algorithms, companies can create tailored and customized interactions that resonate with individual customers. 
AI algorithms analyze vast amounts of customer data, such as browsing histories, purchase histories, demographics, and other relevant information. Artificial intelligence can generate valuable insights into each individual customer by processing this data. This allows companies to offer personalized recommendations, product suggestions, and targeted content that aligns with each customer's specific interests and desires.
Automation
: Boosting Efficiency and Productivity
AI is a powerful solution for boosting efficiency and productivity in digital marketing. By leveraging AI tools and algorithms, businesses can streamline mundane activities such as data entry, report generation, and social media scheduling. This automation not only saves valuable time but also enables marketers to shift their focus towards more strategic and high-value activities.
By automating repetitive tasks, AI liberates marketers' time, allowing them to focus on more strategic activities. With reduced administrative burdens, marketers can invest their efforts in tasks that require creativity, critical thinking, and relationship-building. They can devote more time to crafting compelling marketing campaigns, developing innovative strategies, and fostering meaningful interactions with customers. This shift in focus towards higher-value activities ultimately drives innovation, enhances customer experiences, and contributes to the overall success of digital marketing initiatives.
AI in Video Content Creation and Marketing
Simplifying Video Content Creation
AI has revolutionized video content creation and marketing, allowing businesses to produce high-quality videos quickly and easily. With the advent of AI-driven video creation tools, marketers can now create professional-looking videos without requiring extensive technical skills or expensive production equipment. These tools analyze existing content, automatically generate video scripts, and provide suggestions for suitable templates and styles.
The simplicity and accessibility offered by AI-powered video creation tools have democratized the process of video content production. In the past, businesses often faced challenges because creating videos calls for specialized knowledge in videography, editing, and graphic design. Today, with AI, marketers can leverage intelligent algorithms that analyze their content, such as AI images, text, and other media assets, to automatically generate video clips.
Personalization and Targeting in Video Marketing
AI plays a significant role in enhancing personalization and targeting in video marketing. By leveraging AI algorithms, businesses can analyze viewer preferences, browsing history, and demographics to deliver highly tailored video recommendations.
This personalization leads to increased engagement, sharing, and audience satisfaction. Additionally, AI-driven targeting helps businesses optimize their video distribution strategies, ensuring that videos reach the most relevant and receptive viewers. 
AI-powered Analytics for Video Marketing
AI-powered analytics tools have transformed video marketing by providing marketers with valuable insights into viewer behavior. These tools analyze metrics like view duration, click-through rates, and audience demographics to help marketers optimize their video content and marketing strategies. By understanding viewer engagement patterns and demographics, marketers can create more targeted and impactful videos. Additionally, AI-powered analytics allow marketers to assess campaign effectiveness and make data-driven decisions to enhance their video marketing efforts.
Benefits and Opportunities of AI in Digital Marketing
Enhanced Customer Engagement and Experience
AI integration brings numerous benefits and opportunities for businesses. Firstly, AI enhances customer engagement and experience. Personalized content and targeted recommendations build stronger connections with customers, fostering loyalty and advocacy. AI-powered chatbots provide instant and personalized customer support, improving satisfaction.
Improved Decision-making and Predictive Analytics
AI enables improved decision-making and predictive analytics. By analyzing large volumes of data, AI algorithms identify patterns and trends, providing valuable insights for informed decisions. Predictive analytics helps businesses anticipate customer behavior, optimize campaigns, and allocate resources effectively.
Cost-effective Marketing Strategies through Automation
AI offers cost-effective marketing strategies through automation. By automating repetitive tasks, businesses save time and streamline processes. AI-powered tools handle social media scheduling, email marketing, and customer segmentation, allowing marketers to focus on strategic activities.
Unlocking Creativity and Innovation
AI unlocks new avenues for creativity and innovation in digital marketing. AI-generated content allows marketers to experiment and push boundaries. AI algorithms generate variations of ad copy, design options, or entire campaigns, providing fresh perspectives and fueling innovation.
Challenges and Considerations of AI in Digital Marketing
Ethical Implications and Privacy Concerns
While AI brings immense potential, there are also challenges and considerations that businesses must address. One major concern is the ethical implications and privacy concerns associated with AI. As AI algorithms analyze vast amounts of personal data, it is crucial to ensure that privacy rights are respected, and data is handled securely. Transparent and ethical practices are essential to maintain customer trust.
Fairness and Transparency in AI Algorithms
Another consideration is the need for fairness and transparency in AI algorithms. AI systems should not perpetuate biases or discrimination. Businesses must invest in diverse and inclusive datasets and regularly audit AI models to mitigate bias and ensure fairness in decision-making processes.
Skill Gap and Training Requirements
Implementing AI in digital marketing requires a skilled workforce. There is a skill gap that needs to be addressed through training and upskilling employees. Providing the necessary training and education ensures that marketers have the knowledge and expertise to effectively leverage AI tools and technologies.
Case Studies: Real-World Examples of AI-powered Digital Marketing
Netflix
Netflix uses AI algorithms to analyze user data and give personalized recommendations. By understanding what viewers like and how they behave, Netflix suggests content tailored to their preferences, keeping them engaged and coming back for more.
Amazon
Amazon is well-known for its advanced AI-driven product recommendations. By looking at what users have bought, browsed, and who they are, Amazon suggests products that match their interests, making shopping easier and boosting sales.
Spotify
Spotify relies on AI algorithms to create personalized playlists for users. Taking into account the music genres they enjoy, their listening history, and even their mood, Spotify makes each listening session unique.
Coca-Cola
Coca-Cola introduced an AI-powered chatbot on its website to interact with customers and provide personalized beverage recommendations. The chatbot understands customer questions using natural language processing and offers suggestions tailored to their preferences and dietary needs.
Buzzfeed
Buzzfeed, the popular media company, uses AI to create personalized quizzes. The Buzzfeed quiz generates personalized results based on user responses, making the experience engaging and shareable. Buzzfeed's website receives a lot of traffic because users can't help sharing their results.
Sephora
Sephora, the renowned beauty retailer, employs AI to offer personalized beauty recommendations. Sephora recommends products based on factors like skin tone, concerns, and preferences. This personalized touch enhances the shopping experience and helps customers discover the perfect beauty products.
eBay
eBay harnesses the power of AI for product search and recommendations. AI algorithms analyze user behavior, purchase history, and browsing patterns to provide personalized product suggestions. This AI-powered feature helps users find relevant products, making their shopping experience on eBay more enjoyable.
Future Outlook: The Continued Influence of AI in Digital Marketing
Advancements in AI Technology
Looking ahead, the influence of AI in digital marketing will continue to expand. Advancements in AI technology, such as natural language processing and image recognition, will enhance customer experiences and enable more sophisticated personalization. AI-powered chatbots will become even more intelligent, providing seamless and human-like interactions with customers.
Integration of Marketing Channels and Data Analysis
AI will play a pivotal role in integrating marketing channels and data analysis. Businesses will rely on AI-powered platforms that centralize data from multiple sources, enabling comprehensive insights and cohesive marketing strategies across channels.
Conclusion
The power of AI in digital marketing is undeniable. AI empowers businesses to connect with their customers in meaningful ways, from data analysis and personalization to automation and video content creation.
By leveraging AI algorithms and tools, companies can optimize marketing strategies, enhance customer experiences, and drive success in today's hyper-connected world. Embracing AI unlocks a new era of marketing, where businesses of all sizes can thrive by harnessing the full potential of AI technology. 
As we move forward, it is essential to navigate the ethical considerations, address skill gaps, and stay at the forefront of AI advancements to unlock the true power of AI in digital marketing.