Navigating the online world for businesses that sell to other companies can be tricky, especially in the industrial sector. So many competitors are out there, and standing out can feel overwhelming. This case study is about a journey we took with an industrial business to help them grow online. Read on to see how the right online tactics can make a big difference, even for specialized businesses.
Summary
Wild Creek Web Studio's comprehensive approach to SEO improved the client's visibility and drove user engagement to unprecedented levels. Every aspect was meticulously addressed, from enhancing on-page elements to crafting a robust content strategy and securing high-quality backlinks.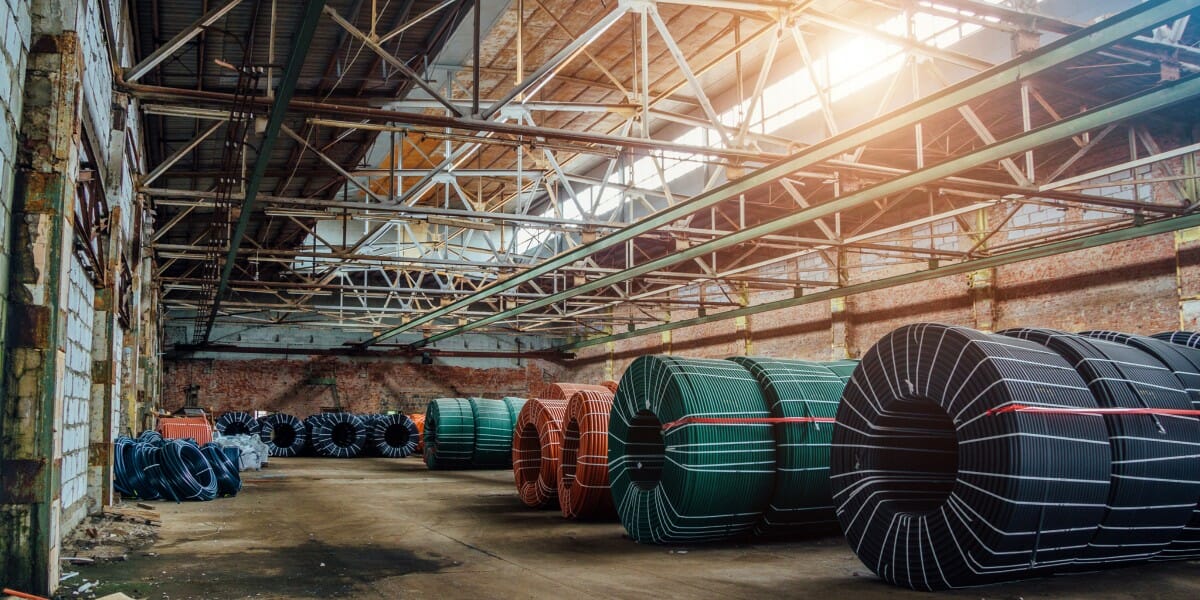 Client Background and Initial Challenges
Our client, a prominent figure in the industrial product sector, offers industrial belts, hoses, couplings, equipment, and parts. While their website boasted a comprehensive product range and technical resources, they faced significant challenges regarding online visibility and engagement.
Operating in a niche yet competitive market, they grappled with challenges like:
Limited online visibility despite having high-quality products.

Stagnant growth in organic traffic.
Low user engagement despite having resourceful content.
Given the technical nature of their products, it was vital to ensure that the content was SEO-optimised and catered to their audience's specific needs, ranging from engineers to procurement specialists.
Competitive Landscape
The industrial product sector is no stranger to online competition. Standing out becomes arduous, with numerous manufacturers, suppliers, and distributors vying for a digital foothold. Major players invest heavily in digital marketing, making it challenging for individual companies to secure top-ranking positions. Keyword competition is fierce, and user intent varies greatly, adding complexity to SEO efforts.
Objective
Enhance the website's organic visibility

Improve user engagement,

Drive growth in website traffic over 12 months.
Strategies and Tactics Employed
On-Page SEO Optimization
Importance: On-page SEO ensures the website is friendly for search engines and users. It encompasses optimizing web page content, meta descriptions, title tags, and internal links.
Execution: Wild Creek Web Studio overhauled existing content, optimized meta tags, and ensured keyword relevancy. We also improved the site structure for a better user experience.
Content Enhancement and Strategy
Importance: High-quality, relevant content attracts and retains users. A solid content strategy ensures that content serves user intent and SEO objectives.
Execution: The team revamped existing content for quality and relevance. We also identified and filled content gaps based on keyword research, ensuring consistent content updates. Wild Creek Web Studio recognized the importance of maintaining technical accuracy while optimizing SEO. A collaborative approach was adopted, where product experts from the client's team worked closely with content creators. This synergy ensured that product descriptions, technical specifications, and user guides were accurate and optimized for search engines. 
Quality Backlink Acquisition
Importance: Backlinks are crucial for domain authority and search rankings. Quality trumps quantity; high-authority backlinks can significantly improve search visibility.
Execution: We identified and reached out to high-authority domains relevant to the client's niche, securing valuable backlinks.
Technical SEO Overhaul
Importance: Ensuring that the site's technical aspects are optimized is crucial, especially for sites with extensive product listings and resources.
Execution: We identified and rectified issues related to crawl errors, broken links, and site speed. Given the increasing number of users accessing sites via mobile devices, they also ensured mobile optimization.
Keyword Research and Competitor Analysis
Importance: Understanding the competitive landscape and identifying high-potential keywords can drive targeted traffic.
Execution: An in-depth analysis was conducted to identify primary competitors and their keyword strategies. This data and the client's unique offerings were used to craft a bespoke keyword strategy.
User Experience (UX) Enhancement
Importance: A seamless user experience can significantly reduce bounce rates and increase conversions.
Execution: The team worked on improving site navigation, optimizing product pages for clarity and speed, and enhancing the overall user journey.
Challenges Faced and Overcome
Every SEO journey comes with challenges, and this was no exception. One significant challenge was striking a balance between technical jargon and user-friendly content. Given the specialized nature of the products, it was essential to cater to experts while being accessible to newcomers.
Additionally, the competitive landscape meant securing high-authority backlinks was challenging. However, with a targeted outreach strategy and a focus on creating high-value, informative content, we managed to secure backlinks from industry-relevant sites, further boosting the client's online authority.
Impact and Results
Over a year, the client experienced significant improvements in website metrics:
Users:

 A remarkable growth of 62.12%, increasing from 45,443 to 73,671.

Pageviews:

 A 53.57% jump, growing from 128,467 to 197,284.

New Users:

 An impressive 69.74% rise, from 42,553 to 72,230.

Sessions:

 An increase of 68.72%, from 68,443 to 115,457.

Sessions Per User:

 A modest but positive growth of 4.07%, from 1.51 to 1.57.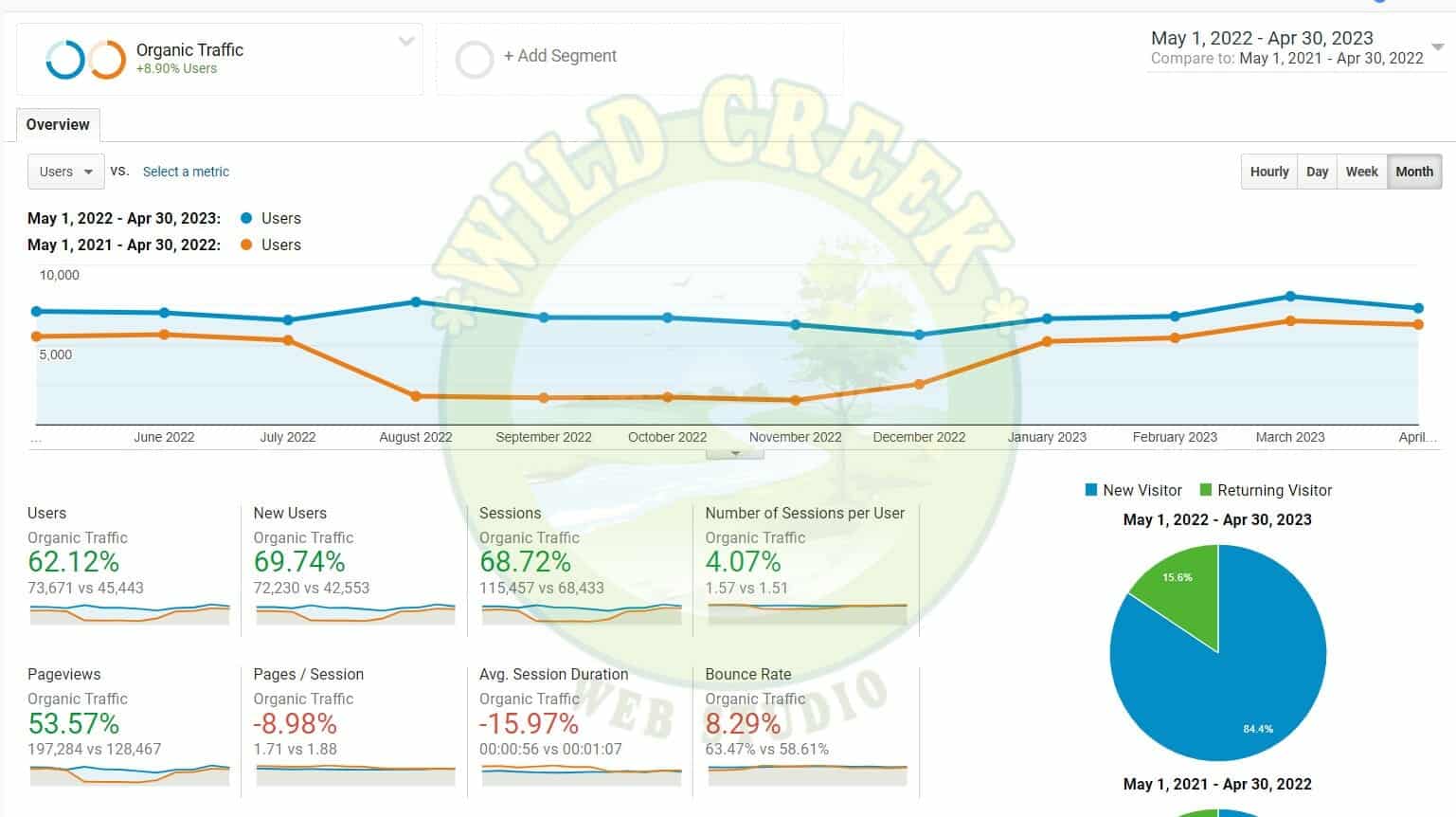 Client Testimonial
Partnering with Wild Creek Web Studio was transformative for our online presence. Their expertise, strategies, and efforts yielded results beyond our expectations. The growth we've experienced in just a year is remarkable. One of the hallmarks of Wild Creek Web Studio's approach is their commitment to continuous improvement. Monthly reviews and client feedback ensured strategies were tweaked in real-time to maximize results. This iterative process, grounded in data-driven insights, was pivotal in achieving impressive results.
Looking Ahead
The journey with Wild Creek Web Studio signifies the importance of expert SEO strategies in driving tangible growth. While the results are commendable, the ever-evolving realm of SEO presents new challenges. The team looks forward to continual optimization and exploring novel strategies to ensure sustained growth for the client, specifically on 
Expanding their content strategy to cover more topics related to industrial products.

Exploring opportunities in video content to cater to the growing demand for visual resources.

Strengthening their backlink profile by targeting industry-specific publications and forums.
Engage with the Best
Are you looking to rewrite your brand's online story? Get in touch with us today.