Content creation has always been the key to success in the fast-evolving world of digital marketing, helping address end users' pain points and improving users' experiences.
Artificial Intelligence has taken the world by storm in recent times, and it is no different in the content creation landscape.
As the digital landscape continues to grow drastically, so has the demand for high-quality, engaging, and useful content, including blogs, articles, marketing materials, and more.
The advent of ChatGPT and other AI content writing tools has revolutionized the sphere of content writing by streamlining the content creation process without compromising on creativity and quality.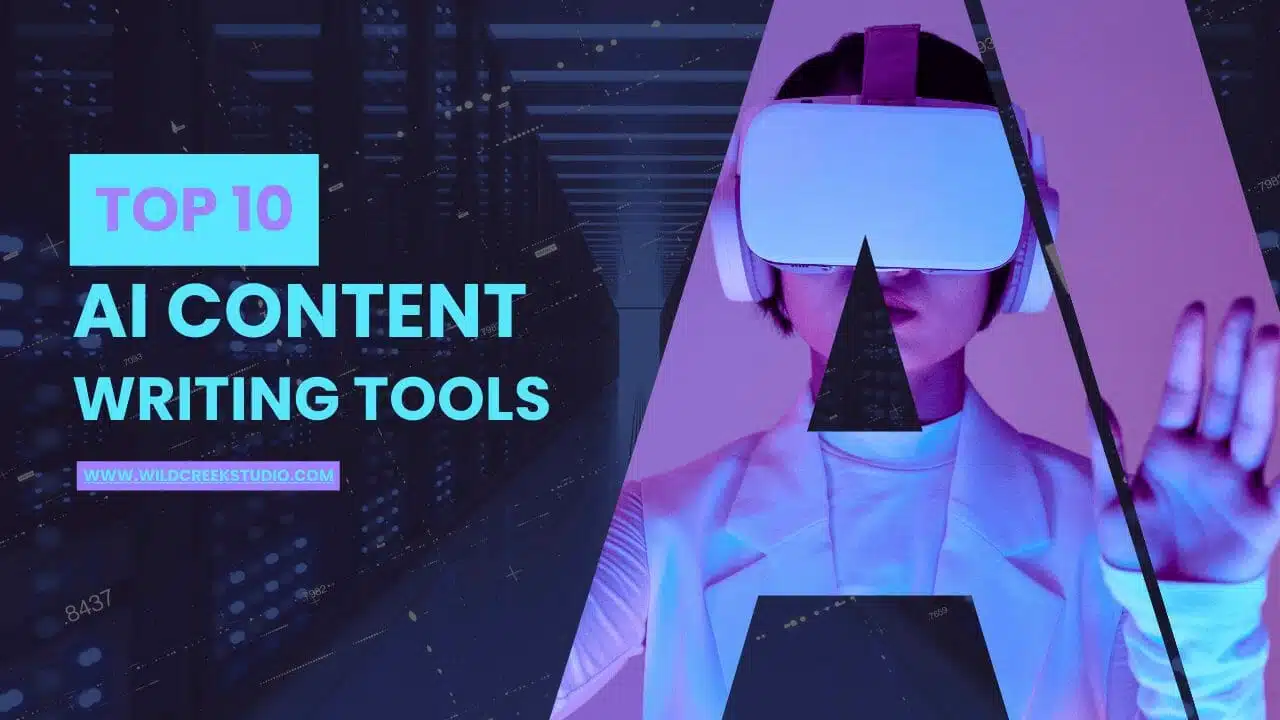 AI Content writing tools today continue to evolve with time as technology refines itself. And to your surprise, the AI content writing tools can be creatively used to even write novels, scripts, fiction, business proposals, email newsletters, sales letters, creative writing, and more.
However, the increasing demand for AI content writing tools has led to an explosion of options in the market. When you search for the best AI content writing tools online, you'll be blasted with numerous options. It can be a daunting task to research and land on the finest tool that suits your specific content job.
Here, we will discuss the top 10 AI content writing tools we have personally used after thorough research, distilling the crowded marketplace to bring you the best.
However, before we go into the list of top AI content writing tools, let us first understand what an AI content generator is.
What Is an AI Content Writing Tool?
Artificial Intelligence or AI content writing tools are applications or software that integrate artificial intelligence technologies to aid content writing.
These tools leverage machine learning algorithms, NLP or Natural Language Processing, and other advanced AI technologies to provide various writing-related functionalities.
There are many different types of AI content writing tools available today, such as –
Grammar Checker
Language Enhancement Tools
Content Generators
Writing Assistants
Automated Proofreading
Plagiarism Checkers
These AI content writing tools aid the writing process and drastically streamline content creation for writers and marketers.
However, it must be noted that these tools are meant to aid the writing process and are not meant to replace logical reasoning, human creativity, and critical thinking.
As the list of AI content writing tools available today is huge, diverse and continues to grow, it's important to segregate these AI writing tools based on their core functionalities.
This is why we have categorized AI content tools into two sections – AI content writing tools for Websites and AI content generators for social media.
AI Content Writing Tools For Websites
Chat GPT by Open AI has taken the AI revolution a notch higher with its introduction in late 2022. It is the most powerful, efficient, and highly versatile AI content-writing tool.
From writing web pages to blog posts and from product descriptions to even novels, poetries, and scripts, Chat GPT can create just any kind of content you're looking for. Chat GPT uses natural language processing and machine learning techniques to aid the content creation process.
Some of the useful features of Chat GPT that help with content creation are –
Topic Research
Topic Suggestions – Help with overcoming writer's block!
Create Content Outline
Writing Assistance – Help improve sentence structure, content readability, and vocabulary.
Detect and correct grammar and style.
Language Adaptation – You can ask Chat GPT to create content in various tones, such as casual, persuasive, formal, informative, professional, etc. It helps create content that adapts to your voice or business theme.
Creative Writing Support – Chat GPT can even assist writers with creative content creation, including simulating conversation, dialogue generation, plot twists, storytelling, etc.
Feedback – Chat GPT can work hand-in-hand with writers, providing continuous feedback on content drafts or snippets to help improve the overall content quality.
Chat GPT is available in both free and paid versions. The paid version (ChatGPT Plus) comes with a priority response and round-the-clock customer support at $20 monthly.
Jasper, earlier known as Jarvis, is among today's most popular and advanced AI writing software tools. Using Jasper, you can write blog posts, articles, SEO content, books, scripts, and more.
Jasper's interface is simple and straightforward but does involve a learning curve at the beginning. Once you get used to it, creating great content copies using it becomes a walk in the park.
As a writer or content creator, Jasper is used by many to get past their 'writer's block' through its content templates and outlines.
Some of the useful features of Jasper include –
Supports Multiple Languages
Long-Form Content Editor – Create long-form articles, blogs, and web content in just a few clicks.
Automated Content Writing Software – Feed Jasper your specific content requirements through prompts, delivering freshly brewed blogs, articles, and web copies in seconds.
Integrated Plagiarism Checker
Surfer SEO Integration
No Customization Limitations
Active Facebook Community – Discuss, Learn, Share, and Enjoy Quick Support.
Jasper currently has three paid plains, starting from $49 per month for Creator Mode, $125 per month for Teams (Including three seats and brand voices), and a Business plan with custom pricing.
If you're looking for an AI content writing tool without any customization limitations and offers unlimited words at a reasonable price point, Jasper is a great option. From creating engaging blog posts to creative movie script writing, Jasper can do it all!
Frase is a dynamic AI content writing tool in the digital marketing sphere as it combines the power of SEO research and AI content writing. This makes Frase an all-in-one AI content generator for creating search engine-optimized copies for marketing.
For content marketers looking to create quick SEO copies for their websites or blogs, Frase presents itself as a comprehensive solution.
From researching to search engine optimizing content and from AI writing to creating content outlines, Frase does it all for marketers quickly and efficiently.
Some of the best features of Frase include –
SERP Analysis
Competitor Evaluation
Create Content Outlines for Blogs and Marketing Copies.
AI Copywriter
Create content sections such as FAQs, conclusions, introductions, project proposals, H2s, etc.
High-Quality Content Production.
Frase supports 25 languages and does have a free plan, but even the paid plans are cheap, starting from $14.99 per month for the Solo plan. The Basic and Team plan (3 users) are available for $44.99 and $114.99 monthly, respectively.
Rytr is another useful AI content writing tool based on GPT-3 API built specifically to aid content writers, SEO professionals, and copywriters with content creation.
One of the prime advantages of using Rytr over Chat GPT or other AI writing tools is it uses prompts and templates for more than 40 use cases.
This makes it easier for content marketers to create copies quickly, whether for Facebook Ad Copy, Social Media Post, Web Content, Service Pages, Blog Posts, or anything else.
Rytr is known for producing research-based content as it is trained on historical data, creating articles and blogs with different tones and styles. It can create complete articles and blogs ready to publish with minimal or no human intervention.
Some of Rytr's useful features are –
In-built tone checker.
In-built plagiarism checker.
In-built grammar checker.
Idea library with over 2,000 ideas for creating custom content quickly.
Content personalization using Form Generator.
Ability to save your content projects.
Rytr can create copies in over 30 languages and comes in Free, Saver, and Unlimited plans. The Saver and Unlimited Plans are available for $9 and $29 monthly.
ZimmWriter is an AI content tool that has been making waves in the digital marketing community since it went live in early 2023. It is a fantastic AI content generator tool that helps create search-engine-optimized content to rank high on Google.
It uses Open AI's GPT-4 model to create high-quality content that passes plagiarism checks and AI content checkers. Most of all, its content looks completely human-written. One thing that makes ZimmWriter different from other AI content-writing tools is its software that must be installed on your PC.
Whether you're struggling with writing, want to overcome your writer's block, or want to quickly create highly optimized and well-written blog posts and SEO content, ZimmWriter is an AI content tool worth exploring.
Some of the top features of ZimmWriter are –
Access to the internet.
1-Click Blog Writer – Enter keyword(s) and click to get ready-to-publish blog content.
Dedicated SEO Blog Writer – Create custom blog content with AI-based inputs and internet scraping.
Local SEO Buffet – Create location-based service copies for your website/blogs.
Bulk Blog Writer – It's simply 1-Click Blog Writer with the ability to create multiple content copies at once.
ZimmWriter can also rewrite/paraphrase content.
"Continue Writing" feature to create relevant long-form content.
Magic Commands for quick and efficient content generation.
ZimmWriter is one of the most advanced AI content tools today, especially due to its ability to scrape user-fed URLs to create up-to-date copies.
Content marketers love ZimmWriter because it's highly efficient in doing what it does and because of its pay-as-you-go pricing model and $ 197 lifetime deal.
Junia AI is an innovative website that harnesses the power of artificial intelligence to revolutionize content creation and marketing. Its advanced AI technology allows Junia AI to generate original, human-like content in minutes, significantly reducing writing time.
Junia AI offers a wide range of tools and templates to enhance your marketing potential, from long-form articles to persuasive ad copy and attention-grabbing emails. With its time-saving features and efficiency, Junia AI empowers businesses to create high-quality content effortlessly.
Some of the top features of Junia AI are –
AI-powered content creation tool
Generates original, human-like content quickly and efficiently
Can write long-form content of over 3000 words
Reduces writing time significantly
Mimics your writing style and tone
Transforms keywords into 6000-word articles
Helps craft well-structured essays and thesis effortlessly
Provides competitor insights for business growth
Creates captivating promotions and attention-grabbing emails
Offers templates, styles, and formats for visually appealing ads
Generates high-quality email subject lines and personalized sales emails
Offers more than 50+ AI templates for various content types
Offers AI-generated photorealistic art and visuals
Generates stunning visuals for email marketing campaigns
Additionally, Junia AI provides visually appealing and engaging visuals, allowing users to step into a world of dreams and bring their imagination to life. Experience the power of AI with Junia AI and unlock your creativity today.
AI Content Creation Tools for Social Media
Having discussed some of the top AI content writing tools for websites, let us shift our focus to AI content tools for social media. And as similar as it may sound, there's a huge difference in the content created for social media and websites.
Social media content must be attention-grabbing, appealing, and engaging, and there's no limit to how creative you can be.
However, maintaining a consistent publishing schedule for social media is always challenging for marketers. And it can be even more overwhelming if you're responsible for maintaining a content schedule of multiple social media accounts on various platforms.
Thankfully, many AI content creation tools for social media will help you plan, create content, and manage multiple social media channels simultaneously.
While AI has entered into various aspects of social media content marketing, including content creation, content planning, content ideation, content management, and more, we will focus on AI content creation tools for social media. Let's begin!
Canva is arguably the world's most popular online graphic designing tool, used by over 125 million people globally and counting. One of the major reasons behind its massive success is its ease of use, allowing even people with zero graphic designing skills to create professional-looking graphic designs in minutes.
Whether you're looking for an invitation card, business card, resume, social media post, Facebook cover, Twitter Banner, Instagram Post, or anything else, trust Canva to help you custom design whatever you want.
With its thousands of templates, designs, stock posts, images, and advanced features, Canva is one of the most user-friendly graphic designing platforms today.
For small businesses, startups, and entrepreneurs who want to avoid paying hefty fees for personalized graphic design, Canva is the one-stop solution for all graphic design needs.
Some of the useful features of Canva are –
Magic Resizing
Changing Whole Color Pallet
Logo Designing
Canva Brand Kits
Free Templates for Social Media Posts Designing
Background Remover
Social Media Video Creation & Editing
Thousands of Customizable Templates
Create Custom Animation & GIFs
Canva Social Scheduler
And more!
Canva is available in free and paid versions, with the paid version being $12.99 monthly or $119.99 annually.
If you're a power LinkedIn user looking to tap the potential of this amazing professional platform, using Engage AI is a no-brainer.
It is an AI comment generator, or you can say Chat GPT for LinkedIn that posts insightful and impressive comments straight into the comment field on top relevant posts on LinkedIn related to your niche.
Engage AI helps you streamline prospect engagement through high-quality and relevant comments. It helps reach out to your target audience and get in front of prospects, making it easier to build a robust network on LinkedIn and create tangible opportunities.
Some of the top features of Engage AI are –
Create and post AI-powered but human-like comments on LinkedIn posts.
Unique, relevant, and value-based comments that are sure to leave a lasting impression.
Ability to customize comments to align with your brand voice.
Engaging and appealing comments to captivate your prospects and target audience.
Comments can be edited and re-generated to meet your specific style and preferences.
Non-generic and contextual comments.
LinkedIn Post Management
Email Alerts
Seamless Integration across various platforms, including HubSpot, Pipedrive, Zapier, Hootsuite, etc.
Engage AI is more like Chat GPT for LinkedIn and is available for free in its Tech-Savvy plan with limited features.
It also has two paid plans, namely Business-Savvy and Executive Suite, for $30 per month and $1,299 per month, respectively, with added features and perks.
Midjourney is an AI-powered image generator you can use to create stunning images and visuals for your social media campaigns. It is a simple-to-use web platform where you just need to enter text-based input and get personalized images in return.
Midjourney creates custom images based on your text-based prompt. The more concise you're, the better the results will be. It has a simple and user-friendly interface, allowing you to get familiar with its environment in no time.
For social media marketers, Midjourney can play a crucial role in creating eye-catchy images that can be further edited with text to increase audience engagement. If you don't want to spend hours creating personalized images for your social media posts, trust Midjourney to get it done in minutes without compromising on quality.
Midjourney doesn't have a free plan and comes in three paid plans, namely Basic, Standard, and Pro Plans, for $10, $30, and $60 per month.
These plans differ in terms of image generation capacities. Choose the plan that suits your requirement/usage and woo your audience on social media with AI-powered images.
AdCreative AI helps you create social media and advertisement creatives with just a click of a button. You can even share the creative posts directly to your social media accounts. AdCreative AI can create social media posts and headlines for all the major social media networks.
One of the major reasons why AdCreative AI is popular among social media marketers is it provides key insights into social media posts created using it.
The AI content tool shows key performance indicators like conversion and click-through rates. As an AI-powered content creation tool, it continually learns from your activity and feedback to create targeted content for better results.
With its data-driven approach, AdCreative AI claims to offer results that are 14x better than creatives that aren't based on real-time data.
Access to stock images.
Data analysis
Performance analysis
Snoring feature to identify best-performing creatives.
Generate multiple ad templates customized to align with your brand image and colors.
Quickly create high-quality social media posts and ad creatives with text-based inputs.
AdCreative AI has four paid plans, namely Starter, Premium, Ultimate, and Scale-Up, priced at $29, $59, $99, and $149 monthly.
If you want to create customized videos quickly and efficiently without spending long hours or hundreds and thousands of dollars, Lumen5 will certainly not disappoint.
It has quickly become the go-to online video maker for thousands of social media marketers worldwide.
Whether you want to create videos for brand awareness, social media platforms, thought leadership, or other content marketing needs, rest assured that Lumen5 will meet and exceed your expectations.
Some of the top features of Lumen5 are –
Ability to transform blog posts into videos.
Exhaustive content library with millions of images, video clips, audio files, and other design elements.
Customize videos you create on AI-powered Lumen5's platform itself.
Professional-looking videos to supercharge your social media content strategy.
Lumen5 is used by over 800,000 companies globally, including Cisco, Mitsubishi, Siemens, SalesForce, Merck, KPMG, and more. This verifies the credibility, efficiency, and market standing of this AI content generation tool you can't ignore for an impactful social media marketing strategy.
Lumen5 doesn't have free plans and comes in three paid plans, namely Basic, Starter, and Professional, at $19, $59, and $149, respectively.
Final Takeaway
Artificial Intelligence has revolutionized the digital marketing landscape, and honestly speaking, it is just the beginning.
Content is the cornerstone of any digital marketing strategy, and not using AI content writing tools or AI content generators to their fullest potential can give leeway to your competitors. Do you want that?
Using AI content generators would help you create a solid content strategy and the ability to stick to the otherwise hectic content calendar without feeling overwhelmed. Consistency is the key to success with content publishing, and it is what AI content creators help you achieve while being impressive, impactful, and conversion-optimized.
While there may be a learning curve involved in using some of the AI content writing tools mentioned above, rest assured that the results it achieves and the ROI it generates in the long term make it worthwhile.
Whether you're an entrepreneur, freelancer, a startup, or even a Fortune 500 company, embracing AI and using it to your advantage today before your competitors, gives you an upper hand that's sure to pay you back manifolds.