Digital marketing is becoming increasingly important in how businesses promote their products and services. With the rise of social media, search engine optimization and mobile marketing, companies must understand what a digital marketing agency can do for them.
A digital marketing agency can provide invaluable services to help businesses reach their target audiences more effectively. From content creation to website design, they offer various services to increase visibility, improve customer engagement and boost sales. But what exactly does a digital marketing agency do?
In this article, we'll explore the different tasks these agencies undertake to help companies achieve their goals. We'll look at how they create strategies tailored to specific businesses and industries and discuss the various tools and techniques used by these agencies to ensure success.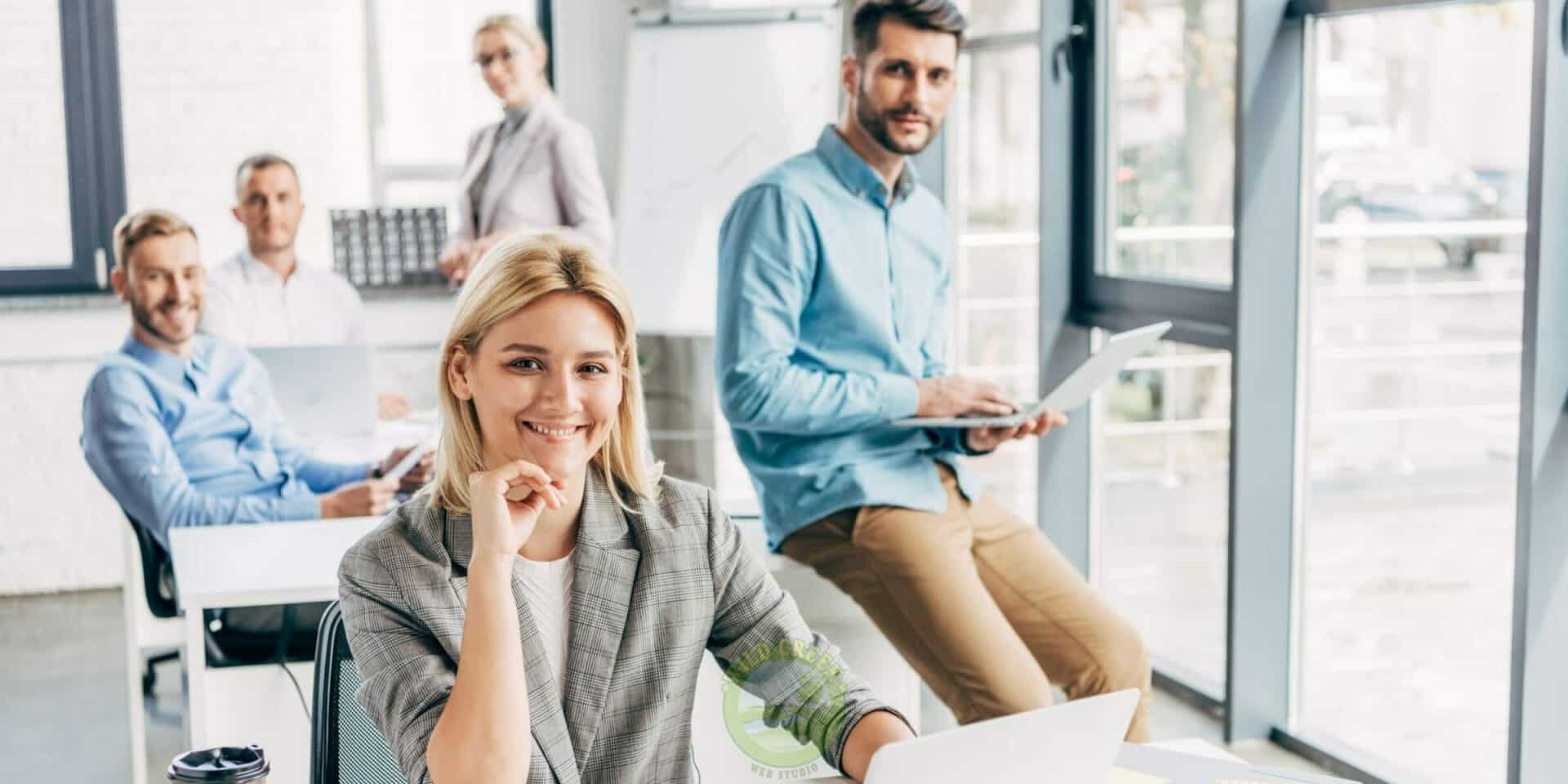 Definition Of A Digital Marketing Agency
A digital marketing agency is a company that specializes in providing online marketing services. It works to help businesses reach their target customers through various digital channels, such as websites, search engines, and social media. Digital marketing agencies often have a team of professionals with expertise in different areas of digital marketing, including SEO and PPC advertising.
By using these services, businesses can increase their visibility and maximize the return on investment from their online campaigns. For example, an agency may recommend website optimization to ensure the site appears higher in search engine results and to make it easier for potential customers to find the business. They may also suggest strategies for boosting engagement on social media platforms or creating targeted PPC ads that direct visitors to the business's website.
Digital marketing agencies also help businesses track their performance to measure their campaigns' success and determine what areas need improvement. By doing this, organizations can continually refine their strategies to succeed tremendously with each new campaign.
Services Offered
Digital marketing agencies offer a wide range of services to their clients. According to the Search Engine Journal, over 90% of marketers believe digital marketing strategies are essential for achieving online success. As such, these agencies can provide various solutions for businesses looking to maximize their online presence and reach more potential customers.
Some of the most common services offered by digital marketing agencies include website design and optimization, search engine optimization (SEO), content creation and promotion, social media marketing, pay-per-click (PPC) advertising, and email marketing. These services help businesses create a robust online presence that reaches the right people at the right time.
By utilizing these services, businesses can gain an advantage over the competition by increasing their visibility in the digital space. This can lead to increased sales and higher levels of customer loyalty. In addition, it helps businesses build credibility with potential customers by providing them with valuable information about their products or services. With this in mind, it's easy to see why many companies rely on digital marketing agencies to help them achieve success online.
With the right strategies in place, businesses can take advantage of all that digital marketing offers and increase their profits significantly. Next, we'll look at some of the methods digital marketing agencies use to help their clients succeed online.
Strategies Used
Digital marketing agencies employ several strategies to help their clients succeed online. They do this by using website optimization techniques such as keyword research and content optimization. This helps potential customers find the business's website quickly, using search terms relevant to their needs. Additionally, agencies can implement campaigns on social media sites such as Facebook and Twitter to reach new audiences efficiently. Digital marketing agencies often use analytics tools to track and measure the success of their efforts. This allows them to gain insights into how their campaigns perform so they can make adjustments as needed to maximize results. These analytics tools also provide valuable data about customer behaviour which can be used for future campaigns or content creation.
Finally, digital marketing agencies often work with clients to create custom marketing plans that consider the client's goals and objectives. They help businesses build a comprehensive strategy that includes all aspects of digital marketing, from website design to content creation and promotion. Companies can develop an effective plan for reaching their target audience and achieving success online by working together.
Benefits Of Working With An Agency
Working with a digital marketing agency can provide a range of benefits for businesses. Firstly, agencies have extensive experience in the field and can provide valuable insights into which strategies will be most effective for a particular company. They understand the nuances of different techniques, from search engine optimization to social media campaigns. They can work with businesses to create targeted plans tailored to their needs.
Secondly, hiring an agency can save time and money for businesses. Agencies are able to take care of the majority of the work needed to create successful campaigns, meaning that companies can spend less time or money doing it themselves. This allows them to focus on other aspects of their business while still being able to take advantage of digital marketing strategies.
Finally, agencies can monitor progress and adjust campaigns as needed during their course. This ensures that businesses get the best results possible from their efforts and gives them peace of mind knowing they are working with professionals who understand how to do the job effectively. With this level of support, businesses can rest assured that they are getting the most out of their digital marketing efforts.
With so many benefits associated with working with an agency, it is easy to see why more companies choose this route for their digital marketing needs. However, picking the right agency ensures these advantages translate into tangible results.
How To Choose The Right Agency
With so many digital marketing agencies, finding the right fit for a business can be challenging. To make sure that the chosen agency can provide the best service, there are a few key factors to consider. According to a recent survey, 83 percent of companies believe finding the right agency is essential for successful digital marketing campaigns.
When choosing an agency, it is essential to understand what services they offer and how well their strategies align with a business's goals. Researching past campaigns and testimonials from other companies are great ways to get an idea of how effective the agency's work has been in the past. It is also a good idea to speak with representatives from the agency directly to get a sense of their approach and communication style.
Additionally, businesses should ensure that they are comfortable working with any agency staff members before making any commitments. After all, if there is not a strong rapport between both parties, then this could negatively affect how smoothly campaigns run and ultimately impact results. Thus, taking time to get to know who will be involved in helping create campaigns can go a long way towards ensuring success.
Considering these factors before making a selection helps guarantee that businesses will be working with an agency that understands their needs and can deliver on its promises. With this done, companies can move on to exploring cost considerations and other details necessary for forming lasting partnerships with agencies.
Cost Considerations
Having identified the right agency for a business, cost considerations come into play. It is essential to know what services are included in an agency's fees and how much these will cost. In some cases, it may be beneficial for businesses to negotiate with the agency to get a price that works for both parties.
When examining costs, businesses should also bear in mind that additional expenses may be involved in running campaigns. This could include fees for any external software or ads placed on external platforms. Awareness of these upfront can help companies plan their budgets more effectively and ensure they have enough resources to commit to digital marketing efforts.
At the same time, investing too little money in campaigns can also have an impact on outcomes. Low budgets can limit the scope of activities available and take away crucial resources which could otherwise be used to stand out from competitors and create successful campaigns.
Therefore, businesses must find a balance between investing enough money into campaigns rather than overspending on them too. With this done, they can begin working with their chosen agency and create engaging content that meets their goals while staying within budget.
Frequently Asked Questions
How Long Does It Take To See Results From A Digital Marketing Strategy?
The concept of time is a curious one, particularly when it comes to digital marketing strategies. It can feel like an eternity trying to wait for the results you hope to achieve from your efforts. But the truth is how long it takes to see results from a digital marketing strategy depends on a few factors.
Like a butterfly emerging from its cocoon, digital marketing results take time and patience to unfold. Much like nature, there is no specific timeline for when you will finally start seeing an impact. The time will depend on the strategy implemented, how often it's updated and tweaked, and whether or not the target audience has been accurately identified.
Symbolically speaking, digital marketing is much like planting a seed in fertile soil – you nurture and care for it until it sprouts up into something beautiful before you can reap the rewards of your hard work. To ensure success with your digital marketing strategy, you must be willing to invest your resources in the right place at the right time to get what you desire out of your efforts.
What Types Of Digital Marketing Strategies Are Most Effective?
Digital marketing strategies are powerful for businesses looking to increase their reach and visibility. There are many different approaches to digital marketing, each offering unique benefits. Understanding which methods are most effective can help you get the best results from your efforts.
Search engine optimization (SEO) is one popular strategy to help your website rank higher in search engine results pages (SERPs). SEO involves optimizing website content and structure to make it easier for search engines to find, index, and understand your content. This will result in increased organic traffic and higher visibility in SERPs. Additionally, SEO can also help build trust with customers.
Social media marketing is another essential digital marketing strategy that businesses should consider. Social media platforms such as Instagram, Twitter, and Facebook allow companies to engage directly with their target audiences. Companies can use these platforms to create compelling visuals and share exciting content that will drive engagement with their followers. Additionally, many social media networks offer paid advertising options that allow companies to customize their targeting parameters and reach larger audiences more precisely than traditional advertising methods like TV or print ads.
Content marketing is also an effective way of reaching potential customers online. Content marketing involves creating valuable content related to your business, such as blog articles, infographics, videos, or podcasts designed to inform and educate readers about your brand's offerings or services. Content marketing helps establish customer credibility and can be used alongside other strategies, such as SEO or social media campaigns, for maximum impact on the bottom line.
Overall, a successful digital marketing strategy requires a combination of different tactics, including SEO, social media marketing, and content marketing- all of which have unique advantages depending on the business owner's or marketer's goals. With careful planning and execution of these strategies, businesses can maximize their ROI while building trust with potential customers online.
What Is The Average Cost Of Working With A Digital Marketing Agency?
When running a successful digital marketing campaign, a few things are as important as understanding the cost of working with an agency. It's no secret that many companies are turning to digital marketing agencies for their expertise, but how much does it cost?
The price of hiring a digital marketing agency depends on several factors, such as the size and scope of the project. A small business might pay less than $2,000 monthly for simple services like website optimization or developing social media campaigns. On the other hand, more complex projects can cost tens of thousands of dollars each month for larger agencies.
It's not uncommon for some businesses to spend upwards of $20,000 or more each month on strategy consultation and analytics services. However, this is usually only necessary if they're looking to build out an entire marketing stack from scratch or get access to specialized tools and resources. The average cost of working with a digital marketing agency can vary significantly depending on the type and amount of work required.
No matter what budget you have available for your digital marketing endeavours, there are always ways to maximize your ROI without breaking the bank. Working with an experienced team that understands your company's needs and goals will ensure you get the most bang for your buck when it comes time to invest in a comprehensive strategy.
What Kind Of Support Does A Digital Marketing Agency Provide?
When it comes to digital marketing, working with a digital marketing agency can be beneficial for businesses. But before committing to any services, it's essential to understand the kind of support they provide. 
A digital marketing agency typically offers SEO optimization, website design, content creation, and social media management services. They also provide guidance on which strategies will work best for your business. Moreover, the agency will have extensive knowledge of the latest trends in the industry, helping you stay ahead of the competition.
It's not just about providing services – an excellent digital marketing agency will give helpful advice and tips on maximizing your success. They'll collaborate with you to ensure that your campaigns are successful and that you're maximizing your budget. Working with an experienced digital marketing team is an excellent way to get help growing your business online.
How Often Should A Digital Marketing Strategy Be Updated?
When it comes to digital marketing, having a strategy and keeping it updated is essential. How often should a digital marketing strategy be updated? This question can be challenging to answer as there is no one-size-fits-all solution. It depends on factors such as the type of business, target audience, market conditions, and more.
The frequency of updating your digital marketing strategy will vary depending on the goals you have set for your business. For example, if you want to launch a new product or service, your process should be regularly reviewed and revised to stay on track with your goals. Additionally, suppose you're trying to reach a new demographic or enter a new market. In that case, your strategy should be updated more frequently to keep up with the changing conditions.
It's important to remember that while regular updates are necessary, they should be manageable and manageable. Review and revise your digital marketing strategy periodically to remain relevant and effective for achieving your desired results. Setting aside time to update your strategy will ensure that all digital marketing efforts remain up-to-date and aligned with your objectives.
Conclusion
Digital marketing agencies are essential to helping businesses reach their goals. They provide a suite of services beyond just creating ads, and they can help develop an effective strategy that will yield results. Working with a digital marketing agency is often cost-effective in the long run, giving businesses access to expertise and resources they wouldn't have otherwise. Additionally, an agency can provide ongoing support to ensure the strategy is up-to-date and continuously meeting objectives.
The efficacy of digital marketing strategies depends on how well they are implemented and kept up-to-date. While it may take some time to see results from a new strategy, it's essential to keep at it – Rome wasn't built in a day! Working with an experienced agency is the best way to ensure success; having someone who understands the industry and what works can be invaluable for businesses looking to impact digitally.
In conclusion, working with a digital marketing agency is one of the best ways for businesses, big or small, to achieve their goals online. An experienced team can provide tailored strategies that suit the business's needs while giving them access to resources they need for success – all while providing ongoing support. With an effective digital strategy, companies can "open doors" to new opportunities that would otherwise be impossible without professional help.