Businesses must stay in an era where digital visibility determines success. A holistic online presence has transcended being a mere advantage; it's now a staple. When a leading metal fabrication manufacturer reached out to us at Wild Creek Web Studio, they presented a challenge that resonated with us: their online invisibility shadowed their strong offline reputation. And we were determined to change that narrative.
Background
Metal fabrication is a niche industry with its own set of challenges. While the company was a powerhouse in offline circles, its online story differed. They were also battling declining website traffic, losing potential clients to competitors with a more pronounced online presence. This was a wake-up call: they needed more than a digital facelift; they needed a comprehensive digital strategy.
Objective
Amplify organic traffic:

 Drive relevant, high-intent traffic to the website.

Refine

user metrics:

 Enhance user experience

metrics, ensuring visitors find value and stay engaged.

Broaden the user base:

 Reach a wider audience, positioning the company as the go-to metal fabrication authority online.
Our Strategy
On-Page Optimization: Every page of a website sends signals to search engines. These signals determine how a page ranks. We initiated a detailed audit, identifying gaps and opportunities. We ensured the website communicated effectively with search engines and users by rectifying structural issues, optimizing meta tags, and streamlining content.
Content Enhancement: Quality content does more than engage visitors; it establishes authority. We embarked on a mission to rejuvenate existing content, making it more relevant, engaging, and SEO-friendly. We transformed the site's content narrative by integrating targeted keywords and ensuring a balance between user and search engine needs.
Strategic Content Development: To stay ahead in the digital curve, businesses must anticipate and address future needs. Our team developed a dynamic content calendar, focusing on emerging trends and pain points in the metal fabrication industry. We diversified content types, integrating blog posts, how-to guides, video content, and industry reports.
Backlink Acquisition: In the world of SEO, backlinks act as endorsements. However, not all backlinks are created equal. We pursued a rigorous link-building strategy, targeting high-authority, relevant domains. Each backlink acquired was a testament to the site's growing authority and relevance.
The Results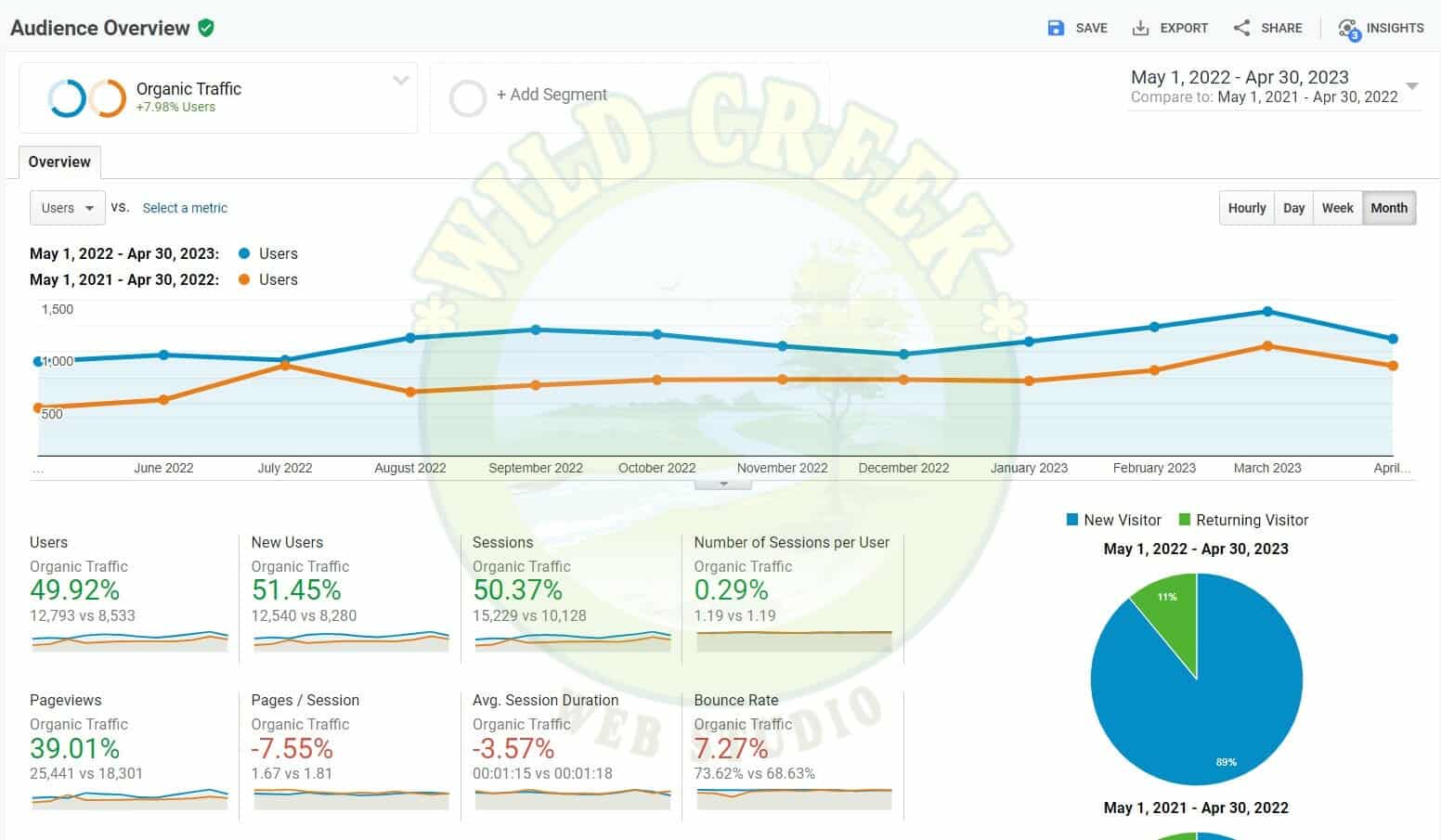 Organic Traffic:
Our efforts bore fruit, leading to a 49.92% surge in organic users. This wasn't just about numbers but about attracting the right audience, translating to increased inquiries and sales.
Engagement Metrics:
We saw a significant uptick in pageviews, signalling visitors were finding value in the content. While some metrics, like session duration, posed challenges, they offered insights for our next optimization phase.
User Acquisition:
The growth in new users and sessions underscored our strategy's success. We weren't just driving traffic; we were attracting potential clients.
Bounce Rate:
While the bounce rate saw an increase, it presented an opportunity. We're actively analyzing this metric to ensure content alignment with user intent.
| Metrics | Previous Year | Current Year |
| --- | --- | --- |
| Organic Traffic Increase | – | +7.98% |
| Users | 8,533 | 12,793 |
| New Users | 8,280 | 12,540 |
| Sessions | 10,128 | 15,229 |
| Pageviews | 18,301 | 25,441 |
| Pages/Session | 1.81 | 1.67 |
| Average Session Duration | 00:01:18 | 00:01:15 |
| Bounce Rate | 68.63% | 73.62% |
Feedback from Our Client
Collaborating with Wild Creek Web Studio was a game-changer. Their strategic approach, combined with their hands-on execution, turned our digital challenges into growth opportunities. The results speak for themselves, and we're excited about our ongoing digital journey.
Conclusion
Digital transformation is a journey; every milestone achieved paves the way for the next. This case study is a testament to our commitment to our clients at Wild Creek Web Studio. Our data-driven approach, combined with our industry insights, ensures we deliver tangible results repeatedly. If you want to rewrite your digital success story, we're ready to partner with you.