It's no secret that search engine optimisation (SEO) is an essential part of any successful online business. It helps ensure your website appears at the top of relevant searches, increasing visibility and driving more traffic to your site. But there's a powerful tool you may not be taking advantage of – schema markup. This efficient little bit of code can help ensure your website stands out from the competition in organic search results.
This article will explore how schema markup works and why it should be part of your SEO arsenal. We'll also provide step-by-step instructions on implementing schema markup so you can see improved SEO results immediately! Finally, we'll look at best practices for optimising your use of schema markup to get maximum benefit from it.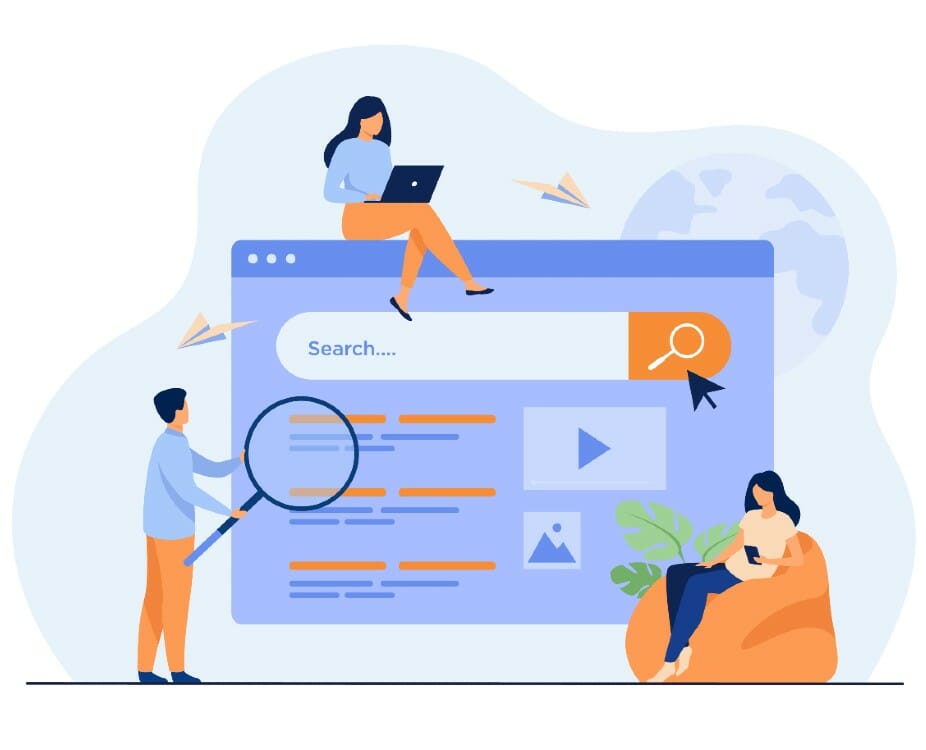 If you're ready to take control of your organic search rankings, read on! With just a few simple steps, you can unlock the power of schema markup and boost yourself significantly in the ever-changing world of SEO.
What Is Schema Markup?
Did you know that Google processes over 40,000 search queries each second? That's an astonishing number of searches, highlighting how important SEO is for online businesses. One way to help improve your website's visibility in the search engine results pages (SERPs) is to use schema markup. So, what exactly is schema markup, and how can it help SEO?
Schema markup is a code used on websites to identify various elements within webpages, such as titles, headings, text content, images and videos. This allows search engines like Google to easily read the content to rank them in their SERPs properly. Schema helps provide more detailed information about the page, giving users better context when searching for something specific. It also increases click-through rate because search engine results will include additional details from schemas like reviews or prices.
By implementing schema markup into your website's HTML code, you are helping search engines understand your content better and improving its chances of appearing higher in SERP rankings. With this enhanced understanding comes increased visibility and potential customers looking specifically for products or services related to your business. This could lead to more tremendous success for your business overall.
Benefits Of Incorporating Schema Markup
The benefits of incorporating schema markup into a website are numerous. Not only does it improve the visibility of webpages in search engine results, but it also increases click-through rates and provides more detailed information to users. This can be especially helpful for eCommerce sites because the additional elements like reviews or prices help customers make informed decisions about their purchases. Furthermore, schema markup can help websites become eligible for rich snippets, which provide even more visual appeal to SERP listings and attract potential customers.
In addition to these advantages, implementing schema markup is relatively easy compared to other SEO strategies, such as content optimisation or link building. As long as you have basic HTML knowledge and an understanding of schemas, you should be able to implement them with minimal effort. And if not, plenty of online tutorials will walk you through each step of the process.
Adding schema markup to your website could prove incredibly beneficial for improving its visibility in search engines and driving traffic towards your business. It's one way to edge over competitors who may not yet understand this powerful tool. Hence, it's worth considering as part of your overall SEO strategy. With all these benefits in mind, let's look at some of the different schema markups today.
Types Of Schema
Today, several different schema markups are available to website owners. From local business information and product reviews to events and articles, it's essential to understand the various options to choose the best fit for your needs.
To illustrate this point, let's look at an example. Suppose you own an online store that sells kitchen appliances. In that case, you should add structured data for item availability and price. This way, when potential customers search for items related to what you sell on Google or other search engines, they can immediately see basic information about each item. Similarly, if you run a restaurant with weekly specials or have upcoming event listings, you could also benefit from adding corresponding schemas.
By understanding the different types of schemas and how they relate to your specific site goals and content offerings, you can ensure that the most relevant pieces of info are presented in SERP results. With the right combination of markup selection and implementation tactics, businesses can ensure their websites stand out from competitors without sacrificing user experience.
How To Implement Schema Markup
Now that you understand the available schema markups, it's time to explore how they can be implemented. For starters, two main ways to do this are manually adding HTML code directly onto your website or using a third-party tool. Let's take a look at each method in more detail.
Manual implementation is often seen as the most effective way to add markup to websites if done correctly. This involves going through your site's HTML and inserting relevant microdata where needed. Unfortunately, this can become tedious for more significant sites with multiple pages and products; if not done correctly, errors may occur that could negatively impact SEO performance.
On the other hand, many businesses implement structured data via tools such as Google Tag Manager or Schema App. These services allow marketers to quickly insert markup without returning to their source code whenever changes need to be made. Additionally, since these platforms utilise automated processes when generating tags, chances of human error are significantly reduced – which helps ensure better search engine visibility over time.
Testing Your Markup
Once you've implemented your schema markup, it's crucial to test it. This will ensure the code is running as intended and help identify potential issues before they become problematic. Fortunately, there are many tools available online that can make this process easier.
One such tool is Google's Structured Data Testing Tool. By simply entering the URL into the testing console, users can get an overview of their coding in just minutes – including errors or warnings that should be addressed immediately. This resource also provides insight into what information search engines have indexed from each page, giving marketers even more visibility into how Google is receiving their structured data.
Another excellent option for verifying structured data accuracy is checking via browser extensions like Schema Builder for Structured Data (for Chrome). It offers real-time validation so companies can track changes immediately upon implementation – helping them stay proactive with SEO efforts while improving overall site performance.
Troubleshooting Tips
It's not uncommon to run into issues when first implementing schema markup. To ensure a successful implementation, it's important to remember the basics: pay attention to detail, double-check your work and test regularly. This will help prevent errors such as incorrect tags or missing data points that can disrupt performance results.
In addition, keeping up with changes is also crucial when it comes to structured data optimisation. Search engines are constantly tweaking their algorithms, so marketers should stay on top of updates to remain competitive – primarily if competitors use similar coding techniques for SEO purposes. Fortunately, several resources are available online to provide guidance, from Google's official documentation to industry newsletters and blogs offering helpful tips and tricks.
Finally, enlisting a third-party consultant may also be beneficial; they can offer additional insight into how a company's website is performing relative to others in its sector or region – helping them take advantage of any existing opportunities while minimising potential risks down the road.
Keeping Up With Updates
Staying current with the ever-evolving world of web technology is essential for success. As search algorithms continue to adapt and evolve, understanding how to make the most of these advancements can mean the difference between thriving and surviving in today's competitive marketplace.
Fortunately, several resources are available online to help keep marketers abreast of changes that may impact their SEO efforts. From Google's official documentation to industry newsletters and blogs offering tips and tricks – staying up-to-date on developments has never been easier. Additionally, trade shows provide an invaluable opportunity to connect with experts who can offer insight into emerging trends and what tactics competitors may use to remain relevant.
With a little extra effort and attention, companies can ensure they take full advantage of all the tools while avoiding potential pitfalls. By staying informed about recent updates and leveraging third-party consultations where needed, businesses can develop comprehensive strategies that maximise their return on investment across digital channels.
Frequently Asked Questions
Is Schema Markup Difficult To Use?
Using schema markup can be simple or complex, depending on how much information you're trying to display. For example, implementing the code should take a little time if you want to share basic information like business hours and contact info. On the other hand, if your goal is to create more detailed content, such as recipe instructions or product reviews, the task may require some technical knowledge and additional coding skills.
Overall, while the complexity of using schema markup may vary from one project to another, plenty of resources available online can assist during implementation. From articles explaining what schema markup is and why it's essential for SEO results to videos demonstrating how to add it into HTML code – anyone can find helpful guidance to get started.
Is There A Cost Associated With Using Schema Markup?
According to a study by Moz, as much as 80% of websites have implemented some form of structured data markup. This makes it clear that schema markup is becoming increasingly popular and can be used to improve SEO results. But is there a cost associated with using this type of technology?
The good news is that using Schema Markup has no direct costs. The markup is free for anyone to implement on their website or in code snippets. However, it's essential to understand how best to use it for your specific needs. Implementing the wrong schema type could do more harm than good, so understanding which types are most appropriate for your situation is critical. You may also need help from an experienced developer if you're working with complex coding projects.
In addition, no matter what kind of markups you choose, they must be kept up-to-date to continue performing properly when search crawlers index them. That means regular maintenance and additional costs depending on who performs the work. While these factors don't necessarily create significant expenses directly related to schema usage, they should still be considered before moving forward with implementation plans.
Can Schema Markup Help My Website Rank Higher In Search Engine Results?
The answer is yes! Adding schema markup to your site provides additional information about specific elements on each page, allowing search engines better access to the data they need to evaluate how relevant the content is. Because this extra detail improves the accuracy with which pages are indexed and ranked by search engines, adding schema markup increases the chances of achieving higher rankings in SERPs (Search Engine Results Pages).
In addition, schema markup helps create rich snippets — the short pieces of text that appear underneath titles when searching topics related to your website. Rich snippets generally contain details like ratings or author information, making them attractive features designed to entice users into clicking through from SERPs. By using schema markup, you ensure these snippets are accurate and up-to-date. Hence, when visiting your site, people get a correct impression of what's on offer.
Are There Any Risks Associated With Using Schema Markup?
Schema Markup is an attractive proposition for boosting a website's ranking in search engine results. But is there any risk associated with it? The answer is yes. It's essential to be aware of the potential pitfalls before investing time and money into adding schema markup to your website.
Schema markup has many benefits, but if misused, it can significantly harm your website's integrity. If you need to implement schema markup or create incorrect code correctly, this could lead to errors that severely damage your SEO rankings. Even worse, these mistakes are hard to detect, which means they're difficult to fix; you will lose valuable time rectifying them and precious search engine visibility.
Therefore, while using schema markup may have its advantages when appropriately implemented, those who don't take due care risk significant penalties from search engines that could significantly reduce their business efforts. To ensure success when incorporating Schema Markup into your website strategy, understand best practices and follow through on implementing them accurately.
How Often Should I Update My Schema Markup?
Using schema markup to improve SEO results is a great way to increase traffic and visibility online. But how often should you update your schema markup? This is an important question that demands consideration.
Updating your schema markup too often can be counter-productive, so it's best not to do this unnecessarily. On the other hand, if you don't update your schema markup regularly enough, you may miss out on potential improvements to your website's performance in search engine rankings. It's, therefore, essential to strike the right balance between updating frequently and leaving alone when no immediate changes or updates are needed.
A good rule of thumb for most websites is to review their existing schema markup at least once per quarter – depending on the size and complexity of the site – and make any necessary adjustments. Doing this will ensure that website owners take advantage of any new opportunities provided by improved search algorithms while avoiding over-optimisation, which could result in being penalised by Google and other search engines.
Conclusion
If you want to improve your SEO results, implementing Schema Markup should be your top priority! With just a few hours of effort, you can ensure that your website stands out and helps increase traffic to your site in no time.