Are you looking to maximize your SEO ROI? You may be surprised to learn that some common mistakes can hold you back from achieving the success you're striving for. This article will discuss five of these common mistakes and provide tips on avoiding them.
Search engine optimization (SEO) is essential to any digital marketing strategy. It helps businesses increase their visibility and reach potential customers with relevant content. However, it can waste time and resources if done incorrectly – not something any company wants! This is why knowing the pitfalls that can affect your SEO return on investment (ROI) is essential.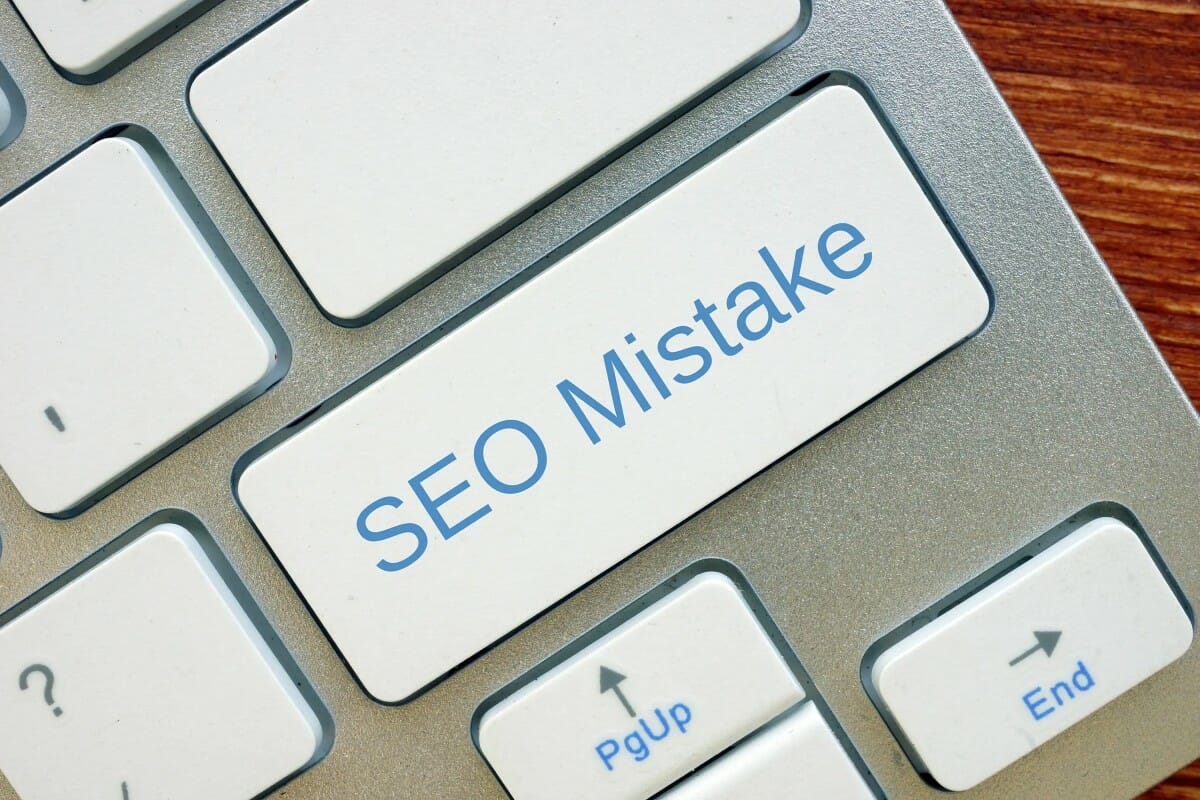 This article will cover five of the most common SEO mistakes that could hurt your ROI. Read on to find out what they are and how to ensure your SEO efforts are worthwhile.
Poor Keyword Selection
It's a common mistake for SEOs to need to be more knowledgeable about keyword selection. We've all heard the horror stories of companies investing heavily in targeting keywords with no search volume or utterly unrelated to their business. Unfortunately, this is still a prevalent practice among marketers – and it can have disastrous consequences for your ROI!
Take the 'ABC Widgets company as an example. They wanted to promote their new product on Google but chose keywords like 'widget repair,' 'how to fix widgets,' and other irrelevant terms. Not surprisingly, they got zero impressions in search results, spent tons of money on campaigns, and ultimately experienced a huge disappointment in their ROI.
If you don't want your business to suffer similarly, then make sure you choose relevant and high-volume keywords when creating your SEO campaign. Researching what people are searching for will help you identify promising opportunities while avoiding those costly mistakes – so invest some time into understanding which words will work best for you. A little bit of effort upfront will pay off significantly over time!
Ignoring Site Speed
More than having the right keywords is needed – you also need to ensure your website runs as efficiently as possible. Site speed is an essential element of SEO, and it can play a huge role in determining how well your pages rank on search engine results pages (SERPs). Suppose visitors experience long loading times or frequent lags while they're trying to navigate through your site. In that case, that's going to harm their overall user experience.
It's important to remember that Google uses page speed as a core ranking factor, so having slow-loading webpages could cause significant issues for your ROI. To ensure this doesn't happen, you should use tools like PageSpeed Insights or Pingdom Website Speed Test to evaluate the performance of your website and identify any potential areas for improvement. Once identified, try using caching plugins, compressing large images, and minifying code where necessary – all steps that can help eliminate unnecessary bloat from your pages and improve page speeds significantly.
Ultimately, suppose you want people to visit and stay on your website longer. In that case, giving them an enjoyable user experience is critical. Investing time into optimizing your site's load time will not only benefit users. Still, it can also help boost organic traffic levels – ultimately leading to greater returns on investment down the line!
Not Optimizing For Mobile
As more and more people use their mobile devices to access the internet, it's becoming increasingly important for websites to be optimized for mobile. Not only should your content be easy to read on a small screen, but all your pages must load quickly – which can be difficult when you need an optimized website.
Google has made it clear they prefer sites with fast loading times regardless of device type, so if you still need to, now is the time to start optimizing your site for desktop and mobile users. To ensure your webpages are up-to-scratch in terms of speed, consider implementing AMP (Accelerated Mobile Pages), which will help reduce page loading times across different platforms. Furthermore, ensure all images used throughout your website are correctly compressed and manageable, which could also slow down page loads considerably.
By taking these steps and ensuring visitors get a great user experience regardless of their device or connection speed, you'll increase the chances of spending longer onsite – something that can lead to greater returns on investment in the long run!
Neglecting Content Quality
A website with fast loading times and an optimized design is all good. Still, if the content you're providing is of low quality, then it won't matter how snappy your pages are. Content must be relevant, engaging, informative, accurate, and up-to-date for visitors to benefit. Otherwise, they'll move on to another site.
To ensure this doesn't happen, research thoroughly before writing or creating content and know who your target audience is so that you can tailor what you produce accordingly. Additionally, consider using visuals such as videos or infographics where appropriate; these media types often perform better than text alone, providing readers with something different.
Finally, remember SEO when producing content, too; by ensuring titles are descriptive yet succinct and including targeted keywords throughout your pieces, you will increase the chances of them being found when users search online. This will also help drive more organic traffic to your website – essential for boosting ROI over time!
Failing To Track And Measure Results
Now that you've got the ball rolling with a well-crafted content strategy, tracking and measuring your results is essential. You need to do so to know what works best for your website or how successful your efforts are at driving ROI. Doing this will also help identify any areas of improvement; if something isn't working as effectively as expected, you can quickly adjust it to get better performance.
To start evaluating your SEO campaigns, consider using tools such as Google Analytics or Hotjar to monitor user behavior onsite and see which pages they visit most often and where they might drop off. Additionally, keep an eye out for things like page bounce rate (the percentage of people who leave after viewing only one page) or average time spent on particular pages – these metrics can give valuable insight into customer engagement levels.
Taking note of organic search rankings is another excellent way to assess progress over time; by keeping tabs on keyword positions, you'll have more clarity when reviewing competitors' overall performance. Making small changes here and there should eventually lead to improved visibility further down the line – don't expect overnight success!
Inconsistent Brand Messaging
One of the most common mistakes that can hurt SEO ROI is inconsistent brand messaging. Potential customers may become confused and disengaged if a website's content fails to tell a cohesive story. This could stem from having too many different voices on the site or contradicting messages across pages – either way, and it's essential to make sure all your content works together as one unified narrative.
To ensure you're broadcasting a single message throughout your website, create an overarching theme and mission statement for your business. Everything should tie back into this central idea in some capacity; each page should have its purpose within the context of the whole picture without going off-brand. Having strong calls-to-action (CTAs) scattered throughout will also help keep visitors focused and engaged with what you're offering them.
Any visuals used must be relevant to the topic, too; using stock images that match up with your copy will only do a little to strengthen user trust or engagement levels. When done correctly, though, quality visuals can play a huge role in helping convey specific points more effectively – so be sure to invest time in finding assets that best represent your company values!
Conclusion
Search engine optimization (SEO) is an essential part of any online marketing strategy, and it can be easy to make mistakes that hurt your ROI. These five common SEO blunders are the most frequently seen pitfalls in today's digital landscape:
Need for keyword selection.

Ignoring site speed.

Not optimizing for mobile.

Content quality needs to be improved.

Need to track and measure results.

Inconsistent brand messaging.
All of these must be addressed to maximize your return on investment in this arena.
Think of SEO as a garden – without regular care and attention, it will become overgrown with weeds and won't produce the desired fruits. Suppose you don't tend to your garden regularly by ensuring each aspect is optimized correctly. In that case, you may never see those sweet rewards from search engines. Take the time to ensure all elements of your SEO plan work together harmoniously; only then will you start harvesting maximum returns from your efforts.
By avoiding or fixing these top 5 mistakes in SEO ROI, businesses increase their chances of achieving success through organic search engine rankings. Companies must invest time into understanding what drives good performance in SEO so they can reap its many benefits effectively. With dedication and hard work, organizations can achieve long-term growth with improved visibility on SERPs—and better ROI too!