So, tell us this – Is there a business on the planet that doesn't need new customers?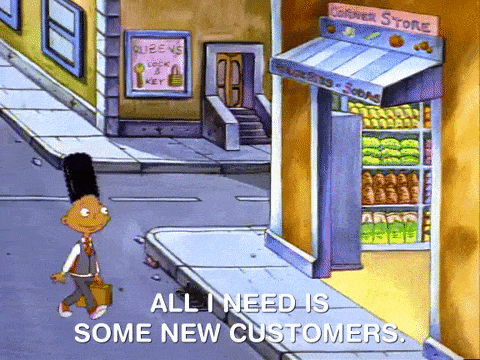 Sounds silly? Sorry to say, but that's precisely how it resonates if a company doesn't have a customer acquisition strategy.
What is a customer acquisition strategy? Is it that important? How does it work for B2B and B2C segments?
Well, let's get to the business, then.
Defining Customer Acquisition Strategy
An organization's efforts to gain new customers is called customer acquisition.
To achieve that, you need a strategy – Customer Acquisition Strategy (CAC), which will
Identify potential customers,
Encourage them into sales, and
Turn them into customers.
Importance of Customer Acquisition Strategy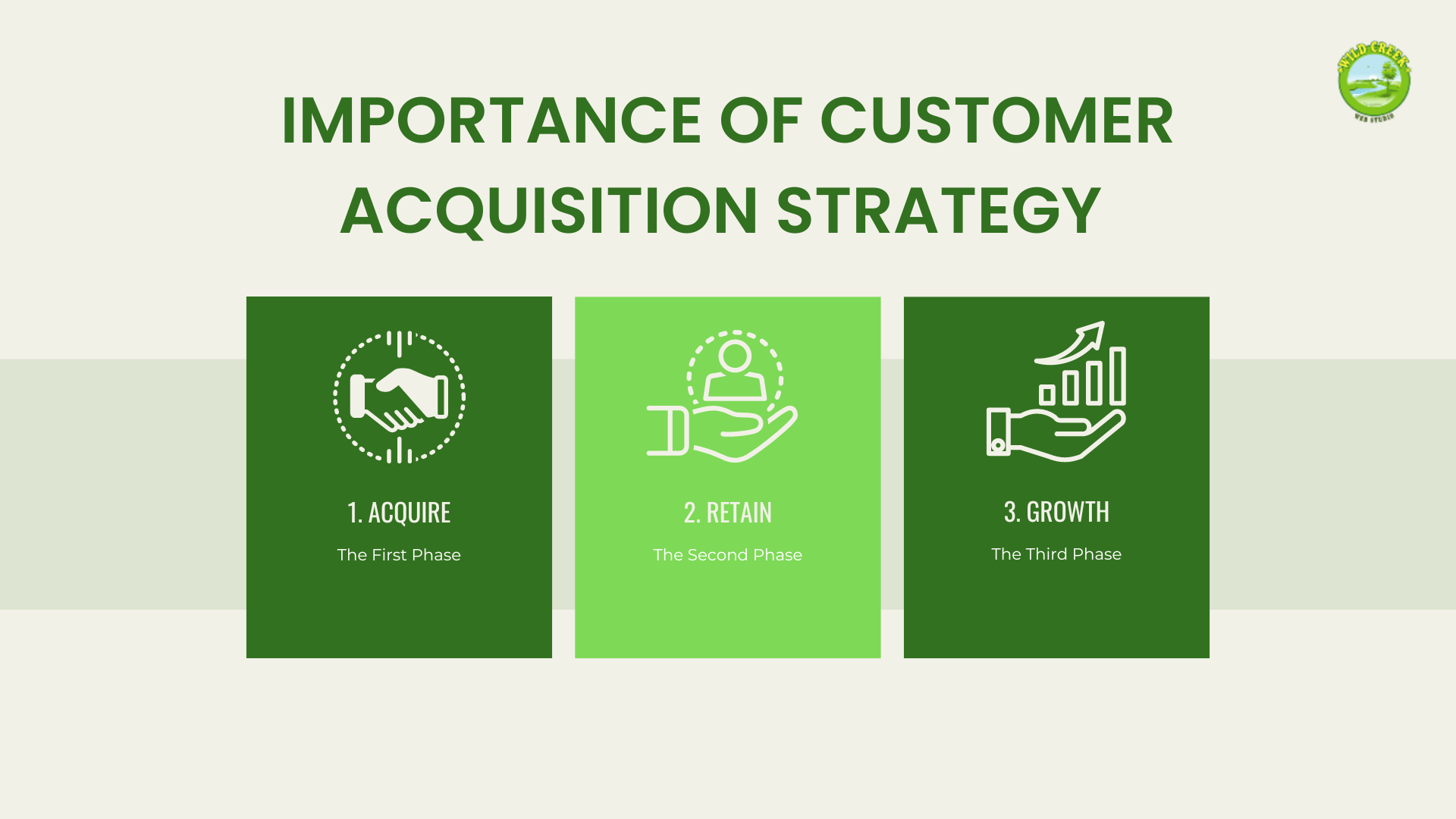 Customer acquisition involves finding a scalable, systematic way to attract new customers. A robust customer acquisition strategy has the following phases.
1. Acquire: The First Phase
Of course, you did your best marketing and boom! Congratulations, you have gained new customers.
2. Retain: The Second Phase
What percentage of these customers can you keep? Your ability to provide value to your customers will determine whether or not you succeed. Customer churn varies across industries but ranges from 5% to 7%.
3. Growth: The Third Phase
Does your business actually grow because of your customers? How many customers bring you more of them? Can you upsell or cross-sell your products to most customers?
First impressions matter when it comes to acquiring a prospective customer. What follows is a retention strategy. To put it simply, there are not two different things. Rather, acquiring and retaining work together to achieve a successful marketing plan.
In the end, whatever your customer retention strategy may be, customers won't always stay, so your business needs to fill the gaps and keep moving the puzzles. But how do you do it? That calls for an understanding of the customer acquisition funnel.
Understanding the Customer Acquisition Funnel
How many of your leads turn into customers? To be frank, only 10 to 15%. What happens to the 90% that is lost?
After encountering a brand, a prospect goes through many stages. The 90% could have lost interest anywhere along the journey. Customers may have lost interest because of changing needs, or your product may have yet to meet their demands, or there is a better option.
Without analyzing your Customer Acquisition Funnel, you will not know for sure.
Customer Acquisition Funnel stages are as follows –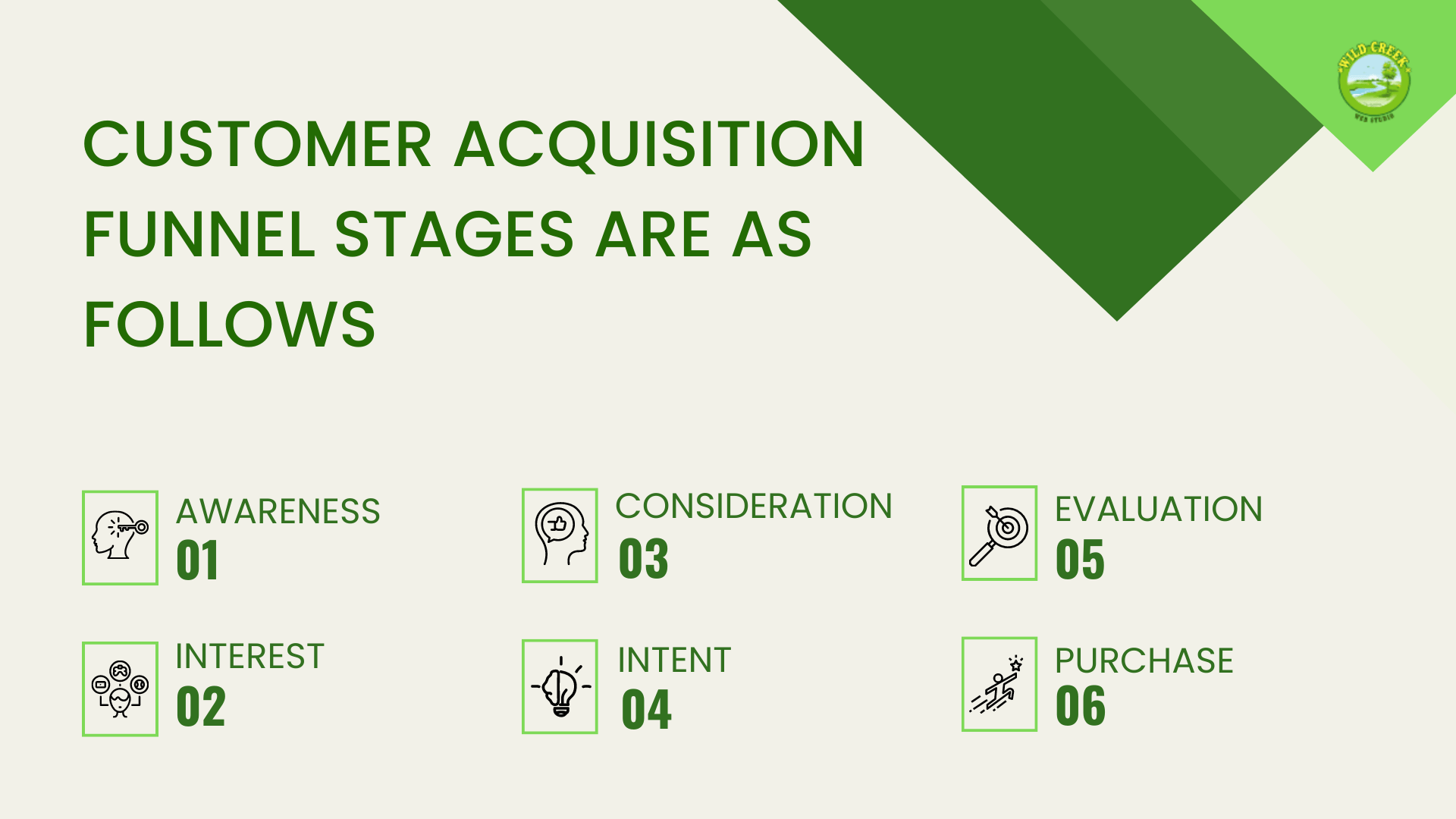 Awareness:
Awareness means making your brand reach a large group of audience. It includes a variety of techniques. But, inbound marketing approaches work wonders. Some of them are content marketing, social media marketing, referral, etc. There is no hard and fast rule. Check which of those strategies works in alignment with your business, brand, and requirement.
Interest:
Okay, now you have created awareness of your brand. What next? How will you propel that interest further? By being their light in the tunnel. Okay, melodramatic? But that's what it is. Consistently serving customer needs by answering their pain points and showcasing that your brand would be the perfect solution is the right way. How-to guides, case studies, ebooks, educational videos, engaging webinars, and the list goes on. What approach can drive them to the next phase? Think of it from your brand perspective.
Consideration:
Well, well, well – congratulations, you have finally pulled your customers to consider your brand. How will you push your customer further? It would be best if you could be a little specific here. Openly communicate your brand's unique selling point. The message should directly address what makes your brand different from the competition. It could be white papers, comparison charts, product review videos, etc.
Intent:
Do you have some frequent web page visits? More significant email or campaign engagement? Is subscriber counts increasing for some eBook sign-up? Great, that's called buyer intent, and clearly, the customer is interested in what your business has to offer. Now, the game is with your marketing team to help them convert into your customer. The key differentiator is understanding what's moving them closer to your brand and catching that pulse.
Evaluation:
By now, your lead may have tried the demo or signed up for a free trial of your product. That means you're already in the glare. Your product, customer service, and effort are all weighing factors. It's a crucial step to make your customer a purchaser. Good service may also compensate for your price disadvantage (if you have any). So, how can they evaluate you better to purchase your brand?
Purchase:
Now, this is the treasure every business wants. How much effort would you have taken to drive your prospect into a customer? We know that's a herculean task. But then, the show hasn't ended there. Now, the new puzzle begins to retain the acquired customers, up-sell, cross-sell, or turn them into your brand ambassadors.
And, it's the same story repeating all again. Clearly, a customer acquisition strategy is a consistent approach that evolves with changing customer needs. What are the best ways to keep customers engaged throughout their journey? How to create such a strategy? Check out our next article on the 7 steps to creating a customer acquisition strategy for your business.