Let's say it louder and clearer – keyword-rich content is not a hero anymore!
Surprised? Yes, there's no longer a need to catch the attention of Google. Besides, fluffing keywords might make you fall into a spammer zone, resulting in the world ignoring your content and the efforts it took. Then, what should be your content marketing strategy? Authority content! Although on a tortoise pace, authority content gives businesses an edge in representing their brand. And rightfully so, audiences want content that solves their problems, not stuff that sells. Seems interesting? Get your coffee!
What is authority content?
Before we understand what authority content is, let's decode what it is not. Writing for search engines, ranking on SERPs, or simply creating namesake content isn't enough. Besides, authority content is also free of mistakes, backed by data, and not cluttered.
Authority content is a piece of quality information that can elevate you to a leading expert in your field. It requires no specific marketing as audiences flock to your website for superior content brewing at your end. By definition –
The goal of Authority Content is to consistently create and distribute valuable information, resources, and stories that build interest, awareness, engagement, and conviction, tailored to your target audience, allowing you to identify potential customers of your products or services.
Quite a mouthful definition there, so let's break it down.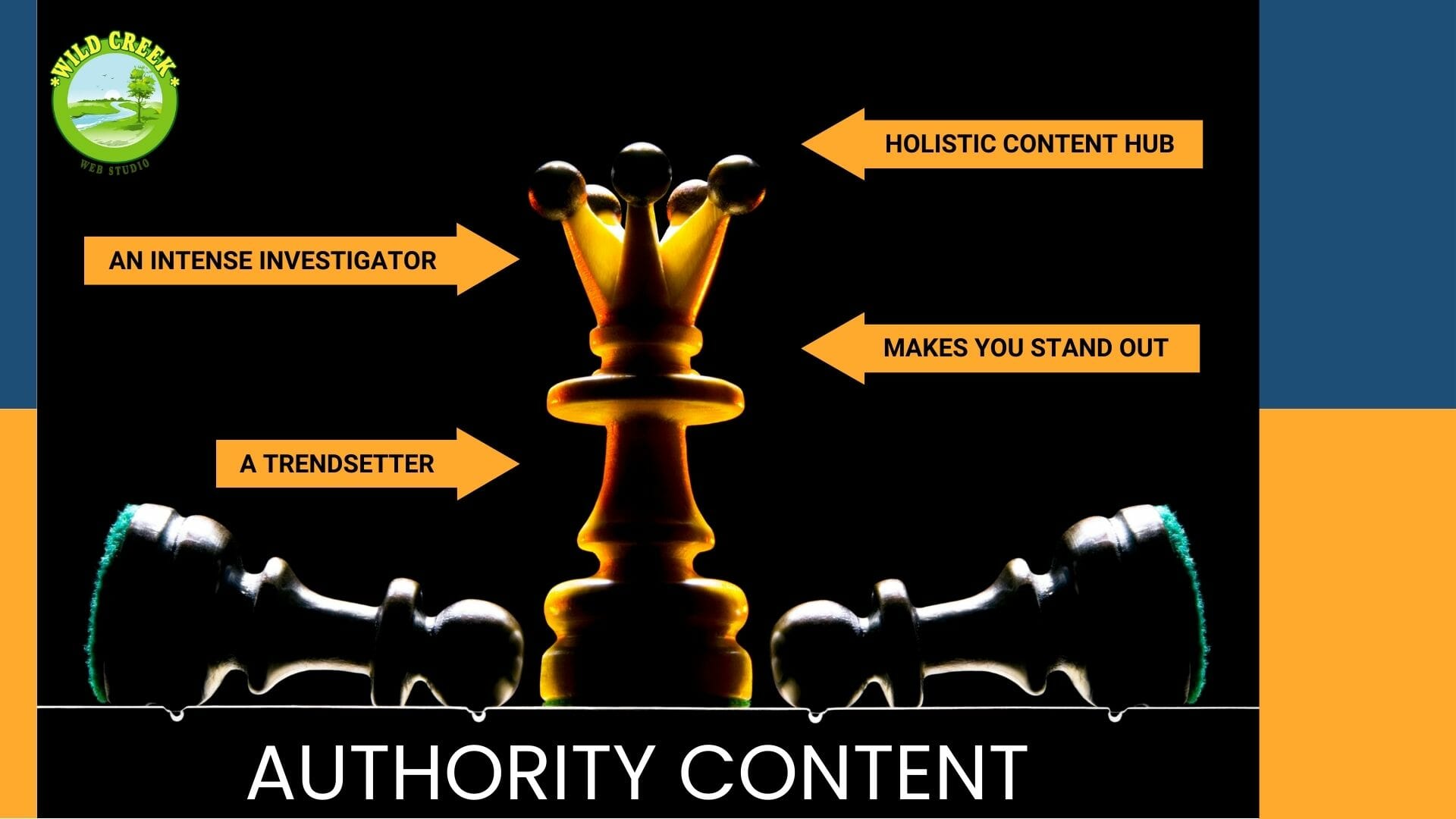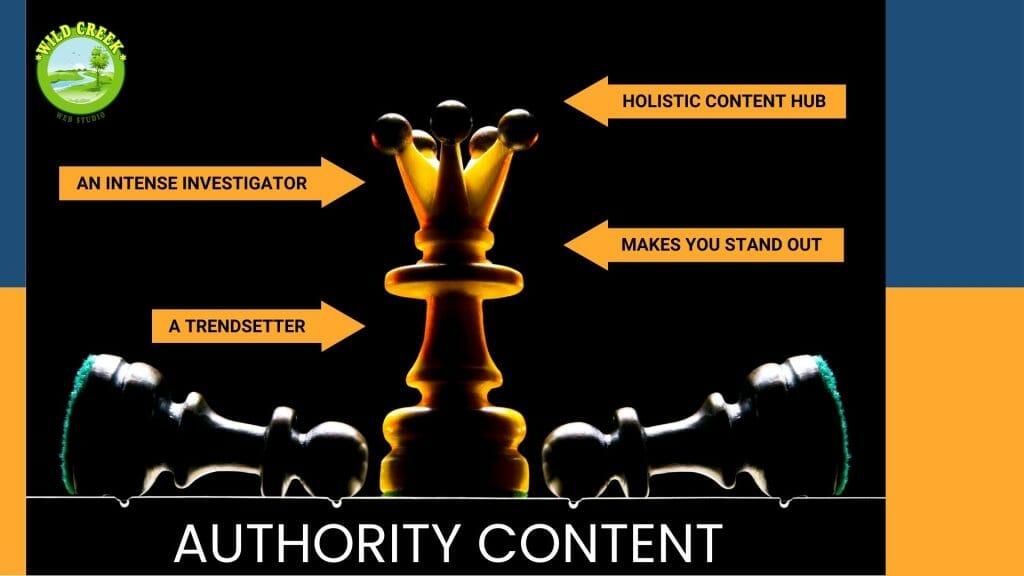 What is an authority content, then? In essence, it is information that brings out thought leadership. Also, it makes your business –
A trendsetter –
If you're learning how to create great content from your competitor and implementing similar strategies, then you're probably missing on this authority bus. Authority content is impossible until you change your status from a follower to a trendsetter. By that, we don't mean to curate "not available on the web" content. But, delivering content that brings your views and uniqueness on an existing industry pain point can set you apart from the pack. Now, this brings down to being an –
An intense investigator –
Generating great content obviously boils down to the research done to bring the best solutions for your customer's problems. It establishes trust in your brand and helps you achieve a reliable status. Ever observed – "We found in our research that XYZ" – gets more attention than "Our company is an expert in XYZ." People need trustworthy content which comes from extensive research and accurate information. That will help you create a –
Holistic content hub –
Healthy content is generated with no goal other than providing value to customers. Authority content aims never to market or sell the business but to add value to your customers selflessly. It is about helping them with the information that they need. It could be a how-to video, a podcast, an e-book, a webinar, an engaging speech, etc., that could help you meet their expectations. What else?
Makes you stand out –
Do you know any familiar names in the content marketing industry? Let us give our two cents here. Have you heard about Neil Patel or Seth Godin? While one writes extensively long-form content, the other writes blogs with less than 200 words. But, people always flock to their website for all things content & marketing. Why? That's because of their originality. They never create content for its sake or catch up with the blogging race. Instead, their focus is to provide value to the subscribers with the right kind of content. Creating original and organic content narrows it to the target readers, who in the long-term (or short) become your leads (undoubtedly).
Now we get your next question, how to do that? Read on!
How to build authority content?
Authority content is always provided with experience and passion. As stated, it comes with detailed topical research, top-notch curation, and referencing to authority resources. To make authority content, multiple actions can help you achieve it. Here are a few things that work best for most businesses.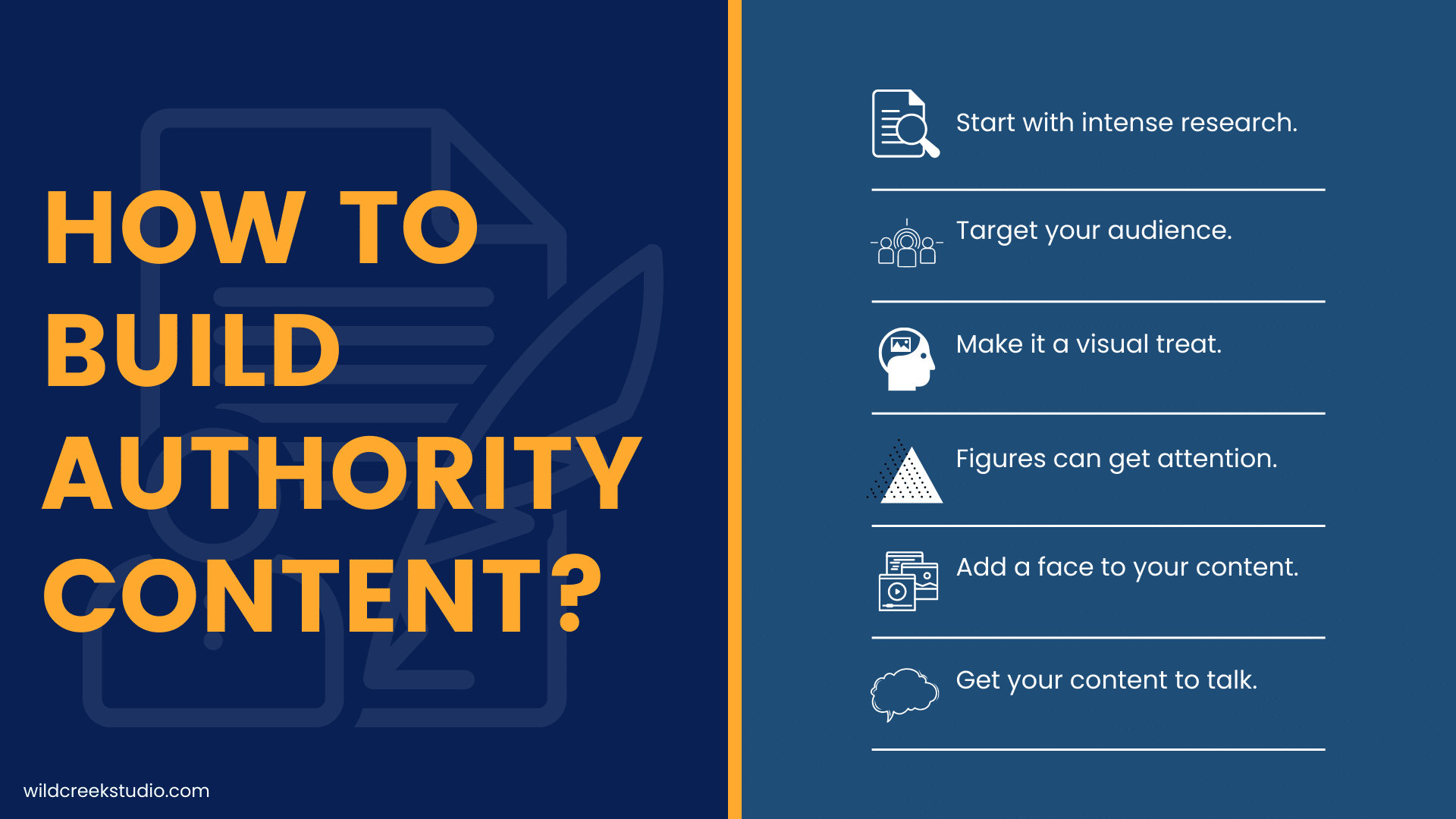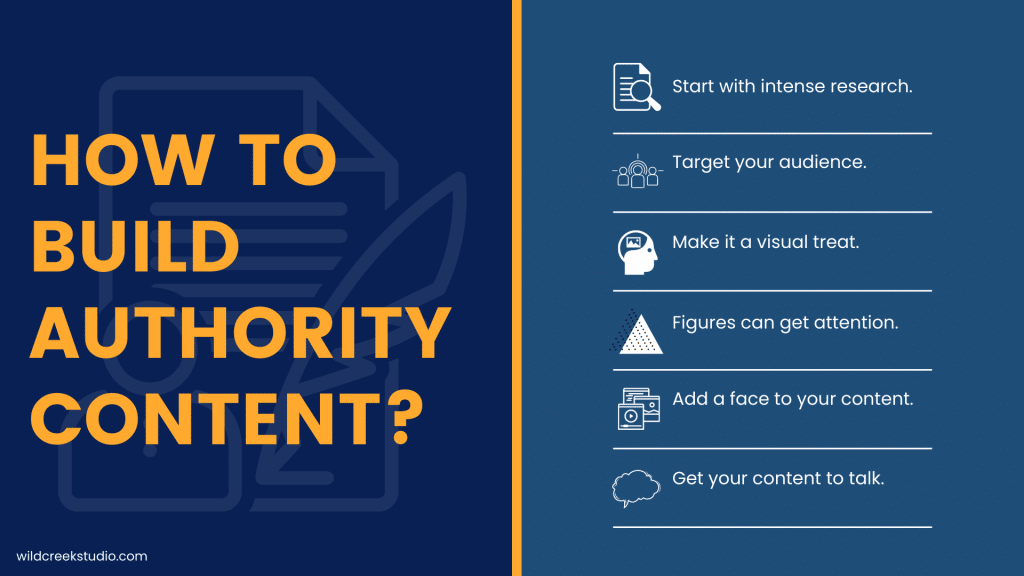 Start with intense research.
By that, we don't mean to read the top 10 blogs on the SERPs. That's not even 1/4th of the content you can help your target audience with. Get to your competitor's page, and analyze the content they curate. Yes, we mean it. We said examine, not follow! It gives an idea of the taste and engagement customers want in your niche. What's best you could deliver from your side to drive that traffic to your website? That's the challenge we want you to look at.
Target your audience.
We understand the temptation to give the best content. We always end up giving more in a single piece. But how specifically are you addressing that issue in a single blog, video, or tutorial? The attention span (usually short) of the audience plays a vital role here. For example, we can write 5000 words when choosing "Fruits" as a topic. Now, if we can break it into a specific parameter, say, "Citric fruits," it can cut some slack for you. But narrowing it down to something like, "Munch on these citrus fruits this monsoon" can get more attention. In addition, helping your audience understand why they landed on your page and showing them relevant information can help establish authority.
Make it a visual treat.
How much content is too much content? We can safely say a loaded plain text is nothing but skippable content. Research says our brain processes visual information faster than mere text. So, why not cut down a bit of text and offer it in a presentable way?
Figures can get attention.
This is an extension of the above visuals. As much as an infographic can concise the text, incorporating relevant statistics to get your readers' attention can work well too. Stats give a sense of proof to the data provided in your content and help them connect with your information quicker than usual.
Add a face to your content.
Let's give you this scenario. 'Authority Content 101 by ABCD website' or 'Authority Content 101 by James, CEO, ABCD company'. Which one are you likely to click? The majority of customers trust credible sources to match their problems with solutions. So, when publishing content, it's always suggested to make sure it goes by the name of established niche experts from your team. It is basically the author, that enhances the authority of your content. They represent your business, expertise, and a reliable solution the customers seek. Credibility matters. For instance, why do we scroll to product reviews on Amazon when we want to buy something? The reviews offer a clear picture and push us to make informed decisions. Isn't it? That's the same with content, too.
Get your content to talk.
How engaging is your content? All the figures, stats, research, and face goes in vain if the content is not talking. It should apparently be like a friend who understood your problem. Ever wondered why Hubspot Blogs are a hit? They are usually long-form content but put with a conversational tone. They never miss placing the reader on track at the end of every paragraph. Short paragraphs, intriguing Q & A, and decisive words make them experts in their niche.
Furthermore, consistent scheduling, patterned content, and a unique signature style writing with naturally flown keywords are other ways to build an authority content. Now, if your content authority is already set, how can one improve it? The guidelines await.
How to improve your content authority?
Start with a content audit on your website.
Make a list of content across web pages and categorize it.
Identify your buyer personas and see if there's a match to the existing content.
Find gaps and bridge them accordingly.
Page load speed also plays a vital role in a better user experience.
Check if the SEO practices are followed – Title tag, meta description, image alt text, and relevant H1.
Keyword strategy plays a crucial role. Like said, do not fluff. Use keywords naturally.
High-quality backlinks often suggest a healthy link profile. Keep an eye out for irrelevant links accumulating over time. A link audit can reveal this.
When all is in place, it's time to focus on providing relevant and readable content to the audience.
Strategize, implement, evaluate, and repeat.
So folks, to wrap up, Google is an expert search engine that knows the worth of sites that deserve it. The key here is to learn and unlearn constantly. Authority content sells without you specifically working on it. It does get attention for a reason, yes. It establishes you as a thought leader in your niche. However, it does so in a consistent, meaningful, and sustainable way, ultimately leading to results.
Great content touches every level of your marketing funnel effortlessly. From attention to interest and desire to action, the leads are converted into sales with a rightful approach. It also establishes a long-term relationship between a business and a customer. Not to forget about the customer loyalty here. We know, by now, that's your last sip of coffee and this process looks all daunting, but we have got you covered – Wild Creek, an exceptional digital marketing suite is connecting businesses to customers. Contact us today!