I was a back bencher in my school/college days and I would have been the last person to get in front of a group of people to tell/explain something, so something like teaching was unimaginable. However when the opportunity arose last year, I took it up as a challenge. I decided to take charge of my biggest fear of Public Speaking and decided to tackle the metaphoric bull by its horns. However, at the same time I was very worried about how I would add value to some very eager, young and impressionable minds.
Thankfully I had a few people who believed in me and gave me all the encouragement to get going.
Right from day one I wanted to do things differently. With nearly 16+ years of practical experience and working with multiple clients in the digital marketing arena, I wanted to combine my 15+ years of experience working with several clients in the digital & social media marketing arena, I wanted to club both – practice and theory – aspects of the subject. Reflecting back on my student days, I had hated lectures then. In today's learners, lectures are still hated, nothing's changed. Adding value is what i wanted to do and fortunately I was able to do a bit more than just teaching the subject.
Nearly all of my classes this semester consisted of 75% practical and 25% theory. The theoretical parts were mandatory elements to lay the foundation and the practical sessions were primarily aimed towards getting the students acquainted with real-time applications and results apart from complementing the theoretical learning. The goal was to bridge the gap between curriculum and real time business application.
For instance, when it came to social media, there is hardly anyone who is not aware of some of the platforms. The most important differentiator was to help them understand what to post, why to post and when to post.
Giving them the real life scenario exposure while still confined to the 4 walls was a big challenge. But all the challenges that i had faced with my clients were converted to practical problems which, when combined with the curriculum, gave way to some interesting practical exercises.
I am a self-taught digital strategist. What I have learnt is all by practically applying my knowledge and not by memorizing a course material. When you do things, you come face to face with not just the problem but also become aware of what it takes to get it working.
Thankfully, the students in the last two semesters were more than willing to be part of this way of teaching and they were more enthusiastic about the practical way of teaching.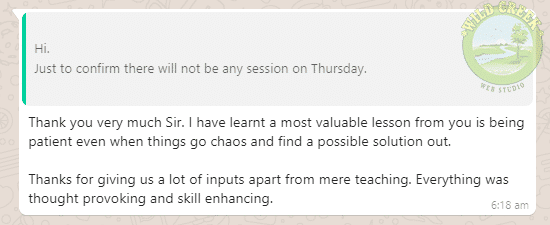 Teaching is fun & interesting if you decide to make it fun & interesting especially when the intent is to make the learner truly understand and connect with the subject.