Do you know if Google reviews about your company can help with SEO? It's a valid question and one that more businesses are asking. After all, ranking higher on search engine results pages (SERPs) is the aim of any company looking to increase its online presence. In this article, we'll look at how Google reviews can impact your SEO efforts and discuss why paying attention to them is essential.
Google has long been essential for businesses seeking visibility in today's digital world. Optimizing your website for better SERP rankings should be part of every company's strategy. While there's no silver bullet in achieving this goal, having positive Google reviews can make a big difference in improving your position on the search engine results page.
From helping to boost keyword rankings to increasing brand trust and credibility, the power of Google reviews shouldn't be underestimated. So let's delve deeper into how they could benefit your SEO efforts and what steps you need to take to maximize their potential effect.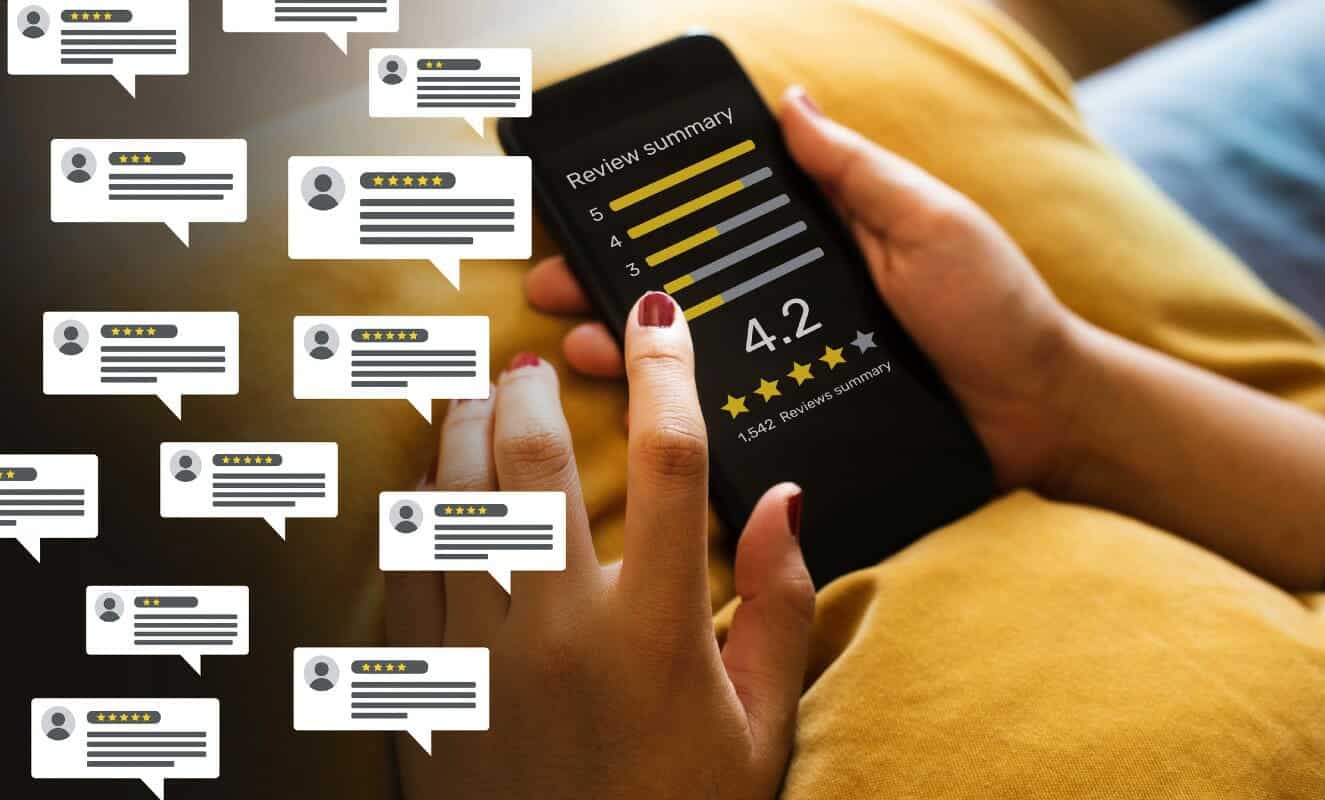 Definition Of SEO
SEO stands for Search Engine Optimization. It improves visibility and ranking on search engine results pages (SERPs). This helps increase website traffic and ultimately leads to improved sales or brand recognition. SEO involves optimizing content, such as titles, descriptions, and images; ensuring that a site loads quickly; ensuring the webpages are mobile-friendly; using keywords correctly, etc. All these efforts help boost organic search rankings.
In addition to this, it's also essential to engage in link-building activities like guest blogging or sharing content on social media platforms. The goal is to build strong relationships with other websites, which can then give you backlinks from their sites. These links act as authority signals to Google that your website has high-quality content worthy of being ranked higher than others who do not have any external links pointing toward them.
Google reviews also play an integral role in SEO – they are seen by search engines as another form of user engagement and signal reliability for potential customers visiting your business online. With that said, let's move on to what google reviews are all about!
What Is Google Reviews?
Google reviews allow customers to share their experience with a business. They can be positive or negative and provide valuable feedback that companies can use to improve the customer experience. Google Reviews appear on a business's Google My Business page and search engine results pages (SERPs).
Many people need to realize how critical online reviews are regarding SEO. Studies have shown a direct correlation between higher rankings in SERPs and more positive online reviews. This means that having good customer ratings can significantly boost your website's visibility. Additionally, customers who come across your company through search engines may be more likely to trust you if they see consistent positive reviews of your products and services.
Not only do good reviews help with SEO, but they also build trust among potential customers and show that your brand cares about its reputation. Customers who know what others think of you will feel comfortable doing business with you, leading to increased sales and conversions. By taking some time to encourage existing customers to leave honest reviews about their experiences with your company, you can reap both SEO benefits and an increase in customer loyalty over time.
Benefits Of Google Reviews
Yes, Google reviews can help your company with SEO. Reviews on Google My Business and other related sites are a powerful signal to search engines that customers engage with your business. This helps boost the visibility of your website in local searches, driving more engagement from users looking for the products or services you offer.
When potential customers come across your listing online, Google reviews also add trust and credibility. People tend to read through customer reviews before purchasing, so positive feedback about your business is vital to attract new customers. Moreover, it shows that people have already interacted with your brand and had a good experience which further increases the chances of them becoming long-term customers.
The impact of user ratings and reviews goes beyond just SEO; they also influence buying decisions directly by providing invaluable insights into what consumers think about your product or service offering. This information allows you to make informed changes to improve the overall customer experience and stay ahead of the competition. With this knowledge, businesses can continually refine their offerings to keep up with consumer demands, leading to increased sales conversions over time.
This data has immense value for any organization since it offers first-hand insight into how customers perceive their brand – something no other marketing tool can do quite as effectively. Understanding these opinions gives companies valuable tools to understand their target market better and create strategies tailored specifically for them, allowing them to build stronger relationships with existing customers while attracting new ones. Transitioning into the next section about 'impact on local SEO rankings,' we will discuss how effective use of customer ratings and reviews can affect local SEO performance significantly.
Impact On Local Seo Rankings
Yes, Google reviews can help your company's SEO significantly. They are a significant factor in local SEO rankings. Here's how:
Reviews increase the visibility of your listing on search engine results pages (SERPs).

Positive reviews boost customer confidence and trust in your brand.

Reviews act as quality signals for search engines to determine where you rank for related terms and phrases.
The higher volume of positive reviews on SERPs creates customers' expectations about what kind of service or product they will get when purchasing from you. If it's good enough for others to write about, it must be worth checking out! This directly impacts the likelihood of customers visiting your business page or website, which is exactly what businesses want when trying to improve their local SEO rankings – more clicks equals better ranking potential!
Google Reviews And Search Results
Yes, Google reviews can help with SEO. Reviews are essential to ranking your business on search engine results pages (SERPs). When a user searches for relevant terms related to your business or services, the more favorable your reviews are, the higher your website will appear in the SERP rankings. This is because consumers trust online reviews just as much as they would recommendations from friends and family.
Google also uses review signals as part of its algorithm when determining where businesses should be placed in organic search results. The more positive reviews you have on sites like Google My Business and Yelp, the better your chance of appearing higher up in local SERPs. Additionally, displaying customer feedback prominently across multiple sites helps build credibility for your brand and increases click-through rates on organic listings.
Having customer reviews available also allows potential customers to make informed decisions before purchasing products or services. By offering valuable insight into what past customers thought about their experience, it makes it easier for shoppers to decide whether they want to do business with you. As such, customer ratings can play a significant role in driving conversions and sales for any business.
Reviews aren't only beneficial for improving organic ranking; they can also inform other aspects of marketing strategy. For example, by analyzing customer comments left on popular review sites, marketers can gain insights into what customers think about specific features or products the company offers – enabling them to adjust their messaging accordingly and improve overall engagement levels with prospects and existing clients.
Review Sites And Search Results
In contrast, Google Reviews and review sites like Yelp and TripAdvisor are not directly connected to search engine optimization (SEO). However, they can still be beneficial for SEO purposes. Review sites allow users to leave reviews about a business or service that can impact organic rankings. By generating positive online reviews on these websites, companies can increase their visibility and enhance their reputation in the eyes of potential customers.
Reviews also play an essential role in local SEO. Local SEO ensures that a business's website appears at the top of the list when searching for relevant keywords in a particular geographical area. Positive ratings and reviews give credibility to a company and make it more likely that web crawlers will rank them higher in searches related to its industry or services. Additionally, there are many negative reviews. This could affect your site's ranking since it may seem less desirable than its competitors with better reputations.
Finally, another benefit of having good ratings and reviews on external sites is that they act as social proof, which helps build trust between companies and customers. This leads to increased customer loyalty, brand recognition, and ultimately improved sales—all significant indicators for any successful SEO strategy.
Are Google Reviews Necessary For Seo?
Google reviews are a great way to increase visibility for your business. Not only do they help with search engine optimization (SEO), but they can also improve customer trust and loyalty in the process.
| | |
| --- | --- |
| Benefit | Impact |
| Visibility | Increased ranking on SERPs |
| Trust & Loyalty | Improved Customer Experience |
  Some ways that Google reviews can help SEO include providing keyword-rich content, improving click-through rates from organic search results, growing local listings rankings, and more. These benefits make it worth considering how you encourage customers to leave their thoughts about your company.
Google reviews offer an opportunity to create unique, relevant content while increasing user engagement and driving traffic to your website – all crucial goals for optimizing your site for search engines. With these advantages in mind, it's clear that adding or encouraging existing customers to leave reviews is worth doing to ensure success in SEO efforts.
Making strides toward better SEO requires getting your customers to leave those valuable reviews.
How To Get Your Customers To Leave Reviews
Prompting patrons to pen positive reviews is paramount for promoting your company. Giving customers constructive criticism can help refine and improve your products or services. Getting clients to comment on their experiences with your business requires a few steps to perfect the process.
First, make it simple for people to leave reviews by providing multiple platforms they can use. Whether it be Facebook, Yelp, Google Maps, or other social media outlets, giving customers various choices makes it easier to take part in the review process. Secondly, thank each customer personally when they post a review – this shows that you value their opinion and encourages others to consider leaving a review. Finally, offer rewards for those who have left glowing reports about your business; such incentives could come in forms like discounts or gift cards, further motivating potential reviewers.
The role of social media in SEO cannot be overstated, as these platforms enable companies to reach larger audiences quickly and effectively. Additionally, including relevant keywords in posts increases visibility and thus attracts more viewers from search engine queries. Utilizing organic content creation strategies (such as blog articles) and paid methods like sponsored advertisements will ensure maximum coverage across all social channels.
The Role Of Social Media In Seo
The power of social media for SEO success cannot be overstated. A presence on popular platforms like Facebook, Twitter, and Instagram can help your website appear higher on search engine results pages (SERPs). Social media also allows you to engage with customers directly, build relationships, and establish yourself as an authority in the industry.
When it comes to optimizing your online presence, several strategies involve leveraging the reach of social media. For example, including relevant keywords in posts and creating content around trending topics related to your business can increase your site's visibility. Additionally, using hashtags strategically can increase engagement on particular pieces of content and expand its reach beyond just those who follow you.
It's also important to remember that reviews play a role in SEO. Customers leaving positive feedback about their experience with your company is suitable for building trust and will boost rankings when people look up specific keywords related to what you do. With this knowledge, businesses should regularly monitor their reviews across various platforms so they can respond accordingly if needed. By doing this, companies can maintain their brand reputation while gaining additional search engine optimization benefits. Moving forward into strategies to optimize your online presence requires understanding how different tactics work together to create maximum impact on SERP rankings.
Strategies To Optimize Your Online Presence
The internet is vast, and standing out in the crowd can be challenging. To ensure that your company is seen by potential customers online, there are several strategies you can use.
The imagery of an old-growth forest comes to mind when thinking about standing out amongst the competition: tall trees reaching high above their rivals with roots firmly planted deep in the earth below, all aiming for the same spot – at the top of everyone's minds. Here are four key ways you can make sure your business stands out:
Utilizing SEO best practices

Leveraging a social media presence

Creating content that resonates

Doing Google reviews about your company
SEO optimization ensures that search engines display relevant information quickly and accurately so potential customers find what they need quickly. Social media helps increase brand awareness, build relationships, and engage followers through targeted posts and stories, encouraging customer loyalty and retention rates. Content creation allows you to share valuable insights into industry trends or solutions while demonstrating expertise and authority on topics related to your niche market. Finally, doing Google reviews provides viewers with honest feedback from prior customers, giving them more confidence to purchase products or services from your company since they know what other people experienced before them.
These tactics help establish trustworthiness and strengthen visibility online while building credibility among current and future clients, too – two essential pieces needed to succeed in any digital strategy today! With these tools now, businesses have access to new opportunities to reach more audiences than ever thought possible – allowing for growth within their organization and beyond its walls too!
Ways To Improve Conversion Rates With Reviews
Using customer reviews to improve conversion rates is an excellent way for companies to build credibility and trust with potential customers. Reviews can provide an unbiased look at the product or service and insight into what others think about it. By displaying these reviews prominently on their website, businesses can encourage more visitors to purchase.
Collecting reviews from customers is the first step in increasing conversions. This can be done through surveys, interviews, or online rating systems that allow users to leave feedback on products and services. Companies should also actively seek positive reviews from satisfied customers by asking them directly or providing incentives like discounts or freebies. Additionally, they should remove negative comments or complaints before posting them publicly.
Finally, a system for responding to user-generated content is essential for improving conversion rates. Customers often want quick responses when leaving feedback, so companies should create policies outlining how quickly they will respond and address any issues raised in the reviews. This helps ensure that customers feel heard and respected, increasing their likelihood of returning for future purchases. With this approach, companies can use customer reviews to boost sales and grow their business effectively.
Analyzing The Quality Of User-Generated Content
Just as a long journey begins with a single step, analyzing user-generated content (UGC) can be the first and most crucial step in determining whether reviews are helping or hurting your company's SEO. UGC is any online content users create, including blog posts, forum posts, video comments, product ratings, reviews, etc. When it comes to Google Reviews specifically, businesses need to ensure that the quality of the user-generated content is up to par with their standards. This means looking for reviews with accurate information about the business services, products, or brand. They should also look for grammar mistakes and typos that could make potential customers think twice before doing business with them.
The next area businesses must consider when looking at user-generated content is how well those reviews reflect on their search engine optimization efforts. It's not enough to have many positive reviews; companies must also strive to create meaningful content that provides value and helps boost their website ranking in search engines like Google. To do this effectively, businesses should focus on creating good customer experiences so people will want to write about them in a positive light. In addition, they should use specific keywords throughout their online material to help boost their organic rankings.
Ultimately, understanding the impact of user-generated content on SEO requires careful analysis from both sides – what customers are saying about you and how well your website reflects these sentiments into its visibility across search results pages. By taking a comprehensive approach to review management, businesses can increase their chances of achieving better SEO results while simultaneously creating stronger relationships with existing customers. With this knowledge, companies can move on to best practices for responding to negative reviews – if needed – and improving conversion rates over time.
Best Practices For Responding To Negative Reviews
Responding to negative reviews can be tricky, but there are a few best practices that businesses should follow. 
First, respond quickly. 
Secondly,
Acknowledge customer's feelings,

Address the issue directly

Thank for feedback

Offer resolution or apology

Monitor customer service performance
Responding to customers quickly and professionally when they leave a negative review online is essential—showing customers that their opinion matters is vital in creating trusting relationships. Businesses should thank the reviewer for bringing up an issue, acknowledge how they feel, and apologize if it was warranted. Companies should also try their best to resolve any problems reviewers bring to show them that they care about their experience with the business.
In addition, monitoring customer service performance is essential in responding effectively to negative reviews. Companies must understand why people are leaving these types of reviews so that appropriate changes can be implemented within the organization in the future. By doing this, businesses will be able to serve their customers better and ensure overall satisfaction in the long term.
By following these best practices for responding to negative reviews, businesses can build trust between themselves and customers while also using customer feedback as valuable insight into what needs improvement within the company. Managers and owners alike can then use this information to make better decisions related to product offerings, services rendered, employee training initiatives, etc., thus providing overall better experiences for all stakeholders involved.
Leveraging Customer Feedback For Better Insights
Though some people may be hesitant to use customer reviews for SEO purposes, the reality is that leveraging feedback from customers can provide invaluable insights into how your company can improve its search engine optimization. Examinations can provide companies with data on keyword usage and content topics and give them a better understanding of their target audience's preferences. By collecting and analyzing customer feedback through online review platforms, businesses can gain a unique insight into how their potential clients think about their products or services.
As such, companies need to take advantage of this information by regularly monitoring customer reviews and responding accordingly. Companies should actively engage with reviewers to resolve issues while promoting positive experiences that other customers might find helpful. Additionally, companies should ensure that all reviews regarding their product or service are responded to promptly and accurately address customer queries. Doing so will help build trust between the business and its current and future customers, which could increase website traffic and improve online visibility.
By monitoring customer feedback closely, businesses have access to valuable data points that can help inform marketing campaign decisions and overall SEO strategies. This allows organizations to stay competitive within the digital space while ensuring they remain up-to-date with industry trends to maximize visibility amongst potential clients. Monitoring competitors' activities related to SEO gives you even more opportunity to gain further ground when it comes to dominating your niche market – leading you one step closer to success!
Monitoring Competitors' Activities Related To Seo
Monitoring competitors' activities related to SEO is an essential part of keeping up with the competition and ensuring your company has a strong presence in search engine results. It can help you identify new keywords they are targeting, understand how their content strategy is being developed, and uncover tactics that might be useful for your campaigns. By staying informed about your competitors' actions, you can stay ahead of the curve when optimizing search engines.
The first step in monitoring competitor activity is determining which websites or businesses may compete against yours regarding ranking on SERPs (Search Engine Result Pages). This could include any sites that appear above yours on keyword searches and other areas within the same niche. Once you have identified these potential rivals, research their content strategies and current rankings to understand better how they're performing compared to your website.
You should also pay attention to changes in their web design and development practices over time. Are they using different types of plugins or themes? What kind of coding do they use? Are there any new features or upgrades that make them stand out from the competition? Understanding these nuances will give you insight into how your business can improve its SEO performance by adopting similar techniques. Additionally, noting where and when your competitors post content online will provide valuable intel on which platforms offer more visibility for specific topics—helpful information that can help inform your marketing decisions in the future.
Frequently Asked Questions
How Often Should I Ask My Customers To Leave Reviews?
Asking customers to leave reviews for your company is an absolute must-do! You must reach out and request feedback from your loyal patrons. But how often should you do it? That's a question many entrepreneurs, small business owners, and even marketing professionals have been asking themselves lately.
The truth is: You can only ask a little or too often! Whenever someone leaves a positive review about your company online, the SEO value increases exponentially. This means more visibility for your brand in search engine results pages (SERPs), equating to higher profits. Plus, when people see those great reviews on Google, they're more likely to become customers.
So don't be shy – send gentle reminders via email newsletters, postcards, and social media updates recommending that folks check out what others say about your business. And remember – if you make it easy for them with links directly to review sites like Yelp or TripAdvisor, they'll be happy to oblige! All this adds up to free advertising with potentially huge returns over time.
In short, continually reaching out to customers for their thoughts and opinions shows you care and provides fantastic benefits such as improved SEO rankings and increased conversions. So go ahead, ask away! Your success could depend on it!
Is It Possible To Filter Out Negative Reviews On Google?
When it comes to online reviews, businesses must manage their reputation. This is especially true with Google Reviews, often the first thing potential customers see when searching for a company or service. One of the key questions many business owners have about managing Google Reviews is whether it's possible to filter out negative reviews.
The short answer is yes; you can filter out negative reviews from your listing on Google in several ways. The most common way is by setting up an automated system that detects and flags reviews containing offensive language or other inappropriate content before they appear publicly on your profile page. You can also manually remove any reviews that don't meet your standards. However, this method requires more time and effort than an automated system. Additionally, some platforms offer sentiment analysis tools that allow businesses to identify positive and negative comments quickly and easily.
However, filtering out negative reviews isn't always the best approach for improving customer experience or SEO rankings. While removing bad feedback may help protect your brand image in the short term, it won't necessarily lead to higher search engine rankings over time – since having both good and bad ratings helps show authenticity and trustworthiness in the eyes of potential customers and search engines alike. Thus, it's essential to focus on eliminating negative reviews and responding positively to complaints so that others know you take customer concerns seriously.
Are There Any Other Review Sites I Should Consider Aside From Google?
Reviews are an essential part of any business. It's the consumer's way to drop feedback on a company's product or service. It can be vital in understanding how customers feel about your brand. But when it comes to reviews, Google often gets top billing – but is this the only review site you should consider?
When considering other review sites aside from Google, many options may come into play depending on your industry and target audience. Yelp is one such example; it is well-known for its restaurant reviews but also expanding into other sectors. Other sites like Glassdoor provide more insight into employee experiences with a company. At the same time, TrustRadius offers detailed insights from professionals in software and technology-related fields.
Remember that all consumers have different preferences regarding leaving their opinion online, no matter which additional review sites you choose. Some people prefer using Facebook ratings over Google Reviews; others might opt for Twitter polls or even Reddit thread discussions. Researching what type of reviews each platform provides will help you determine which ones best suit your needs and broaden your reach beyond just Google's domain.
It's important to remember that not all review platforms offer the same level of visibility or power regarding SEO optimization – so take some time to explore different options before making any decisions. Taking advantage of multiple sources can help paint a better picture of customer sentiment than relying solely on Google Reviews alone.
What Should I Do If I Receive A Bad Review?
Receiving a bad review can be an unpleasant experience, primarily if you have worked hard on providing excellent customer service. However, it is essential to remember that all businesses receive negative reviews at some point and take steps to mitigate the damage they cause. Here's what you should do if you receive a bad review:
Remain professional – When confronted with criticism, responding with anger or frustration is tempting, but this will only further fuel any negativity directed towards your business. Instead, remain calm and polite to maintain professionalism throughout the situation.
Apologize for their experience– Showing empathy and apologizing for their unsatisfactory experience shows customers that your company values their feedback and takes responsibility for its mistakes. This acknowledgment of fault may also lead to a resolution between both parties more quickly than if no apology was made.
Offer compensation – Offering a discount or free item for the trouble due to their negative experiences goes a long way in reassuring customers that your business cares about their satisfaction above all else. Customers appreciate being taken care of, and offering compensation demonstrates that your business stands behind its product/service quality 100%.
Ultimately, taking these measures after receiving a bad review helps create goodwill amongst customers while restoring trust and credibility around your brand's reputation. Dealing with such situations promptly allows everyone involved to move forward without lingering resentment or ill feelings toward each other.
How Do I Increase The Visibility Of My Business On Google?
The answer for businesses looking to increase their visibility on Google is straightforward: create and manage your company's reviews. Reviews are invaluable for boosting a business's online presence and improving its SEO ranking. As such, companies must take active steps to ensure they have plenty of positive feedback from customers who can vouch for their services.
When seeking out reviews, there are various methods available to you. You could reach out directly to loyal customers or offer incentives in exchange for honest feedback; whatever approach you choose, ensure it aligns with your brand values. Responding promptly to negative comments online is also beneficial; this will demonstrate your commitment to customer service and show people you're willing to go above and beyond when needed.
Managing reviews requires dedication and time. Still, the rewards are worth it – it improves search engine optimization (SEO) rankings. It helps build trust between potential customers and your organization. So put aside time each week to check what people are saying about you, and don't forget – good things come to those who patiently wait!
Conclusion
Google reviews can be a great way to give your business visibility and help with SEO. Asking customers for reviews often, but not too frequently, is the best way to get them. It would be best to consider other review sites besides Google. If you receive negative reviews, take it as an opportunity to grow and improve your customer service. Lastly, ensure your business appears on Google Maps and use keywords in your profile so people can easily find you.
Overall, gathering favorable reviews benefits any business looking to increase its online presence and boost its search engine ranking. By taking advantage of review sites like Google Reviews, companies can gain credibility and trustworthiness among potential customers. This will create more opportunities for business growth by bringing in new leads and increasing conversions.
As a company owner or manager, using Google Reviews to build your brand's reputation is essential to stay ahead of the competition. Taking some time to ask customers for feedback and responding positively when needed can go a long way toward improving your SEO performance while building goodwill with consumers at the same time.